Mon, 1 Nov 2004, 01:17 AM



Anderson Sets NHRA Single-Season Wins Record with 14th Victory



Courtesy of NHRA Communications


Photo copyright 2004 Auto Imagery, Inc.





Kalitta, Scelzi and Ellis also Earn Victories



LAS VEGAS --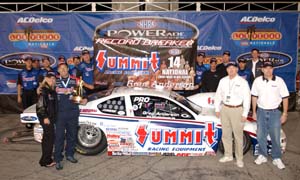 Anderson celebrates 14th win.
Pro Stock dominator Greg Anderson set the NHRA single-season wins record by racing to his 14th victory Sunday at the ACDelco Las Vegas NHRA Nationals.
Doug Kalitta, Gary Scelzi and Chip Ellis also were winners at the $1.8 million race at The Strip at Las Vegas Motor Speedway, the 22nd of 23 events in the $50 million NHRA POWERade Drag Racing Series.
Anderson claimed his 30th career victory in 6.796 seconds at 202.52 mph in his Summit Racing Pontiac Grand Am, defeating Jason Line, who recorded a 6.822 at 201.85 also in his KB Framers Grand Am.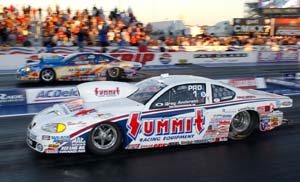 Anderson vs Line
Anderson's victory, in an NHRA record 18th final round appearance, continues one of the most impressive performances by a pro driver in NHRA history. John Force previously held the NHRA season-wins record, when he earned 13 Funny Car victories in 1996.
"I feel very proud to break any record John Force owned," Anderson said. "We all know what he's done for this sport and to have a year better than one of his is really something. This is one of the big ones, in my opinion."
It was Anderson's fourth consecutive victory at The Strip, home track for his Las Vegas-based team owner Ken Black.
"Once upon a time this place was a nightmare for me," Anderson said. "Now it's almost like I can't lose here. All the testing we've done over the years is paying off. I should just move to this town."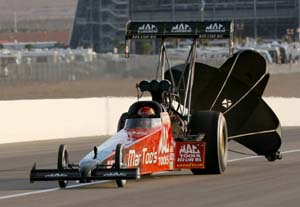 Doug Kalitta
It was the fourth Top Fuel win of the season for Kalitta, who clocked a 4.530 at 329.02 in his Mac Tools dragster, to defeat first-time finalist Morgan Lucas, who posted a 4.612 at 306.40 in his Lucas Oil/DeeZee dragster.
The victory capped a great weekend for Kalitta Motorsports, who on Saturday celebrated the No. 1 qualifying award (Scott Kalitta) and the $100,000 Budweiser Shootout bonus event (Dave Grubnic).
"What a great effort for this entire team," said Kalitta of his 19th career victory. "With Grubnic winning the Budweiser Shootout, and Scott getting the No. 1 qualifier, and now me winning the race, it's hard to ask for much more than that. I've always wanted to win here, especially now that the Bud Shootout is being held here every year. It's nice to get it done."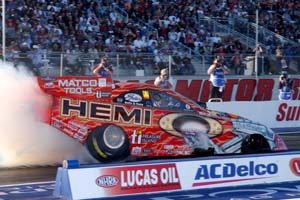 Gary Scelzi
Scelzi claimed his third Funny Car win of the season, defeating Tommy Johnson Jr., Cruz Pedregon and Del Worsham in early rounds before upsetting newly crowned world champion Force in the final.
In the final, Scelzi deep-staged his Hemi Oakley Dodge Stratus and took a holeshot start before speeding to a 4.790 at 326.32 to defeat Force, who ran a quicker but losing 4.754 at 322.81 in his Castrol GTX Start Up Ford Mustang.
"Every time you race John and (his crew chief Austin) Coil and those guys over there your back's against the wall," Scelzi said. "And you have to cheat them now and then. I didn't mean to take that big of a chunk on the starting line. I turned out that top light, and I said, 'Oh, man, here we go, baby.'"
All three of Scelzi's victories this season have come against 13-time series champ Force.
"I love racing the man," said Scelzi, a three-time NHRA Top Fuel world champion, of his newfound rival. "You can't help but get pumped up to race him. Those guys are probably the greatest team that's ever been in drag racing, and who knows, maybe even in all of motorsports."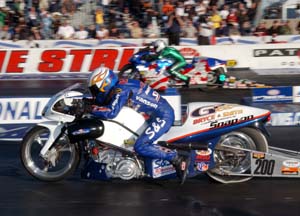 Chip Ellis
Ellis earned his first career victory in Pro Stock Bike in only his third professional start by outrunning veteran rider Angelle Savoie in the final round. Ellis posted a 7.191 at 179.92 on his G-Squared S&S Buell V-Twin to defeat Savoie, who rode her U.S. Army Suzuki to a 7.255 at 177.49.
"The team gave me a great bike, and I needed it because it seems like I was late all day, but the bike would carry me," said Ellis, who defeated Chip Hunter, Antron Brown and Shawn Gann in earlier rounds to advance to the final. "The team deserves the credit for this win."
Ellis, a former AMA Pro Star champion, is adjusting to life on the NHRA circuit.
"The big difference with racing in the NHRA is the huge amount of fans and the big-time media coverage," he said. "I'm overwhelmed by it all. I got people pulling me this way and that. It's crazy. I guess I'll just need to keep winning and get used to it."
Top qualifier and category points leader Andrew Hines was upset in the first round, extending his wait for locking up the championship until the season finale. Hines, 21, needs only to qualify at the 40th annual Automobile Club of Southern California NHRA Finals, Nov. 11-14 at Pomona (Calif.) Raceway, to become the youngest POWERade Series world champion in NHRA history.
Sunday's final results from the Fourth annual ACDelco Las Vegas NHRA Nationals at The Strip at Las Vegas Motor Speedway. The $1.8 million race is the 22nd of 23 in the $50 million NHRA POWERade Drag Racing.
Top Fuel -- Doug Kalitta, 4.530 seconds, 329.02 mph def. Morgan Lucas, 4.612 seconds, 306.40 mph.
Funny Car -- Gary Scelzi, Dodge Stratus, 4.790, 326.32 def. John Force, Ford Mustang, 4.754, 322.81.
Pro Stock -- Greg Anderson, Pontiac Grand Am, 6.796, 202.52 def. Jason Line, Grand Am, 6.822, 201.85.
Pro Stock Bike -- Chip Ellis, 7.191, 179.92 def. Angelle Savoie, Suzuki, 7.255, 177.49.
Competition Eliminator -- Glen Treadwell, Dragster, 8.493, 153.37 def. Lou Ficco Jr., Chevy Corvette, 7.303, 186.10.
Super Stock -- Gary McGlasson, Chevy Camaro, 10.269, 127.19 def. Tony DeFrank, Pontiac Grand Am, 10.435, 123.25.
Stock Eliminator -- Jim Waldo, Pontiac Firebird, 10.562, 125.86 def. Gary Waldo, Chevy Nova, 11.442, 114.81.
Super Comp -- Greg Ventura, Chevy Nova, 9.054, 140.09 def. Jim Gottsch, Dragster, 9.050, 164.33.




NHRA: 10 Most Recent Entries [ top ]

Jun 21- NORWALK - Greg Anderson Only Focusing on Wins Approaching Summit Racing Equipment NHRA Nationals
Jun 21- NORWALK - Competition Eliminator Qualifying, Session #2 Order
Jun 21- NORWALK - Super Gas Eliminations Ladder
Jun 21- NORWALK - Competition Eliminator Qualifying Notes, Session #2
Jun 21- NORWALK - Super Gas Round 1 Winners
Jun 21- NORWALK - Super Stock Round 1 Winners
Jun 21- NORWALK - Competition Eliminator Qualifying, Session #1 Order
Jun 21- NORWALK - Top Sportsman presented by RacingRVs.com Qualifying, Session #2 Order
Jun 21- NORWALK - Super Stock Round 1 Eliminations
Jun 21- NORWALK - Super Comp Eliminations Ladder