Thu, 2 Nov 2000, 02:28 PM



NHRA TV Personality Steve Evans Passes Away



By Phil Burgess, NHRA.com



LAS VEGAS --
Steve Evans, the man that every racer wanted to see when he or she climbed out of their race car at the end of a quarter-mile pass at an NHRA Winston Drag Racing Series national event, knowing that an interview from the renowned broadcaster meant that they had done well, was discovered dead in his hotel room Nov. 1 in Las Vegas.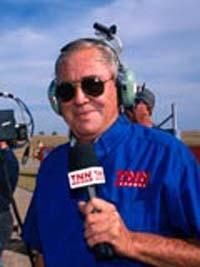 Steve Evans
Evans was in Las Vegas to cover a World of Outlaws event, just one of the many racing series beyond drag racing where his knowledge, expertise, and skill were valued.
Evans became a familiar face to drag race fans for more than two decades of NHRA drag racing primarily as the top-end reporter, rushing to the scene to inform racers of their record runs or congratulating them for their victories. Evans was loved by the racers, who often opened up their emotions to the man behind the microphone.
Evans worked on NHRA's syndicated TV shows for more than two decades working and for 18 years covered NHRA drag racing on TNN, ABC, and NBC. He was the host of the weekly television newsmagazine NHRA Today, which aired more than 500 shows between 1990 and 1998.
Evans got started in drag racing early, announcing drag races at age 19 at the fabled San Gabriel and Fontana tracks in California and later managed all three of Southern California's famed tracks - Lions Dragstrip, Orange County Int'l Raceway, and Irwindale Raceway.
He began announcing national events in 1966 and a year later went to work full time for NHRA as editor of National DRAGSTER, and later as public relations director.
Evans also is remembered for an endless variety of unforgettable and award-winning radio commercials hawking weekly events at the tracks that he managed. In 1987, Evans released Be There, a cassette compilation of his greatest hits, along with other memorable drag racing radio commercials. He recently re-released the collection in CD format.




NHRA: 10 Most Recent Entries [ top ]

Mar 22- LAS VEGAS 1 - Defending Funny Car Winner Tommy Johnson Jr. Excited for Four-Wide Racing
Mar 22- NHRA Northwest Nationals Tickets on Sale Now
Mar 21- LAS VEGAS 1 - Fact Sheet
Mar 21- LAS VEGAS 1 - Event Preview
Mar 20- Strong Stable of Contending Pro Stock Racers Vie for Final Starting Position for K&N Horsepower Challenge
Mar 20- GAINESVILLE - Special Awards
Mar 20- GAINESVILLE - Lucas Oil Drag Racing Series Wrap Up
Mar 19- GAINESVILLE - Sunday Video
Mar 18- GAINESVILLE - Pro Mod Sunday Wrap Up
Mar 18- GAINESVILLE - Sunday Wrap Up