Thu, 9 Nov 2000, 10:16 AM



Professional Winston Point Standings Recap #5



By Mickey Schultz



POMONA, Calif. --
With just the Auto Club NHRA Finals, at the Pomona Raceway/LA County Fairplex in Pomona, Calif., left on the 2000 NHRA Winston Drag Racing Series schedule, the Winston championships for all the professional classes have been decided. Gary Scelzi (Top Fuel) and Bob Panella, Jr. (Pro Stock Truck) wrapped up the title in their respective categories at the just completed O'Reilly Fall Nationals presented by Castrol Syntec at the Texas Motorplex, near Dallas. The week prior, at Houston, John Force (Funny Car) and Angelle Seeling (Pro Stock Motorcycle) clinched. Then way back at the first of October, Jeg Coughlin, Jr., took the Winston Pro Stock Championship in Memphis. But there is still a lot going on in the point chases in each professional class - - at least, from second through tenth. Therefore, for the latest in the point battles, read on. FastNews Network will bring you up to date on the NHRA Winston point standings for the five professional classes - - Top Fuel, Funny Car, Pro Stock (Car), Pro Stock Truck, and Pro Stock Motorcycle - - as it stands going into Pomona.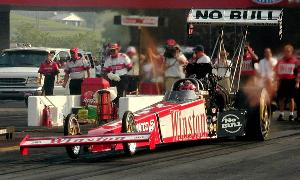 Scelzi won his third Winston championship.
First, as always, let's recap how points are earned in the professional classes:
There are 138 points available for the professional classes at each event - - 10 for making at least one qualifying run, a maximum of eight if you qualify number one, 100 for winning the event, and 20 points if you set and leave the event with an official NHRA elapsed time national record.
Let's now review each of the five professional categories:
TOP FUEL: Gary Scelzi is champ… Said Scelzi on his third Winston championship, "This is a special thing for me and (team owner and crew chief) Alan (Johnson) and everybody…"
With Tony Schumacher still recovering from injuries received in a high-speed crash at Memphis and thus, not competing at Dallas, Larry Dixon moved into second, 13 points ahead of Schumacher, who dropped one spot to third. With Schumacher scheduled to return to action at Pomona, either driver can claim the second spot. Joe Amato and Doug Kalitta will vie for fourth and fifth. Amato has 1388 points; while Kalitta has 1377 points. By virtue of two consecutive wins, Cory McClenathan, currently in seventh with 1239 points, is breathing down the neck of Kenny Bernstein in sixth. Bernstein has 1243 points. Although one never knows, Bob Vandergriff, Jr., looks safe in eighth. He has an 88 point lead over Doug Herbert. Herbert, in ninth with 892 points, is being pressed hard by Don Lampus, who has 838 points and holds down 10th. But Lampus must watch out for David Grubnic, in 11th, who trails Lampus by just nine points. Rhonda Hartman-Smith is 12th with 733 points, 96 behind Grubnic.
FUNNY CAR: At Houston, John Force won the 2000 Winston Funny Car championship, his 10th in the last 11 years. At Dallas, Jerry Toliver reclaimed second and dropped Ron Capps to third, four points behind. Tony Pedregon is 88 points behind Capps with a total of 1389 points. It looks like Toliver and Capps will battle for second and third, with Tony Pedregon remaining in fourth. Jim Epler has a lock on fifth. From sixth through 10th, it's anybody's game. The points currently stand like this: #6 Scotty Cannon (1061 points), #7 Whit Bazemore (1057), #8 Del Worsham (1000), # 9 Bruce Sarver (941), and #10 Dean Skuza (938). Also, Frank Pedregon will be trying to make a jump into the top ten. He currently is 11th, with 917 points, just 21 behind Skuza in 10th.
PRO STOCK (CAR): Jeg Coughlin, Jr. is this year's champ… Jeggie still has the opportunity to tie Darrell Alderman's single-season Pro Stock win record of 11. Coughlin, currently has 10 wins, with one chance left. Then it looks like a father-son battle for second and third. Son Kurt Johnson, in second with 1490 points, currently leads his father, Warren, by 80 points. At the same time Warren Johnson is trying to overtake Kurt, WJ must hold off the challenge of Ron Krisher. Krisher, currently in fourth, is 51 points behind Warren Johnson. Mark Pawuk, in fifth, in his Summit Racing Pontiac, holds a slim 45 point lead over Troy Coughlin and a 94 point margin over Richie Stevens in the battle for fifth, six and seventh. Jim Yates (#8 with 993 points), Darrell Alderman (#9 with 895 points), and Bruce Allen (#10 with 810 points) round out the top ten. Tom Martino, in 11th, trails Bruce Allen by just one point., Rickie Smith (#12 with 694 points) and Allen Johnson (#13 with 690 points) have a slim, but mathematical, chance at the top ten.
PRO STOCK MOTORCYCLE: Team Winston's Angelle Seeling clinched her first Winston championship at Houston becoming only the second female to win a professional championship. The only battle left is for third on back, as Matt Hines has all but nailed down second. Dave Schultz's victory at Houston placed him in a three-way race for third, fourth and fifth in the points along with Tony Mullen and Antron Brown. Mullen holds down third and has amassed 936 Winston points. Brown, Mullen's teammate, is 45 points behind Mullen in fourth and Schultz is fifth, 111 points behind Mullen and 54 points behind Brown. The remainder of the top ten are as follows: Geno Scali (#6 with 758 points), Craig Treble (#7 with 697 points), Shawn Gann (#8 with 539 points), Blaine Hale - - in the lone Kawasaki in the top ten - - (#9 with 433 points), and Steve Johnson (#10 with 408 points). Reggie Showers, in 11th, continues to push Steve Johnson for 10th and is currently one point behind Johnson. Both Johnson and Showers will be pushing it to the limits at Pomona.
PRO STOCK TRUCK: Bob Panella, Jr., earned his second Winston Pro Stock Truck title at Dallas…"Fortunately the qualifying scenario (at Dallas) worked to my advantage and we did what we had to do," said Panella. "We would have liked to have won the race but I'll take the championship over the race any day."
Randy Daniels has already locked up second. The rest of the field is vying for third on back. John Coughlin, in third with 794 points, Steve Johns, who won Dallas and is now fourth with 777 points, and Greg Stanfield, fifth with 707 points, will battle for third through fifth at Pomona. Mike Coughlin, in sixth with 652 points, has an outside chance at fifth, but unless he has an exceptional outing will be contending with Brian Self (#7, 598 points), Rick Jones (#8, 540 points), Jeff Gracia (#9, 539 points), and John Lingenfelter (#10, 506 points) for positions six through ten.
To see how these point shake out, log onto Summit Racing/Drag Race Central immediately following the Auto Club NHRA Finals when FastNews Network will be posting the final Winston point standings for the 2000 season.




NHRA: 10 Most Recent Entries [ top ]

Mar 20- Strong Stable of Contending Pro Stock Racers Vie for Final Starting Position for K&N Horsepower Challenge
Mar 20- GAINESVILLE - Special Awards
Mar 20- GAINESVILLE - Lucas Oil Drag Racing Series Wrap Up
Mar 19- GAINESVILLE - Sunday Video
Mar 18- GAINESVILLE - Pro Mod Sunday Wrap Up
Mar 18- GAINESVILLE - Sunday Wrap Up
Mar 18- GAINESVILLE - Pro Mod Championship Points
Mar 18- GAINESVILLE - Bonus Points
Mar 18- GAINESVILLE - Championship Points
Mar 18- GAINESVILLE - Mickey Thompson Top Fuel Harley Series Championship Points