Fri, 10 Nov 2000, 09:58 PM



Dunn Takes Top Fuel Lead Friday at Auto Club NHRA Finals



Courtesy of NHRA Communications



POMONA, Calif. --
Mike Dunn clocked the quickest Top Fuel run of the season Friday to lead qualifying at the 36th annual Automobile Club of Southern California NHRA Finals at Pomona Raceway.
John Force, Jeg Coughlin, Matt Hines and Larry Seay also were qualifying leaders at the $2 million race, the final of 23 events in the $45 million NHRA Winston Drag Racing Series.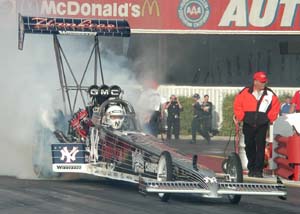 Mike Dunn
Tony Schumacher qualified second with a 4.571 at 320.81, his first full lap in the U.S. Army dragster following his Memphis crash in October.
Dunn, driving the Yankee dragster, covered the quarter-mile distance in 4.522 at 325.69 for the top spot.
"We knew that we had a great car when we went to the starting line," said Dunn, who has posted three of the quickest runs of the season since debuting the car at Houston Raceway Park two weeks ago. "Ken Veney (crew chief) looked at the track and felt it was time to go for it. He looked at the starting line and made one small adjustment. We were going to throw what we had at it and if it stuck we were going to run a 4.52. Up until last year I didn't have any luck here, but last year I won both races here. It'd be nice to get a win here this weekend."
"It felt great," Schumacher said. "We were really looking forward to making that first successful pass. We were disappointed when we lost traction and smoked the tires yesterday. The car went right down the track with no problems. Now that we have made a pass and it's over, we can get back to racing."
Force continued to lead Funny Car in his Castrol GTX Ford Mustang as no one improved on his 4.908 at 291.63 from Thursday. "The track was a little loose and we tried to push it to see if we could get away with it," Force said. "But right off the pad we just blew the tires off and that was it, I lifted and we were done."
Funny Car drivers Frank Pedregon and Scotty Cannon provided the day's most exciting side-by-side run as Pedregon's Checker Schuck's Kragen Pontiac Firebird dropped a cylinder and drifted into Cannon's lane, making heavy contact with the Lyman, S.C. driver's Oakley Mad Scientist Chevy Camaro. Neither driver was injured in the spectacular crash, which launched pieces of Pedregon's carbon fiber body high into the air. Cannon's machine hit the retaining wall and suffered heavy damage. "I was reaching up to pull the chutes and it felt like (the car) blew a tire," said Cannon, who qualified fourth on the run with a 5.011 at 272.89. "Next thing I know I slammed into the wall. I didn't realize he hit me. These cars are built good because it took a hard lick. I don't hold anything against Frankie. There wasn't anything he could do about it. That's just drag racing. These cars are beasts."
Said Pedregon, who qualified fifth with a 5.034 at 275.22 on the run: "It was just flying and then it put at least one cylinder out on the right side and made a hard move to the centerline. I clicked it off right away because it was moving that way so hard. It was like slow motion. I saw Scotty out there and couldn't do anything about it, I just ran into him. Then the body flew off and we crashed into the wall. It was a scary deal. I feel bad for Scotty because he was just in the wrong place at the wrong time."
Both drivers will use back-up cars in tomorrow's qualifying, scheduled for 10:45 a.m. and 2:45 p.m. Coughlin paced the 16-car Pro Stock lineup, posting a 6.904 at 197.71 in an Oldsmobile Cutlass. Hines maintained the top position in Pro Stock Motorcycle on a Suzuki, improving on Thursday's pass with a quicker 7.245 at 183.22.
Seay sped to the front of the Pro Stock Truck order, posting a 7.530 at 177.98 in a Chevy S-10. Saturday's racing will include the Budweiser Shootout, a lucrative bonus event for eight qualified Top Fuel drivers, which begins at noon, with rounds following at 2:20 p.m. and 5:30 p.m.




NHRA: 10 Most Recent Entries [ top ]

Mar 20- Strong Stable of Contending Pro Stock Racers Vie for Final Starting Position for K&N Horsepower Challenge
Mar 20- GAINESVILLE - Special Awards
Mar 20- GAINESVILLE - Lucas Oil Drag Racing Series Wrap Up
Mar 19- GAINESVILLE - Sunday Video
Mar 18- GAINESVILLE - Pro Mod Sunday Wrap Up
Mar 18- GAINESVILLE - Sunday Wrap Up
Mar 18- GAINESVILLE - Pro Mod Championship Points
Mar 18- GAINESVILLE - Bonus Points
Mar 18- GAINESVILLE - Championship Points
Mar 18- GAINESVILLE - Mickey Thompson Top Fuel Harley Series Championship Points