Sat, 11 Nov 2000, 10:28 PM



Rain Cancels Final Qualifying



Courtesy of NHRA Communications



Fields Set for Auto Club NHRA Finals Eliminations



POMONA, Calif. --
Persistent rain showers late Saturday forced NHRA officials to cancel the final pro qualifying session for the 36th annual Auto Club NHRA Finals at Pomona Raceway. In addition, the Budweiser Shootout, a lucrative bonus event for qualified Top Fuel drivers, will resume on Feb. 3 during the 2001 AutoZone Winternationals.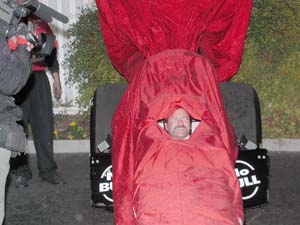 Gary Scelzi in the rain.
Mike Dunn, John Force, Jeg Coughlin, Angelle Seeling and Steve Johns will lead their respective categories into Sunday's 11 a.m. eliminations for the $2 million event, the final of 23 events in the $45 million NHRA Winston Drag Racing Series.
Dunn claimed his second No. 1 position of the season in Top Fuel, clocking a 4.522 second run at 325.69 mph.
Cory McClenathan, winner of the last two NHRA national events, will not compete in tomorrow's eliminations. For the first time since Sept. '91, McClenathan failed to qualify, ending a streak of 179 straight races.
"I knew it would end sometime but I didn't think it would happen here, at home," said McClenathan, from Anaheim. "To have a good car like we had the last couple of weeks and come here with the exact tune-up and not be able to get down the track makes you wonder where did we go wrong. There's no reason why this car shouldn't have run somewhere in the 4.50s this morning or yesterday. We just completely lost whatever we had there."
Force earned his 11th top qualifying position of the year in Funny Car, recording a 4.908 at 291.63 in his Castrol GTX Ford Mustang. The 10-time Winston champion will face Whit Bazemore in the first round.
Coughlin took his fourth No. 1 of the season in Pro Stock, covering the distance in 6.878 at 199.67 in his Jeg's Mail Order Oldsmobile Cutlass. The 2000 Pro Stock champ will square off against Kenny Koretsky in the opening round.
Seeling posted a track record run of 7.181 at 185.31 on her Team Winston Suzuki to claim her seventh top qualifying effort of the season. Seeling, only the second female in NHRA history to win a pro category Winston championship, will face Greg Underdahl in the first round.
Johns earned his second No. 1 qualifying position of the season in Pro Stock Truck, speeding down the quarter-mile strip in a track record time of 7.488 at 179.68 in his Castrol Superclean Chevy S-10. Johns will face fellow Chevy S-10 driver Mark Whisnant in the first round.




NHRA: 10 Most Recent Entries [ top ]

Mar 19- GAINESVILLE - Sunday Video
Mar 18- GAINESVILLE - Pro Mod Sunday Wrap Up
Mar 18- GAINESVILLE - Sunday Wrap Up
Mar 18- GAINESVILLE - Pro Mod Championship Points
Mar 18- GAINESVILLE - Bonus Points
Mar 18- GAINESVILLE - Championship Points
Mar 18- GAINESVILLE - Mickey Thompson Top Fuel Harley Series Championship Points
Mar 18- GAINESVILLE - Bonus Points
Mar 18- GAINESVILLE - Summary of Eliminations in Top Fuel
Mar 18- GAINESVILLE - Summary of Eliminations in Funny Car