Sat, 11 Nov 2000, 11:06 PM



Budweiser Shootout Part One



By Susan Wade



To Be Continued



POMONA, Calif. --
He started it.
Kenny Bernstein was one of the authors of the Budweiser Shootout, but he probably didn't envision the wild developments with the 2000 version.
He had hoped his first-round victory Saturday over Larry Dixon in the Budweiser Shootout at Pomona meant extra data to analyze in trying to solve the car's problems. But that advantage disappeared with the unprecedented postponement of the semifinals and finals to the Saturday of the 2001 WinterNationals next February.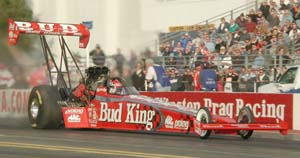 Kenny Bernstein
Graham Light, NHRA senior vice-president of racing operations, said the decision was made "in fairness to everyone," taking into account driver commitments both Sunday and Monday, the track curfew and fan convenience. Besides, Light said, "It would have taken forever to dry the track" with the combination of humidity and plummeting temperatures. Added Light, "It was too unsafe to send cars down the track." Light said the four semifinalists and Budweiser representatives agreed to the arrangement.
Still, Bernstein was buoyed by his 4.744 elapsed time (295.46 miles an hour), which topped Dixon's 4.769/292.08 in the Miller dragster.
"Anytime you win a round these days, the way we're running, we're happy," he said. "It's a moral boost." Bernstein has lost in the first round in five of the last six races, and it has been an excruciatingly long drought since he won the inaugural Las Vegas race - the third of 23 NHRA Winston Drag Racing Series events - April 9.
Bernstein and the Budweiser King dragster crew said he was looking ahead to next season, hoping to use computer information from the Shootout to find the right tune-up for the WinterNationals and beyond.
"I'm just hoping we can make some runs so Mike (Green) and Johnny (West) and the team can get a headstart for next year. When you get beat in the first round all the time, it's hard to figure it out. If we can go a couple more runs today," Bernstein said as he packed his parachutes for the next pass. "We need runs right now. If we can get some runs, I think we can figure this thing out.
"The pie has a lot of pieces in it, and if one of the pieces is out of line, it doesn't work. A lot of things have to fall into place, and a lot of stars have to line up."
One happy coincidence for Bernstein is he won the "Beer Battle" in eliminating Dixon from the $100,000 non-points race. "In the Budweiser Shootout," he said, "it doesn't hurt to beat the Miller car."
Bernstein, the No. 4 seed, will face top-seeded Gary Scelzi in the semifinals as he seeks his third Big Bud Shootout/Budweiser Shootout triumph in Top Fuel.
Scelzi , winner over Doug Herbert in 4.637/309.84, said he knows Bernstein is a formidable foe, despite his previous streak of bad luck: "I didn't think there'd be any ducks out there."
Bernstein was the 1993 champion, defeating Eddie Hill, and the 1991 winner against Don Prudhomme. He won the Funny Car version twice (1983, over Al Segrini, and 1985, over Ed McCulloch).
The other semifinal pairing was No. 2 seed Joe Amato, a six-time Budweiser Shootout champion, and No. 6 Tony Schumacher.
Amato eliminated Doug Kalitta with a 4.655 e.t./307.65 mph. Schumacher survived an ugly, tire-smoking duel with Cory McClenathan.
The day was doubly disappointing for McClenathan, who had wanted to add the title and payoff to his Winston Showdown laurels. The late-afternoon showers washed out his last chance to qualify for the final event of the season and what would have been his final race with the Joe Gibbs operation.
It ended McClenathan's streak of 179 races (although the Top Fuel record belongs to Joe Amato). It was just the third time in his 10-year career and the first since 1991 he has failed to make the show. It also ruined his chance to try for three consecutive national-event victories.
It left him, he said, "feeling kind of stupid right about now.
"I knew it was going to end sometime, but I didn't think it would happen here, at home, in our last race for Joe Gibbs Racing. To have a good car like we had the last couple of weeks and come here with the exact tune-up," he said, "and not be able to get down the track makes you wonder where we did go wrong. There's no reason why this car shouldn't have run somewhere in the 4.50s."
Schumacher had his own wild emotions after his run against McClenathan.
"Fun. Bad. Painful. Crazy." That was the Army dragster's interpretation of his first-round victory. "It's been five weeks since I've been in a race car," said Schumacher, who's still mending from a compound leg fracture and other injuries suffered in an accident last month at Memphis.
Bernstein said he simply had enjoyed the extra chance to Make the Bud King the King of the Hill again. "We invented (the Shootout) in 1982 with the NHRA, with Budweiser. We thought it was great then. We thought it was a marquee situation for the Funny Car field. That's where I was at the time. It has continued for 18 more years in both classes.
"I think the competitors love it. It's 100-grand extra sitting there. They pay you $4,000 at every race if you're the No. 1 qualifier. How could you not like it?" he said with a grin.
After Bernstein announced Thursday that he'll drive for no more than two more years, that grin had a mixture of opportunity and sentiment. But make that heavy on opportunity.




NHRA: 10 Most Recent Entries [ top ]

Mar 17- GAINESVILLE - Saturday Wrap Up
Mar 17- GAINESVILLE - Super Gas Round 3 Eliminations
Mar 17- GAINESVILLE - Pro Modified Eliminations Ladder
Mar 17- GAINESVILLE - Pro Modified Final Qualifying, Session #4 Order
Mar 17- GAINESVILLE - Super Stock Round 3 Eliminations
Mar 17- GAINESVILLE - Super Comp Round 3 Winners
Mar 17- GAINESVILLE - Stock Eliminator Round 3 Eliminations
Mar 17- GAINESVILLE - Super Comp Round 3 Eliminations
Mar 17- GAINESVILLE - Top Alcohol Funny Car Round 1 Eliminations
Mar 17- GAINESVILLE - Total Qualifying Bonus Points