Mon, 13 Nov 2000, 12:46 AM



Scelzi, Force End Record-Breaking NHRA Winston Championship Seasons with



Courtesy of NHRA Communications



POMONA, Calif. -
Auto Club NHRA Finals Win Gary Scelzi and John Force -- a pair of 2000 NHRA Winston champions - ended their respective record-breaking seasons in style Sunday by winning the Auto Club NHRA Finals at Pomona Raceway.
Scelzi edged archrival Tony Schumacher for a record ninth Top Fuel victory of the year, while Force powered past Bruce Sarver to take his 11th win of the season in Funny Car.
Kurt Johnson, Tony Mullen and Greg Stanfield also were winners at the $2 million event, the final of 23 events in the $45 million NHRA Winston Drag Racing Series.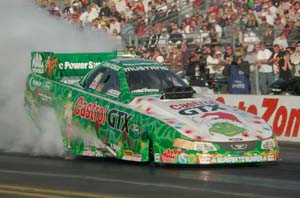 John Force
Force drove his "Grinch"-themed Castrol GTX Ford Mustang to a thrilling side-by-side victory over Sarver, clocking a run of 4.855 seconds at 316.90 mph and crossing the finish line just in front of Sarver's Hot Wheels e-moola.com Pontiac Firebird, which posted a 4.892 at 308.92.
"That's the kind of race that gets you pumped up and excited," said Force of the photo finish. "It was a great race for us and the fans. Sarver's a good kid and we knew he'd be tough. We're just glad to get the win and let those other guys think about it over the winter."
Force defeated Whit Bazemore, Scotty Cannon and Ron Capps before passing Sarver for his 92nd career victory, best all-time among NHRA competitors.
"All of these kids are tough," Force said. "We're happy to get another win for Ford, Castrol and all of our sponsors. It's been a great season and we're glad that we were able to win our 10th Winston championship and got another victory."
Scelzi overcame a holeshot start by Schumacher to take his 22nd career Top Fuel victory. Scelzi's Team Winston dragster posted a 4.547 at 319.75, while Schumacher's U.S. Army dragster slowed near the finish at 4.676 at 310.27.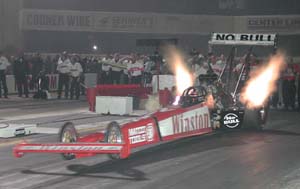 Gary Scelzi
"We've got a great rivalry going with Tony and after his crash at Memphis I admire what he's done to make it back -- win or lose, today was a great comeback for him," Scelzi said. "Alan (Johnson, crew chief) gave it enough power to win. We were a little worried about smoking the tires after the track cooled off, but it ran the number we were looking for. Talk about earning a win, we did it today."
Scelzi outran Kenny Bernstein, Melanie Troxel and Mike Dunn to advance to the final round.
"We had a lot of tough races today but Alan had the car running great," Scelzi said. "This is a great way to finish our third championship season."
Johnson overpowered 2000 Winston champion Coughlin in the Pro Stock final. Johnson recorded a 6.854 at 200.59 in a Chevy Camaro, while Coughlin was a tick slower in an Oldsmobile Cutlass, posting a 6.887 at 200.05.
"We found the right combination for the final and made a perfect run under the conditions," said Johnson, who defeated Arturo Delgado, Richie Stevens and Bruce Allen to advance to the final. "I knew it was going to be a tough race against Jeg, but our AC Delco Chevy team worked hard and we pulled it out. It's great to win the last race with the Camaro. We're looking forward to racing the Cavalier next year."
Mullen took the automatic win over a red-lighting Matt Hines in Pro Stock Motorcycle.
"Matt had the bike to beat here this weekend no doubt about it," said an excited Mullen of his second career victory. "But there's two parts to the racetrack, the starting line and the finish line and today we beat Matt at both ends. I was a little surprised that he red-lighted but we'll take it. I'm happy to give Harry (Lartigue, crew chief) a win in our last race together. Next year we're going our separate ways and it's great to end the relationship on a winning note."
Stanfield outran Mike Coughlin for the Pro Stock Truck victory in a battle of Chevy S-10s. Stanfield covered the distance in 7.520 at 179.95 to overcome a quicker start by Coughlin, who ran 7.569 at 179.18.
"This is a great feeling," said first-time winner Stanfield, a four-time NHRA Super Stock champion. "I've been working hard for this all my life. It's took me 20 years to get into position to get a win at this level. It's unbelievable."
Angelle Seeling (Pro Stock Motorycle) and Bob Panella (Pro Stock Truck) will join season champs Scelzi, Force and Coughlin Monday evening at the Universal Amphitheater in Hollywood for the 2000 NHRA awards ceremony.
POMONA, Calif. -- Sunday's final results from the 36th annual Automobile Club of Southern California NHRA Finals at Pomona Raceway. The $2 million race is the final of 23 events in the $45 million NHRA Winston Drag Racing Series:
Top Fuel -- Gary Scelzi, 4.547 seconds, 319.75 mph def. Tony Schumacher, 4.676 seconds, 310.27 mph.
Funny Car -- John Force, Ford Mustang, 4.855, 316.90 def. Bruce Sarver, Pontiac Firebird, 4.892, 308.92.
Pro Stock -- Kurt Johnson, Chevy Camaro, 6.854, 200.59 def. Jeg Coughlin, Oldsmobile Cutlass, 6.887, 199.55.
Pro Stock Bike -- Tony Mullen, Suzuki, 7.285, 179.83 def. Matt Hines, Suzuki, foul.
Pro Stock Truck -- Greg Stanfield, Chevy S-10, 7.520, 179.95 def. Mike Coughlin, S-10, 7.569, 179.18.
Federal-Mogul Funny Car -- Steve Gasparrelli, Firebird, 5.785, 223.47 def. Russ Parker, Avenger, 10.212, 101.07.
Federal-Mogul Dragster -- Rick Santos, Santos, 5.446, 261.42 def. Darren Nicholson, Uyehara, 5.562, 252.80.
Comp Eliminator -- Arnie Martel, Grand Am, 9.854, 126.92 def. Jimmy DeFrank, Cutlass, broke.
Super Stock -- Jimmy DeFrank, Camaro, 10.375, 121.87 def. Mark Faul, Grand Am, 10.882, 114.69.
Stock -- Stan Hawes, El Camino, 11.884, 110.22 def. Darin Grossi, Barracuda, 10.520, 124.94.
Super Comp -- Jerry Denton, Neil & Parks, 8.998, 141.06 def. Bryan Downing, Dragster, 8.917, 162.41.
Super Gas -- John Peterson, Pontiac, 9.902, 143.98 def. Janice Hogan, Lumina, 9.908, 163.79.




NHRA: 10 Most Recent Entries [ top ]

Mar 20- Strong Stable of Contending Pro Stock Racers Vie for Final Starting Position for K&N Horsepower Challenge
Mar 20- GAINESVILLE - Special Awards
Mar 20- GAINESVILLE - Lucas Oil Drag Racing Series Wrap Up
Mar 19- GAINESVILLE - Sunday Video
Mar 18- GAINESVILLE - Pro Mod Sunday Wrap Up
Mar 18- GAINESVILLE - Sunday Wrap Up
Mar 18- GAINESVILLE - Pro Mod Championship Points
Mar 18- GAINESVILLE - Bonus Points
Mar 18- GAINESVILLE - Championship Points
Mar 18- GAINESVILLE - Mickey Thompson Top Fuel Harley Series Championship Points