Wed, 15 Nov 2000, 11:16 AM



NHRA Winston Champions Honored in Hollywood Celebration



Courtesy of NHRA Communications



STUDIO CITY, Calif. -
Gary Scelzi headlined the NHRA Winston champions honored late Monday evening at the 2000 NHRA Winston Drag Racing Series awards ceremony at the spectacular Universal Amphitheatre, as the world's largest motorsports sanctioning body crowned five professional category champions and presented several special awards.
John Force, Jeg Coughlin Jr., Angelle Seeling and Bob Panella Jr. also were presented checks and trophyware for their accomplishments in their respective pro categories.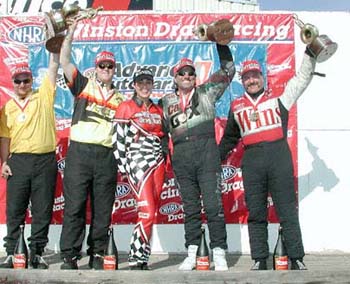 Winston Champions celebrate win. (Not pictured Angelle Seeling)
The evening was highlighted by performances by comedian Tim Allen and the rock band Nine Days. WWF wrestling superstar Shawn Michaels also made a guest appearance, touting his favorite Funny Car driver - WWF Racing's Jerry Toliver - while presenting the Funny Car champion's award to Force.
Scelzi received a check for $200,000 from Winston for earning his third Top Fuel crown, while Force walked off stage with his 10th champion's prize of $200,000. Coughlin netted $125,000 for his first Pro Stock championship, while first time Pro Stock Motorcycle champ Seeling - only the second female in NHRA history to win a pro crown, was presented a $30,000 prize. Pro Stock Truck champ Panella also collected $30,000 for his second title in as many years.
Top Fuel driver Don Lampus headed the list of special award winners, claiming the $20,000 Winston Rookie of the Year title. Top Fuel driver Melanie Troxel captured the Automobile Club of Southern California Road to the Future award, also worth $20,000.
Late drag racing TV announcer Steve Evans, who passed away two weeks ago, was presented the Blaine Johnson award for his dedication and perseverance in the sport. Old Bridge Township Raceway Park president Vinnie Napp, who passed away recently after a long battle with cancer, was presented the Don Prudhomme Award for his many contributions to the sport of drag racing over the years.
For the fifth consecutive year, Pontiac earned the NHRA Manufacturers Cup, and Chevrolet earned the NHRA Truck Manufacturers Cup for the second year. Tony Fabrizio of the Dallas Morning news was presented the NHRA Media Award.




NHRA: 10 Most Recent Entries [ top ]

Apr 21- HOUSTON - Top Fuel Harley Qualifying Notes, Session #3
Apr 21- HOUSTON - Super Gas Round 4 Eliminations
Apr 21- HOUSTON - Super Stock Round 4 Eliminations
Apr 21- Worsham Announces Planned Hiatus from Racing
Apr 21- HOUSTON - Super Comp Round 4 Eliminations
Apr 21- HOUSTON - Stock Eliminator Round 4 Eliminations
Apr 21- HOUSTON - Super Gas Round 3 Eliminations
Apr 21- HOUSTON - Super Stock Round 3 Eliminations
Apr 21- HOUSTON - Super Comp Round 3 Eliminations
Apr 21- HOUSTON - Stock Eliminator Round 3 Eliminations