Fri, 17 Nov 2000, 11:32 AM



Randy Daniels Earns Second Chevy S-10 "Like a Rock" Award



Courtesy of Judy Stropus



POMONA, Calif. --
For the second straight year, Randy Daniels has been honored by his peers as the Chevy S-10 Pro Stock Truck driver who most exemplifies Chevrolet's "Like a Rock" theme.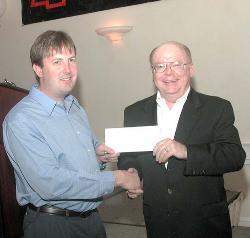 Randy Daniels and Fred Simmonds
Daniels, 32, of Grantsboro, N.C., was presented with a $5,000 check from the Chevy S-10 brand team by Fred Simmonds, assistant marketing manager for GM Racing/Marketing, at a reception honoring Team Chevrolet members competing in the 2000 NHRA Winston Drag Racing Series.
Recipient of the inaugural award in 1999, Daniels becomes the first repeat winner and will receive his second engraved "Like a Rock" plaque from the S-10 brand.
Voting for this award was held throughout the 2000 14-race series among Chevy S-10 drivers at each event who qualified in the top 16.
"Is spirited, a leader, a decision maker," "Goes the extra mile to win," "Gets the most from the least, works efficiently," "Provides a neat and tidy appearance," are some of the criteria for this award, and the soft-spoken, laid-back Daniels, winner of five titles this year, two pole positions and runner-up in the championship, impressed his fellow competitors with his strength of character, talent and determination.
"He never gave up, he demonstrated true grit." said Simmonds. "Although he failed to qualify at the opening event this year, he fought hard to bring himself back into contention for the series' crown. The chase for the championship between Bob Panella Jr. and Randy was not decided until the penultimate event."
Also recognized at the season-ending Auto Club NHRA Finals at Pomona Raceway was Panella, driver of the Panella Trucking Chevy S-10, winner of back-to-back Winston Championships in the category, which he clinched at last week's O'Reilly Nationals in Dallas.
Panella's name was engraved on Chevrolet's Pro Stock Truck perpetual trophy as the third Pro Stock Truck champion in history driving a Chevy S-10. Panella, 29, of Stockton, Calif., will receive a replica of this striking trophy, made from a smaller version of the cluster of lights at the starting line known as a "Christmas Tree," with a 50-pound granite stone as its base.
"I am just so honored to be able to win this award which was voted on by my fellow racers. It was a shock. I never dreamed I'd win it two years in a row," said Daniels, sponsored by Bailey Trucking, owned by Monty Bailey. "It's just a little more icing on the cake. It's been a Cinderella year; it has been great.
"I owe this award to Monty because Monty is the one who keeps everything so clean and pushes us to keep things clean. He's real proud of his rig and pit area. Dad and I concentrate on trying to make our Chevy S-10 run fast; Monty's really self-conscious about the way everything looks.
"We are really grateful to Chevrolet for making this award possible and for making these three years possible for the series," added Daniels. "They give us great quality parts that have been very dependable."
Daniels and his dad Garley, a two-time NHRA Sportsman champion, run an engine-building shop in Grantsboro, supplying engines to Sportsman racers. Bailey provides the transporter and assists in cross-country driving chores. The race team is otherwise unsponsored.
Daniels began his racing career in 1986 in the Sportsman ranks, and switched to Pro Stock Truck in 1998, first year for the class. That year he was eighth in points with one runner-up finish. In '99 he had two wins and two runner-ups, ending up fifth for the year.




NHRA: 10 Most Recent Entries [ top ]

Apr 22- HOUSTON - Top Fuel Final, Round 4 Eliminations
Apr 22- HOUSTON - Funny Car Final, Round 4 Eliminations
Apr 22- HOUSTON - Pro Stock Final, Round 4 Eliminations
Apr 22- HOUSTON - Pro Modified Final, Round 4 Eliminations
Apr 22- HOUSTON - Top Fuel Harley Final, Round 3 Eliminations
Apr 22- HOUSTON - Super Gas Final, Round 6 Eliminations
Apr 22- HOUSTON - Super Comp Final, Round 6 Eliminations
Apr 22- HOUSTON - Super Stock Final, Round 6 Eliminations
Apr 22- HOUSTON - Stock Eliminator Final, Round 6 Eliminations
Apr 22- HOUSTON - Pro Modified Round 3 Eliminations