Tue, 21 Nov 2000, 08:28 AM



Pawuk Scores Career-Best Qualifying Results in 2000



Courtesy of Jon Asher



RICHFIELD, Ohio --
When the dust finally settled on the 2000 NHRA Winston Drag Racing series, only five drivers had qualified for every Pro Stock field, including, for the first time in his career, Mark "Cowboy" Pawuk. "That's probably the accomplishment we're the most proud of," Pawuk recently admitted.
"Everyone on our team set that as a personal goal the minute the '99 season ended, and we never lost sight of that throughout the year.
"The level of competition in NHRA Pro Stock racing is unbelievably fierce, so when you can look back on the year and say, 'Yeah, we were in that one, too!', well, you know you've done something really special.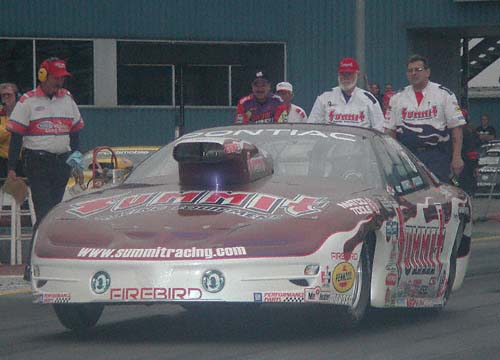 Mark "Cowboy" Pawuk
"It's also gratifying to know that every race day we were out there carrying the colors for Summit Racing Equipment, Pontiac, Matco Tools, Pennzoil, Holley, Mr. Heater and all of our other sponsors. Sure, we lost in the first round sometimes, but if you don't qualify, you can't win, so that has to come first."
Including the non-points Winston Showdown in July, Pawuk qualified in the top half of the field in 20 of 24 opportunities, another personal record. Including the year's final three races in which Pawuk qualified the Summit Racing Pontiac Firebird in the Number 5 position, he was fifth or better 11 times. His best qualifying effort was a 6.841 at the rain-delayed Matco Tools Spring Supernationals at Englishtown, where he ended up Number 3 in a record-setting field of competitors.
The stage was set for Pawuk's season in the year's second outing at the CSK Nationals in Phoenix back in February, where he reached the final round before losing a heartbreaker to Jeg Coughlin, Jr. "That was a tough one," Pawuk admits, "but it ultimately gave all of us an emotional boost, because it showed we could be competitive against the best cars and drivers in the class. After that one we wanted to win more than ever."
The team would get their wish with an impressive victory at the Pontiac Excitement National presented by Summit Racing at National Trail Raceway in Columbus, Ohio in June. "I don't think winning ever meant as much to me personally as it did that day," Pawuk said.
"We went out in the second round of that race in '99, and felt really bad about it because so many of our friends from Summit were on hand. We took that loss a lot harder than they did, but we kind of felt we owed 'em something special this year, and luckily, we were able to deliver a victory.
"I loved the look on Paul (Sergi's) face when I handed him the trophy in the winner's circle!" (Sergi is the president/CEO of Summit Racing Equipment, Pawuk's sponsor for the last eight years.)
After taking a few days off for the Thanksgiving holiday, Mark Pawuk Racing will dig right back into preparations for the 2001 season. While Scott Pastircak oversees continuing engine development programs, crew chief Rob Downing and Pawuk await the arrival of two new Pontiac Grand Am race cars. One is coming from St. Louis builder Jerry Bickel Race Cars, while a second version is nearing completion at Don Ness Racecraft in Minnesota.
Pawuk recently returned from a visit to Bickel's shop where he was fitted for the new car. "I think we'll take delivery on Jerry's car some time in December, which is about the same time that Don has promised to finish his," Pawuk said.
"As soon as we can get even one of the new cars assembled we're heading south to do some testing. I'm not sure where we'll end up running because it's going to depend on timing and the weather.
"We've set some new goals for ourselves for 2001, and one of them is to get to the Winternationals in February with a car that's been tested and ready to race.
"Believe me, I know that the other guys aren't even thinking about an 'off-season,' and neither are we!"




NHRA: 10 Most Recent Entries [ top ]

Mar 18- GAINESVILLE - Pro Modified Final, Round 4 Eliminations
Mar 18- GAINESVILLE - Factory Stock Showdown Final, Round 4 Eliminations
Mar 18- GAINESVILLE - Top Fuel Final, Round 4 Eliminations
Mar 18- GAINESVILLE - Funny Car Final, Round 4 Eliminations
Mar 18- GAINESVILLE - Pro Stock Final, Round 4 Eliminations
Mar 18- GAINESVILLE - Pro Stock Motorcycle Final, Round 4 Eliminations
Mar 18- GAINESVILLE - Top Fuel Harley Final, Round 3 Eliminations
Mar 18- GAINESVILLE - Competition Eliminator Final, Round 4 Eliminations
Mar 18- GAINESVILLE - Top Alcohol Dragster Final, Round 4 Eliminations
Mar 18- GAINESVILLE - Stock Eliminator Final, Round 6 Eliminations