Thu, 23 Nov 2000, 10:08 AM



Repeat for Bob Panella, Jr.



By Mickey Schultz



For the second consecutive year, the NHRA Winston Pro Stock Truck championship is the property of Bob Panella, Jr., who received a check from Winston for $30,000 for winning this year's championship. In addition to the two championship titles, Panella finished 4th in 1998, the first year of professional competition for the truck category.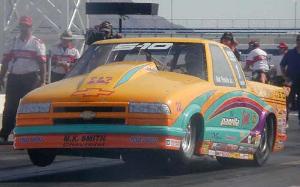 Bob Panella
"A lot of people always say the second one is more special but I really believe this one was special - -for more than just the defending reason. We had a little bit to prove. We lost some employees to another Pro Stock Truck team over the off-season and a lot of people out here thought I was going to struggle. All that did was put us in high gear and made us work that much harder and try to prove them wrong. This championship showed what our team is made of," said Panella, as he reflected on winning this year's Winston title.
"We started out the year with a good momentum. We tried to keep that momentum and not make a whole bunch of mistakes. We struggled a little at the Mac Tools Gatornationals (Gainesville, Fla.) but bounced right back and won in Las Vegas. It's important to keep the momentum and to keep your head on straight. It's important for the whole team to stay focused. One person, including myself, can bog down the entire operation. We try to keep our heads up high and stay after it. Every race gets tougher and tougher. But we were able to stay focused and this second championship is the result of a team effort."
Since the inception of Pro Stock Truck as a professional class, the 29-year-old driver from Stockton, Calif., has qualified for every Pro Stock Truck event run to date. Additionally, Panella once again amassed some impressive numbers during the 14 national events of the 2000 season in which Pro Stock Trucks competed:
· He qualified number one nine times and had three number two qualifying spots.
· He won five national events in 10 final rounds - - winning 42 rounds of racing, while losing only 9 times - - a percentage of .824.
· He was runner-up at the Holley Dominator Pro Stock Truck Duel, a special race-within-a-race. (In 1998, he won the Holly Duel).
· He ran a career best and class best/national record elapsed time of 7.428 seconds (Memphis: 10/00). He has a career best speed of 180.09 mph (Atlanta: 5/00). (Note: The national record is 180.69 mph.)
· He was number one in the Winston point battle 13 out of 14 races. Said another way: He held the number one spot in the Winston point standings after every event but the Mac Tools Gatornationals in Gainesville, Fla., when he dropped to second. Panella's passion for the sport of drag racing was inherited from his father, Bob, Sr. The elder Panella, who raced on a limited basis but preferred to own the team and let others handle the driving, always fielded a first-class, winning operation. The winning tradition carried over to the Pro Stock Truck team of Bob, Jr. which is backed by the family business - - Panella Trucking.
Panella Trucking, which was started by Bob Jr.'s grandfather, Ralph, as a trucking enterprise in the early '30s, to carry the family produce to market, is currently operated by Bob, Sr. Panella Trucking is now one of the largest produce haulers in the central valley of California and a major contributor to the financial resources that fund the Panella racing operation.
The younger Panella's first entry into motorsports was in go-karts. Go-karts were also when the mechanical side of Bob, Jr. began to manifest itself. Panella, Sr. says that aptitude tests always indicated that his son had a gift for things mechanical.
"He started tinkering with his go-kart engines," said Bob Sr. "He'd take it apart to make it go faster. Then he would do it again to make it go fast than before. He always wanted it to go faster… and faster… and faster. He did the same thing with the car engines when he moved into (NHRA) sportsman racing - - take them apart to go faster. Then he'd do it again and again and again. Now he's doing the same thing with truck engines." Apparently he learned his lesson well!
Panella, Jr. began his NHRA career in Super Stock, but quickly moved to Competition Eliminator where he began to turn heads. He won four Division 6 Comp titles and finished fourth in national points in that class in 1994. When the opportunity to jump to the professional ranks and Pro Stock Truck came about, he was one of the first in line.
Two main factors were foremost in Panella, Jr.'s decision to move to Pro Stock Trucks. First, it was a step up in speed from Comp, and he could utilize the same type of engine that he had used to dominate the class in Division 6. Secondly, he did not have to attend a full NHRA national event schedule, as the trucks only compete on a limited basis - - 14 events in 2000. This afforded more time in the shop and more time to spend with family.
Panella Racing not only supports a two-truck operation, but has begun to build engines for a limited number of competitors. Bob, Jr.'s stats show that he knows how to make an engine go fast, so engine building was a logical progression and a way for him to share his knowledge with others. By keeping the numbers small, it allows Bob, Jr. to spend additional time with each engine to insure that the standards measure up to the performance level that carried him and his Chevy S-10 truck to the Winston championship in 1999 and 2000.
"I enjoy engine building as much as I enjoy driving," said Panella, Jr. "It gives me a sense of satisfaction to see one of my engines doing well at an event. It is all about going fast. I'm going to do my best over the winter to build engines and get a couple more guys running fast."
Now that Bob Panella, Jr. has won back-to-back championships, what does the future hold for the champ. "It was definitely harder to win this championship than it was to win the first," said Panella. "There are twenty or more trucks out there that can win a race now. Last year there was only a handful. Now most everybody has all their ducks in a row and that's what's making it tougher. It's only going to get tougher. No one is going to have the advantage that only a few have had in the past. But we're going to try and stay on top.
"We've got a hell of a crew led by Mike Stryker. Mike knows how to win from all the years he spent with Warren Johnson and the group we've assembled now knows how to win too. That should give us a plus for next season. If I can do my job driving, teams will know we're out there next year. I don't know about three-peat, but I damn sure know we're going to give it our all. It will be tough!"




NHRA: 10 Most Recent Entries [ top ]

Apr 26- NHRA Dodge HEMI® Challenge at U.S. Nationals to Celebrate 50th Anniversary of Mopar-powered 1968 Super Stock Cars
Apr 26- CHARLOTTE 1 - Jack Beckman Making Most of Opportunities Approaching NGK Spark Plugs NHRA Four-Wide Nationals
Apr 26- HOUSTON -Through the Lens of Ron Lewis
Apr 24- CHARLOTTE 1 - Steve Torrence Enjoying Four-Wide Success Heading to NGK Spark Plugs NHRA Four-Wide Nationals
Apr 24- CHARLOTTE 1 - Fact Sheet
Apr 24- Kalitta Motorsports Welcomes NASCAR Stars to the SealMaster Track Walk in Charlotte
Apr 24- zMAX Dragway Celebrates 10th Anniversary
Apr 24- CHARLOTTE 1 - NGK Spark Plugs NHRA Four-Wide Nationals Brings 40,000 Horsepower Thrill Show to zMAX Dragway
Apr 23- HOUSTON - Lucas Oil Drag Racing Series Wrap Up The NHRA Lucas Oil Drag Racing Series Wrap Up
Apr 23- CHARLOTTE 1 - J.R. Todd Aiming for Two Four-Wide Racing Wins in 2018