Sun, 26 Nov 2000, 08:46 AM



Don Lampus, Jr. - - NHRA Winston Rookie of the Year



By Mickey Schultz



Subject: During the 2000 post-season awards ceremony at Universal Amphitheatre, Rick Hauser, R.J. Reynolds' senior manager-operations for the Winston Drag Racing Series, presented the NHRA Winston Rookie of the Year award to the NHRA newcomer having the greatest impact on NHRA Winston Drag Racing. This year's recipient was Top Fuel driver Don Lampus, Jr.
Lampus, 36, from Dallas, Texas, earned a $20,000 bonus from Winston for winning the "Rookie" honor, and became the fifth Top Fuel driver to accept the award in its eleven year history. Active drivers who have taken home the prestigious title include: Del Worsham (FC-1991), Kurt Johnson (PS-1993), Bob Vandergriff, Jr. (TF-1994), Larry Dixon (TF-1995), Matt Hines (PSB-1996), Gary Scelzi (TF-1997), Jeg Coughlin, Jr. (PS-1998), and Scotty Cannon (FC-1999).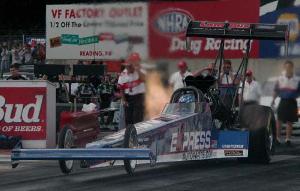 Don Lampus
"Winning Rookie of the Year is such an honor. I started to realize this when, at the banquet, they were reading off the names of the past recipients," said Lampus on winning the award. "Looking back on the season, it was a REALLY good year for us. We've learned a lot and had loads of fun doing it. There were so many people who helped us along the way - I need to thank them all. The NHRA really made us feel welcome in their playground - and I greatly appreciate that. I can't wait for the 2001 season to begin!"
After earning a degree in Industrial Engineering from Penn State University, Lampus took employment in California where he discovered off-road racing in the early 90's. As a results, dune buggies, Baja racing, and motorsports became a way of life for Lampus. Over a five year period, Lampus raced with his dad on the off-road circuit, winning the SCORE Class 1-2 1600 Off-Road Championship in 1996.
After winning the off-road championship, Lampus took the next year off. That's when he discovered drag racing.
"Since we had won the championship, it was time to go play with something else. We looked into World of Outlaws (Sprint Car Racing), NASCAR Winston Cup, NASCAR trucks, and drag racing. A friend of mine knew mostly about drag racing and took me to the U.S. Nationals in Indianapolis in 1997. It was pretty much my first drag race. I saw Joe Amato do his burn out and pass and that was it. I was hooked from that point forward," reflected Lampus, as he looked back on his start in drag racing.
The next step for Lampus was Frank Hawley's Drag Racing School. Immediately after finishing the school's Super Comp course, he ordered a Top Fuel car from renowned chassis builder Murf McKinney. Then it was back to school, where he upgraded to an alcohol license. Next it was a Top Fuel license.
"I made roughly 25 passes down the quarter-mile in my own car. I want to say my 26th pass was in actual competition at an IHRA race in Cordova, Ill.," said Lampus. "When we pulled in, everybody was saying, 'Who is this guy Lampus? Where does he come from?'"
The IHRA rookie Top Fuel driver quickly answered those questions by clicking off an initial pass in the neighborhood of 4.95 seconds at around 300 mph. "I think we qualified number three or four, right out of the box. It absolutely stunned everybody. I was elated, absolutely beside myself. It was great. It was a moment that would only get better," recounted Lampus.
That initial IHRA race was around July 4th, approximately midway through the 1998 season. Even with the late start, Lampus raced to a fifth place finish in the '98 IHRA point standings, being named a finalist for IHRA Rookie of the Year honors.
In 1999, Lampus made an all-out assault on the IHRA championship. He won the first race of the season and never looked back, reaching the final round in five of the 10 events scheduled. Of those five final rounds, he won four, including three consecutive events. He walked away with the championship.
He then ran two NHRA races - - Dallas and Pomona - - for ExpressAutoParts.com. This opened the door for a full sponsorship from ExpressAutoParts.com to run the entire 2000 NHRA season. ExpressAutoParts.com is a one-stop superstore offering high-quality auto parts and accessory needs, exceptional customer service, and same-day shipping. The company offers a complete program for the consumer, with on-line mechanics to answer and give advice to all types of questions and a team of specialty parts experts to locate hard-to-find parts. "I have to thank ExpressAutoParts.com, my primary sponsor, and associate sponsors American Racing Wheels, Red Line Oil, and Craftsman Tools for putting us in a position to win the Rookie of the Year award this season," added Lampus.
During the 2000 season, Lampus qualified for 21 of the 23 NHRA national events - - missing only the Keystone Nationals and the season-ending AAA Auto Club NHRA Finals. Of those 21 times he qualified, he was in the top half of the field seven times - - with a best of third at the Matco Tools SuperNationals in Houston. Lampus just missed the top ten in Winston Top Fuel points, finishing #11, only 23 points out of 10th. He recorded a career best elapsed time of 4.580 seconds and a career best top speed of 321.19 mph in his first full year on the NHRA circuit.
What does Lampus see for the future? "Obviously, we're going after improvement. I have a good crew assembled, led by crew chief Wayne Dupuy. I'm always very conservative. Maybe too conservative. I don't want to say, 'I'm going after the world championship in 2001,'" said Lampus, "I would rather aim for the top five, qualify for every event, qualify in the top half of the field in at least half of those events, and along the way I wouldn't mind getting a 'Wally' (event trophy) or two. That would make my second year in NHRA drag racing fulfilled. Maybe in the next two or three years we go 'full hog' for the championship.
"Long term, I hope I last as long as Joe Amato, retiring from drag racing in my fifties. I love the sport, I love the people. It's high adrenaline, high energy. It's fantastic!" Lampus wants to be liked, but feared by his peers. "I want them (my peers) to like me and take me out for a beer every now and then. Everybody on my team says I have a 'perma-grin' because I'm always smiling, always upbeat. I'd like to be that very happy guy that everybody fears on the track. I want people like Gary Scelzi, when he pulls up next to me at the lights, to go, 'Hey man, I've got to pay attention to this guy because he's quick on the tree (lights) and he's got a really good hot rod.'"
Lampus feels drag racing is for the people and he is trying to get new fans hooked, just as he got hooked at Indy in 1997. "We have a great new TV package for 2001. There are a lot of people who rely on TV to see their favorite drivers in action and we are thankful for those fans. But drag racing is a sport that you need to be here to watch and feel it. "I love the first timers when they come by the pits. It's great that NHRA and IHRA allow the fans into the pits where you have driver access. The most excited people I meet are the ones who are here for the first time and after they see the fuel cars go down the track on that initial run come back and talk with you. That's awesome! They're awesome!"
Not only is Don Lampus, Jr., the 2000 Rookie of the Year, he sounds like the newest ambassador for the sport of drag racing. You will be hearing his name for many years to come.




NHRA: 10 Most Recent Entries [ top ]

Apr 19- HOUSTON - Friday Schedule
Apr 19- Tige Boats Named Presenting Sponsor of E3 Spark Plugs NHRA Pro Mod Drag Racing Series Portion of NHRA SpringNationals
Apr 19- HOUSTON - Previous Success, Early Win has Funny Car's Courtney Force Excited
Apr 18- Haney Headed for NHRA Pro Mod with Summit Racing on His Side
Apr 18- HOUSTON - Richie Crampton Enjoying Early-Season Success Heading to 31st Annual NHRA SpringNationals
Apr 18- 2018 Mustang Cobra Jet Celebrates 50th Anniversary of Racing Legend with Quickest
Apr 18- New Ford Mustang Funny Car Scheduled to Debut In 2019 NHRA Mello Yello Season Opener
Apr 16- HOUSTON - Fact Sheet
Apr 16- HOUSTON - After Early-Season Mishap Funny Car's Jonnie Lindberg Looks to Get On Track