Tue, 28 Nov 2000, 08:36 AM



Larry Morgan- The Newest Dodge Boy



By Mickey Schultz



>From the late '80s until the mid-90s, Dodge was the dominant car on the NHRA Pro Stock circuit. The team, fielded by the Wayne County Speed Shop, and led by the Dodge Boys - - Darrell Alderman and Scott Geoffrion, re-wrote the NHRA record books during the early '90s. But the dominance came to an abrupt end in 1995, when the Wayne County Speed Shop was vandalized and Dodge and the Dodge Boys quickly faded from the NHRA national event schedule and eventually became a distant fact. The vandalism was never solved and still to this day remains heated fodder for the many chat rooms that dominate the Internet motorsports scene.
But quietly and steadily, Dodge is making a comeback in Pro Stock on the NHRA Winston Drag Racing Series. The program is being spearheaded by the teams of Nickens Bros. Racing, with the original Dodge Boys - - Alderman and Geoffrion - - handling the driving chores, and Larry Morgan Racing, led by the newest Dodge Boy - - Larry Morgan, 46, from Newark, Ohio.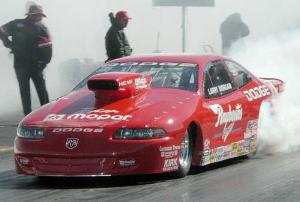 Larry Morgan
Morgan began his racing career in 1975 when he started bracket racing. He moved to the NHRA sportsman division in 1983 when Gil Kirk, of the Rod Shop out of Columbus, Ohio, came to Morgan to build a car for his racing operation.
"I built race cars on the side," said Morgan. "I built a GT car for Gil Kirk for a new class NHRA had come out with. I built the car in one month and was then asked if I wanted to drive it in competition. So I started driving that car for the Rod Shop in 1983. It was the first time I had ever been on the NHRA tour. I won three national events that first year.
"From there things took off. The Rod Shop was tied in with Pontiac and Castrol Motor Oil and I was asked to build a race program around the Pontiac four-cylinder engine and Castrol Motor Oil, which was formulated for small engines. The program almost did me in, but we developed a satisfactory engine and competed in a Pontiac Fiero for two years. The program had its ups and downs because it was a total development program but overall it turned out successful. At the end of '86, Oldsmobile came to me and wanted to know if I would be interested in driving Bob Panella's Pro Stock Oldsmobile."
The ever opportunistic Morgan saw this as a no-brainer. "When you're in Competition Eliminator, surely, you want to move up. So, I took a chance and ended up doing that program the next year," said Morgan.
"I'll never forget the first time I let the clutch out on that (Pro Stock) car. It shook the tires and my rear end puckered-up. I wasn't used to doing that with a four-cylinder. It was 700 horsepower more than I was used to. It was scary. I thought, 'I'm making the wrong move', but went on to qualify at my first race - - the Winternationals in Pomona."
Although, the Pro Stock class was becoming increasingly more competitive, Morgan was successful during his time with both Panella and Oldsmobile. When Oldsmobile made a corporate decision to redirect their marketing effort, Morgan moved to Pontiac. >From Pontiac, Morgan moved to Chevy who had selected him and Kurt Johnson to launch their Camaro drag racing program. He drove a Camaro through the 1997 season.
Morgan is one of a handful of drivers to win in three NHRA categories, as he has victories in Super Stock, Comp Eliminator and Pro Stock. During his Pro Stock stint in GM products, from 1987 to 1997, Morgan finished in the top ten in Winston points eight times, the most recent in 1997. His highest finish was third, which he reached twice - - in 1989 and 1991. During that same span, he reached the final- round 21 times, winning eight.
In special events, Morgan has done equally as well. He won the NHRA Pro Stock Challenge three times (1989, 1990 and 1992) and was runner-up twice (1993 and 1995).
These impressive stats, together with Morgan's track record for building new corporate racing programs, caught the eye of DaimlerChrysler Vice President of Motorsports and Mopar Performance Parts Lou Patane, a long-time drag racer himself.
"At Indy, in 1997, Lou Patane came to me and asked if he could discuss an exciting opportunity with me before I signed another deal. So I called Lou and he asked me if I wanted to be involved in this new development program with the new Hemi. After much dialogue back and forth, and seeing the handwriting on the wall with GM, who, at that time, didn't need to move forward because they had 16 of the 16-car field at most every event, I chose to move over to Mopar," reflected Morgan, on his move to the Dodge/Mopar program.
"Logistical problems confronted us that first year. We ended up having to run the Wedge. That wasn't a good deal for any of the teams involved in the program. We started on the Hemi near the end of the '99 season, but were still trying to make the Wedge competitive. At Chicago this year, Lou Patane gave us the go ahead to put all our effort into Hemi and forget about the Wedge. We went home and went wide open on the Hemi. We've picked the new engine up about 50 horsepower since then," said Morgan on the early developmental problems he faced.
But hard work and dedication, together with corporate support have paid off for Larry Morgan Racing. Morgan continued to discuss the latest results with the new and improved version of the Hemi, "The program is really going well. We've worked real hard. The support from Mopar has been more than excellent. I think if we have as good a winter as we had this summer, we ought to be on top next year.
"I've told different people from the media that we (Morgan, Alderman, and Geoffrion) should be one, two, three in qualifying next year at the (season-opening) Winternationals. I really feel the program's that far advanced over the programs I've been involved with before."
Late season results in 2000 bear out the fact that the program has advanced and could be a viable force in 2001. Morgan ran a career best elapsed time and speed at the AutoZone Nationals presented by Pennzoil when he recorded a pass of 6.830 seconds at 200.59 mph over the Memphis Motorsports Park quarter-mile in his Dodge R/T. Meanwhile, at the same event, Geoffrion driving a Nickens Bros. prepared Hemi, set a national elapsed time standard at 6.809 seconds.
Morgan feels this new Dodge/Mopar program ranks right up there with his greatest highlight. "Right now, starting a new program from ground zero, with a clean sheet of paper and building a whole new engine ranks right up there with winning the Pro Stock Challenge and Indy in 1989. I personally am expecting big things to happen with this program over the next few years. I'm really looking forward to the off-season and to the start of 2001," said Morgan.
"Mopar and Dodge will once again be the dominant car on the Pro Stock circuit. Just you wait and see," added Morgan with a smile, as his thoughts turned toward the Winternationals less than three months away.




NHRA: 10 Most Recent Entries [ top ]

Apr 24- CHARLOTTE 1 - Steve Torrence Enjoying Four-Wide Success Heading to NGK Spark Plugs NHRA Four-Wide Nationals
Apr 24- CHARLOTTE 1 - Fact Sheet
Apr 24- Kalitta Motorsports Welcomes NASCAR Stars to the SealMaster Track Walk in Charlotte
Apr 24- zMAX Dragway Celebrates 10th Anniversary
Apr 24- CHARLOTTE 1 - NGK Spark Plugs NHRA Four-Wide Nationals Brings 40,000 Horsepower Thrill Show to zMAX Dragway
Apr 23- HOUSTON - Lucas Oil Drag Racing Series Wrap Up The NHRA Lucas Oil Drag Racing Series Wrap Up
Apr 23- CHARLOTTE 1 - J.R. Todd Aiming for Two Four-Wide Racing Wins in 2018
Apr 23- Mid America Dragway Joins NHRA Member Track Network
Apr 23- HOUSTON - Special Awards
Apr 23- HOUSTON - Sunday Video