Wed, 13 Dec 2000, 08:54 AM



Force Encourages Competition:



By Susan Wade



'All they've got to do is get around me.'



In the hush of the airplane cabin, John Force had some rare quiet time to reflect on his NHRA Funny Car career and the words of the young woman seated next to him.
He was heading from Southern California to Tucson, Ariz., to test his Castrol GTX Funny Car for the 2000 NHRA season. The young woman was Connie Worsham, wife of rival and fellow two-car team headliner Del Worsham.
"They're just the best people," Force said, sitting on the edge of his folding chair in the Tucson pits, "and here she's talking about her husband and his dreams to be a champion. And you say, 'I would trade all my dreams to have his youth. I'd give him all the trophies and start all over.' Because it was the journey that it was about.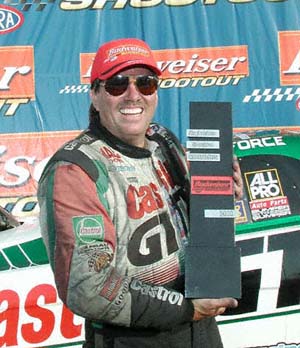 John Force
"She said he wants the championship. But that means I'd have to give up my dream," he said. "Chuck Etchells has given his life to this sport, and he wants that title. So does Al Hofmann. Don't they all deserve it?"
Then, leaning back comfortably, he said matter-of-factly, "All they've got to do is get around me."
That was in January. By November, the message was the same.
They'll have to get around John Force.
No one could in 2000. Not well-funded WWF team owner Jerry Toliver, with his seven-week stranglehold on the points lead. Not Prudhomme pilot Ron Capps, who shook six final-round losses and a dozen defeats in the first or second round to finish second in the standings. Not Jim Epler, who won the Las Vegas inaugural in April and the prestigious U.S. Nationals at Indianapolis in September. Not Worsham or Frank Pedregon, who benefitted from two-car data. Not even Tony Pedregon, Force's teammate in the Castrol Syntec Mustang.
Force wrapped up the NHRA Winston Championship, his eighth consecutive and record-tying 10th, at Houston in October. By then, rewriting Bob Glidden's record for NHRA career victories in June at Chicago seemed like a distant memory, just another jewel in that already studded Funny Car crown.
But Elimination Round No. 72 -- the final pass of the season -- provided the perfect ending to his 11-victory season. That triumph over Bruce Sarver in his e-moola.com Pontiac Firebird brought Force, a man who cherishes his humble heritage, back to basics.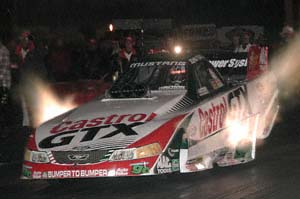 Force lights up the sky.
"That's bigger than when I locked up my 10th title, because that's a real drag race," Force said after ripping a 4.855-second elapsed time (316.90 miles an hour) to Sarver's 4.892/308.92. Force got the jump with a 4.69 reaction time to Sarver's equally stout 4.91.
"When Sarver got out of the car he was hugging me and everything. He was all excited because it was a real race," he said. "It ain't like you were let down because it stumbled or the track was terrible. It just was good racing for the fans, and that's instant energy."
When Toliver was enjoying his first-place perch, he could have gotten a valuable tip from Force's brother, Walker. "One characteristic John has that makes him a winner," Walker Force said, "is that he never, ever, ever gives up. You can knock him down, whip him, stomp on him, but the next day he'll be knocking on your door."
He ripped Toliver's off the hinges with six of his 11 event victories after the mid-season Winston Showdown at Bristol, Tenn.
"Maybe the heat of summer got 'em," Force said. "Jerry did a great job putting that thing together. And (crew chief Dale) Armstrong, you can't get any better than him and Bob Brooks. Maybe that's why all these years of yelling and screaming, I never make a statement (that) I'm going to win. I always say I'll be there maybe, dance around."
He teased that maybe even something mystical caused the reversal of fortune. "Weird things are happening," he said. "(NHRA President Tom) Compton told me (Al) Hoffman came by, congratulated him and said, 'Thank you for the things you're doing. I'm just so happy to be here.' I said, 'Wait a minute -- I thought you said Al. Our Al? Al who hates everybody?' The world's changing. When (Kenny) Bernstein gets married and retires (he announced his plan to ease out of the driver's seat), the stars are in a row or something. Or he hit his head."
In Tucson in January -- with new rules regarding nitromethane mix, track oildowns and faster turnaround time between rounds yet to be factored into the competiton -- Force was philosophical. "Once I give up and don't want it, it's over. It's not about winning," he said. "It's about driving everyday with the energy and the fury to be fearless. Once you lose that eye of the tiger, you're done."
At Pomona in November, with his team firing on all cylinders and appearing energized for the season to go beyond the 24-event schedule, Force was more practical. "I like to leave them for the winter in pain," he said.
Force's Funny Car competitors can count on him not to waste one day of the offseason. He's planning for that 11th series title.
"What's our option? I've got nowhere to go -- the wife won't let you come home . . . got to go back to work," he cackled. "It's what we do. People ask me why I'm still here. I tell them it's the only home I got. The trick is to be out here every morning, loving what you're doing. As long as you've got the love . . . "




NHRA: 10 Most Recent Entries [ top ]

Jun 05- NHRA Announces Revised Schedules for Pro Mod, Top Fuel Harley, Factory Stock Showdown, and Mountain Motor Pro Stock
Jun 03- NHRA Sonoma Nationals Event at Sonoma Raceway Cancelled
Jun 03- NHRA Mello Yello Drag Racing Returns Beginning with Two Indianapolis Events in July
Jun 03- A Message From Summit Motorsports Park President Bill Bader Jr.
May 21- Second JEGS SPORTSnationals Added, to be held in mid-August in New England
May 20- DENSO Sponsors NHRA Champs' Shelter-in-Place Dachshund Race
May 14- To Our Racing Community-From Racers for Christ
May 13- The Name Game Part I
May 12- Morgan Lucas, Son of Forrest and Charlotte Lucas, Appointed President of Lucas Oil Products, Inc.
May 05- Cancellation of the 14th Annual Summit Racing Equipment NHRA Nationals