Mon, 18 Dec 2000, 12:16 PM



Dixon Reflects on 2000 and Looks Ahead to 2001



Courtesy of Skip Allum



Q: How happy were you with your performance behind the wheel, as well as the effort of the Miller Lite Dragster in finishing third last season?
A: I was very happy with the performance we had as a team with Dick LaHaie tuning for us last season. You get a real comfortable feeling going up to the starting line when you know that you have a legitimate chance to win some rounds and that is something that LaHaie brings to the table which we hadn't had here in years past. I was pleased with my driving last year, but not 100 percent. I don't think that anyone who is competitive is ever totally pleased because you always want to do better. I was able to pick up the pace last season though and I credit that to LaHaie. I am enjoying working with him more than our previous crew chiefs and it definitely has shown. I can talk and really relate to him where the communication I had with other crew chiefs didn't give me a lot to go on. He has really helped me a bunch. I have also tried to do my part to get better by going to see a vision coach and things like that to do whatever I can to help the team. Overall, the performance of the team picked up a lot and if we keep going in the same direction we should be in great shape in 2001.
Q: Before the season you said that LaHaie was a motivator who was serious about winning. After your first full season with LaHaie, has your opinion changed regarding your crew chief?
A: I am totally pleased with the way things work with LaHaie. Every car he has worked on before as crew chief has finished either first or second in the points, so we might be a little disappointed with third place. But if third place is as bad as it gets, then we are in store for a lot of good times ahead. His attention to detail and his work ethic has allowed everyone on the team to step up with him here.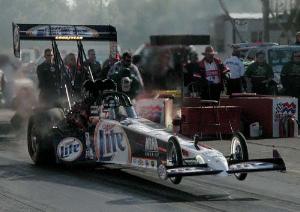 Larry Dixon
Q: How much of a role did the 90 percent Nitro rule play in determining the outcome of the Top Fuel championship last season?
A: I was happy with the rule changes that went into effect for the 2000 season. It didn't really factor into how the cars performed against each other, but I don't think that was what the NHRA had intended. It is the crew chief's job to accept the rules he is presented with and try and build the best watch, and I think that happened. In 1999 a lot of the cars were plagued with inconsistency, but not every team had the same problem. Look at the points between the 1999 and 2000 seasons. What it took to win the championship in '99 would only be good enough for fourth place in 2000. A few cars stepped it up and won, but it was Gary Scelzi who won nine races and the title. When we win ours, that is how I want to do it, not back door it in. I don't want to have to worry about counting points because when you win races the points will just be there.
Q: After a year of watching the Top Fuel crew chiefs, what challenges has limiting the nitro percentage presented for the tuners?
A: What I think you saw happen in 2000 was that the 90 percent rule slowed some of the dragsters down more than others. Some crew chiefs rely more on the nitro percentage that others do. Now they are faced with trying to find other ways to make power. It is the same as what happens in NASCAR when they get slapped with a restrictor plate. The engines make less power, so they have to find other ways to make it, like in the cylinder heads, compression or camshafts to make up the difference. There really is no difference on the NHRA side of it.
Q: In spite of the nitro restrictions, we still saw some pretty good elapsed times and speeds last season. Will the crew chiefs find a way to get back to where they were at in 1999?
A: I think they are already there. The national records in '99 were 4.48 seconds and 330 mph, with both coming in perfect weather. Late last season with the 90 percent rule we saw bests of 4.52 seconds and 326 mph under less than perfect weather conditions. That's only .04 seconds and 4 mph difference and that isn't much. I will be really surprised this season if the national elapsed time record holds up. I really don't put much merit in the speed record though because it's only clocked at the last 60 feet and miles per hour doesn't win races - a good E.T. will - so I don't get to caught up in speed.
Q: It's been a few months since your accident in Memphis. Do you still find yourself thinking about that terrible accident and how has the re-cooperation process been?
A: For me, Memphis is almost over. As soon as I get the pin taken out of my leg, it will be completely behind me. I don't really think too much about it. The cars are built safe enough for me to go 200 feet in the air at 275 mph, crash down, and still walk out of the hospital the next day. If anything, I was more assured of the safety of the cars. I think now the teams and the NHRA will work even harder to make the cars safer after Tony's and my accidents. I don't really think too much about it though and if I did, then I probably shouldn't be racing. I have not had any physical therapy to deal with because the broken bone was not load bearing, so the pin was inserted just to keep it from flopping around. They said it could come out four or five months later, so schedule permitting I think it will probably come out in March or April.
Q: What are Dick LaHaie and the Miller Lite Dragster Team doing over the off-season to try and help secure its first Winston Top Fuel Championship?
A: Over the winter we are working on refining our engine program to try and make additional horsepower. The rule changes implemented by NHRA late winter of 1999 didn't allow us much time to modify our program at all. For as much stuff that needed to be done, we were lucky to get some testing in and go to Pomona, but we couldn't really test our engine/clutch programs like we wanted. After the first year of the 90 percent rule we have found that we are lacking some horsepower. LaHaie and the crew are working on the engine to try and make more power and that means working on the super charger, cylinder heads, ignition, fuel pump, compression ratio and camshafts. Those are all areas where we can try to make some more power. It might be hard for a regular fan to understand why we say we don't have enough power when they hear we make 6,000 horsepower already and sometimes we smoke the tires. When we leave the starting line, the clutch is slipping 50 to 60 percent of the power and as the car goes down the track it begins to slip less. Then about two or three seconds into the run, all the power we have kicks in around the 300 foot mark all the way to the finish line. It's that last 900 feet of the run where we feel that we are underpowered. So, we are planning an extensive testing program in January that should last for the better part of the month as we run the wheels off the car to try and get it where we feel it should be.
Q: Snake Racing recently added a second funny car to be driven by Tommy Johnson, Jr. How will having an additional teammate help you and the Miller Lite Team?
A: I am excited and proud to be a part of the three-car team. To have a team owner like Snake that companies look to invest in, as well as in NHRA drag racing, really lets you know that a lot of people respect him and it makes me proud to work for him. On the track both the Funny Car and Dragster burn nitro, have the same parts and basic mechanics. There are things that go on with Ace (Funny Car crew chief, Ed McCulloch) that Dick LaHaie will ask questions about and pick his brain and not have to worry about getting less than a straight answer. Ace does the same thing, asking LaHaie about things that we have done or haven't done in the past. To have two cars working together without competition from each other is a sweet deal. As a driver it is cool for me because there are things out on the track involving the groove and lane conditions that I can only discuss with other drivers. Now I have two guys to talk to instead of just one and I don't have to compete against either of them so it is a perfect world for me.
Q: You have been pretty active the last few off-seasons including your wedding, moving to Indianapolis, and now the birth of your son. How do you think your new family status will affect your outlook on racing?
A: For me it is more like growing up. I am 34 years old but it has been a gradual process going from a kid to a grown up. Ten to 15 years ago, the only thing that mattered to me was the racecar. As I have grown up I have met a girl, fell in love, got married and now had a child. My priorities haven't changed. There are just more things in my life now that are important to me than before and I feel fortunate. Drag racing gave me the life that I have now. If it hadn't been for racing I never would have me my wife and wouldn't have a son. So many more important things have come out of what was originally important to me. I don't think of the racecar as being any less important now than it was before, I just have other things of importance to go along with it.




NHRA: 10 Most Recent Entries [ top ]

Jun 05- NHRA Announces Revised Schedules for Pro Mod, Top Fuel Harley, Factory Stock Showdown, and Mountain Motor Pro Stock
Jun 03- NHRA Sonoma Nationals Event at Sonoma Raceway Cancelled
Jun 03- NHRA Mello Yello Drag Racing Returns Beginning with Two Indianapolis Events in July
Jun 03- A Message From Summit Motorsports Park President Bill Bader Jr.
May 21- Second JEGS SPORTSnationals Added, to be held in mid-August in New England
May 20- DENSO Sponsors NHRA Champs' Shelter-in-Place Dachshund Race
May 14- To Our Racing Community-From Racers for Christ
May 13- The Name Game Part I
May 12- Morgan Lucas, Son of Forrest and Charlotte Lucas, Appointed President of Lucas Oil Products, Inc.
May 05- Cancellation of the 14th Annual Summit Racing Equipment NHRA Nationals