Wed, 20 Dec 2000, 08:20 AM



Team CSK Gearing Up for Ultra-Competitive 2001



Courtesy of Bob Wilber



ORANGE, Calif. --
As Del Worsham, Frank Pedregon, and the Checker-Schuck's-Kragen Pontiac Funny Car team prepare for the quickly upcoming 2001 NHRA Winston Drag Racing campaign, Worsham can sum up his outlook on the season in one short sentence:
"You better get quicker, because if you don't this class won't wait for you."
After a 2000 season in which the Funny Car class was roundly considered to be the most competitive and demanding in modern history, 2001 looks like it will raise the bar even higher. Worsham and his teammates are very busy getting ready for the challenge.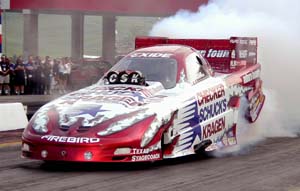 Del Worsham
"2001 should set a new standard for the class," Worsham said from the team's Orange, California headquarters. "And I don't say that lightly. There is so much history in Funny Cars, so many legendary battles and great racers, but I don't know how you can look at 2001 and not expect it to be the greatest year the class has ever seen. Whether or not we set a lot of new records depends on how the weather treats us, but you can see going in that we'll have a huge group of big-time cars.
"We had big fields all last year, and they kept growing until we almost had enough Funny Cars in Pomona for two fields. Now, with the Etchells team doubling up, Bazemore moving over to Schumacher's, the Snake's team adding a car, and now we hear the Skuza's will have a second car at some of the races, it's only going to be even more intense. What a challenge this is going to be!"
Team CSK's off-season strategy has been a simple one: Build on the success of 2000 by exploiting consistency while others are going through change.
Indeed, while much of the Funny Car class spends the off-season in flux, with new cars, new drivers, and new crews, the Worsham team made sure their program was in place before the 2000 campaign ended, and they have spent the off-season building on this solid foundation.
"We put together a great team in 2000," Worsham said. "We knew the best thing we could do was make sure we had Rob Flynn, Dave Fletcher, Frankie Pedregon, and our crews coming back. Continuity is a major plus, we won't have to spend the test sessions or the first few races just sorting out who is doing what and learning to work together. We did that last year, and it really does take a while to become a unit.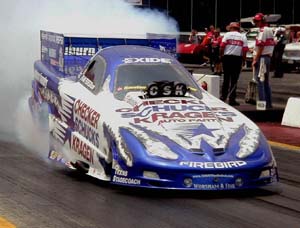 Frank Pedregon
"Don't get me wrong," he continued. "I expect these other new teams and new crews will come out firing and I'm sure they'll be fast. We did it last year, we learned on the run and got better as we went. But I'm much happier to head into 2001 with this group of talented people, all pulling together and all comfortable with each other. We've really got a great group here, and every one of us is counting the days."
On the hardware side of the equation, Worsham was very pleased to maintain the continuity with his race cars as well.
"We'll have two new Paralax chassis, completely identical," he said. "We've built our tune-ups on these Paralax cars, and we're thrilled to bring two new ones into play."
Atop those chassis, Worsham was gratified by Pontiac's continued commitment to Team CSK.
"We're very happy to maintain our Pontiac advantage," Worsham said. "We're fortunate to be able to run the Pontiac Firebird, and feel honored Pontiac continues to build on this partnership we began back in 1998. The 2001 Firebirds will be awesome, just like the 2000's."
In addition to the people who make up Team CSK and the rolling hardware, Worsham is also excited about what looks to be the most aggressive promotional year the team has ever experienced.
"We have some great partners in our program at the associate level," Worsham explained. "Checker-Schuck's-Kragen and a group of these sponsors took a look at what we could do at various races, and now they've planned a series of special edition cars for 2001. We'll announce the details soon, but right now I can say we expect to be running some cool new designs at selected races throughout the season, a whole series of special cars. And throughout the year, we'll still have the rad looking red and blue cars going. It's going to be a fun year."
And one thing that would make Worsham's season truly fun would be further on-track success.
"Last year was really one of the better years of my career," Worsham explained. "Yes, I have finished higher in points before, and won more rounds than I did in 2000, but we've never seen competition like we did last year. Every race was a war that 20 or so Funny Car teams thought they should win. We didn't win a race, and that disappointed me, but we battled these guys and stepped up our performance in big increments. With any breaks at all, we could have won a couple of races or finished fifth or sixth. I won't count on any breaks in 2001, but I plan on both of our cars running fast, and Frankie and I both plan to meet in a Final Round or two. That would be fun!"
And finally, as the team continues their work through the short off-season, Worsham wanted to add one final thought:
"From all of us, we want to say Merry Christmas, Happy Holidays, and wish a safe and Happy New Year to all the fans, all our competitors, all our sponsors, our suppliers, and everyone at NHRA. See you in 2001, it's right around the corner!"




NHRA: 10 Most Recent Entries [ top ]

Jun 05- NHRA Announces Revised Schedules for Pro Mod, Top Fuel Harley, Factory Stock Showdown, and Mountain Motor Pro Stock
Jun 03- NHRA Sonoma Nationals Event at Sonoma Raceway Cancelled
Jun 03- NHRA Mello Yello Drag Racing Returns Beginning with Two Indianapolis Events in July
Jun 03- A Message From Summit Motorsports Park President Bill Bader Jr.
May 21- Second JEGS SPORTSnationals Added, to be held in mid-August in New England
May 20- DENSO Sponsors NHRA Champs' Shelter-in-Place Dachshund Race
May 14- To Our Racing Community-From Racers for Christ
May 13- The Name Game Part I
May 12- Morgan Lucas, Son of Forrest and Charlotte Lucas, Appointed President of Lucas Oil Products, Inc.
May 05- Cancellation of the 14th Annual Summit Racing Equipment NHRA Nationals