Fri, 22 Dec 2000, 10:36 AM



Peter Biondo -- Pontiac Racing's Super Stock Champion



Courtesy of Jeff Romack, Pontiac Racing



INDIANAPOLIS --
It's times like these, when most of the country remains encased in a layer of snow and ice, that our thoughts turn longingly to springtime and the warm drag-racing locales of Phoenix, Gainesville and Houston. But for 2000 NHRA Federal Mogul Super Stock champion Peter Biondo, the winter break is the perfect time to celebrate the end of a successful season while looking ahead to the tough road in 2001.
"This was by far the best year I've ever had," said Biondo. "We also won in 1996, but overall this year was much better. I was a little bit younger then and maybe didn't realize the magnitude of what had happened. But this year, being a little bit older and appreciating things a lot more, it was much more gratifying. When you work so hard for something, and then to win the championship, it's something to be very proud of."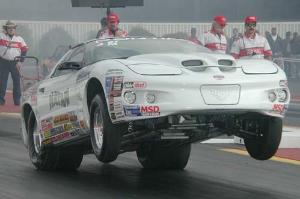 Peter Biondo
Coming into Y2K, Biondo arrived with a truckload of momentum after winning the Division 1 Stock eliminator title and finishing third behind Jimmy DeFrank and Dan Fletcher in the Federal Mogul Super Stock national championship.
Driving a 1999 Pontiac Firebird powered by a 400 cubic-inch Pontiac engine, Biondo scored national-event victories at the Fram Nationals in Atlanta and the AutoZone Nationals in Memphis.
"There are only three or four of the newer Firebird body styles in the whole country that run the 400 cubic-inch motor," explained Biondo. "It's a pretty rare combination and difficult to run correctly because it's a combination that most people aren't familiar with. That's where I'm fortunate to have Phil Monteith who helps me with that. He's been running Pontiac's since he started racing 30 years ago, and he does it relatively inexpensively as well. We're one of the fastest cars in the country and it's all because of Phil."
Biondo also captured divisional meets at US 13 Dragway in Delmar, Del., Quaker City Raceway in Salem, Ohio, and the Numidia make-up event at Englishtown, N.J., on his way to a second Super Stock national title. Winning a pair of $50,000 bracket races made the year that much better.
"I'd say in the late summer, like around August, we felt like we could win this thing," Biondo said. "I felt then that my destiny was in my own hands. I was in second place and had just won a points race at the rainout remake in Englishtown. At that point I thought I was in the driver's seat because I had the most races left to claim. I felt that if I could hold my own that I could win it, and if I didn't I would lose. That's probably why I felt a lot of pressure because it was all in my hands.
"In '96 there was less pressure because I won races early on, and by the time there was just three or four weeks left in the season I had a very big lead. This year it was neck and neck, and I really felt the pressure. Knowing that if I made one mistake that I would be out was really tough. I've been in some pretty big high-dollar races where it pays $50,000 to win a final round, and the pressure is nowhere near as bad as trying to win the Federal Mogul championship."
Like a lot of successful racers, Biondo got the bug for the sport from his dad Sam who's been a competitor for over 30 years. His older brother Sal is also a well-known racer with his own share of success that includes nine national-event victories and the 1995 Federal Mogul championship in Competition Eliminator.
Peter's resume as a Sportsman competitor also lists a long record of success. In addition to his 13 national-event victories, the Clarksburg, N.J., racer has compiled 20 divisional-event wins and numerous bracket victories. He is a two-time Division 1 Super Street champion (1993-94), a two-time Division 1 Super Stock champion (1996, 2000), was Division 1 Super Comp champion in 1997 and Division 1 Stock champion in 1999. He is also a two-time Division 1 Driver of the Year winner (1996, 1999) and was named to the 1996 Car Craft Magazine All-Star Drag Racing team. Biondo also competes in Stock Eliminator in a 1978 Firebird.
"It seems like the longer I race the more difficult it's become to win a national event," Biondo said. "When you pull in for a qualifying run and you see close to a hundred cars that are in your class, you have to go in with the attitude that you're going to win, but the odds are definitely stacked against you. When comparing it to a Top Fuel or a professional team, it differs in a couple of ways and it's the same in a couple of ways. They have a lot of guys that help them out and put a lot of effort in certain areas to get the car down the track. We put two or three guys on a team and focus our effort into different areas like dialing the car into the track and weather conditions."
Biondo holds a bachelor's degree in Business Management from St. John's University and is Vice President of Biondo Racing Products. He enjoys the fierce competition of the Federal Mogul categories and through the years he's established some great relationships with his Division 1 foes. As he ponders his chances in 2001, this is one driver whose future looks very bright.
"Along with my brother, Dan Fletcher and Lincoln Moorhead and I are pretty good friends," said Biondo. "But we still go at it hard against each other every year. Those are the people I enjoy racing with. We barbecue together and spend a lot of time with each other, but when we're out on that racetrack we're out to get each other. They're all great drivers and we're all very close. When one of us loses before the other, you'll see us by that guy's side through the rest of the race trying to help him out.
"My immediate goal is to win the Stock championship next year, but my lifelong goal is to win both Super Stock and Stock the same year. Someday I'd also like to try Pro Stock. I've always been fascinated by Warren Johnson and I have a lot of respect for him. He's one guy who can do it all. If I ever had the opportunity to ride with someone like that I would love to give it a try. But I wouldn't want to try it unless I felt like I could be somewhat competitive, because I'm a very competitive person."




NHRA: 10 Most Recent Entries [ top ]

Jun 05- NHRA Announces Revised Schedules for Pro Mod, Top Fuel Harley, Factory Stock Showdown, and Mountain Motor Pro Stock
Jun 03- NHRA Sonoma Nationals Event at Sonoma Raceway Cancelled
Jun 03- NHRA Mello Yello Drag Racing Returns Beginning with Two Indianapolis Events in July
Jun 03- A Message From Summit Motorsports Park President Bill Bader Jr.
May 21- Second JEGS SPORTSnationals Added, to be held in mid-August in New England
May 20- DENSO Sponsors NHRA Champs' Shelter-in-Place Dachshund Race
May 14- To Our Racing Community-From Racers for Christ
May 13- The Name Game Part I
May 12- Morgan Lucas, Son of Forrest and Charlotte Lucas, Appointed President of Lucas Oil Products, Inc.
May 05- Cancellation of the 14th Annual Summit Racing Equipment NHRA Nationals