Wed, 27 Dec 2000, 08:10 AM



FROSCHER'S FORUM - On Chuck Etchells' Return



By Norm Froscher



You ever read a piece of news about an individual and think to yourself, 'atta-boy' or 'atta-girl'?
That's how I greeted the announcement that Chuck Etchells would return to the driver's seat of the Kendall/Matco Camaro Z28 Funny Car.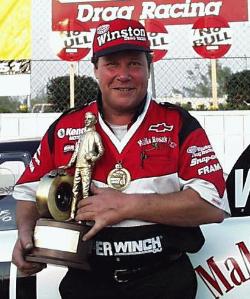 Chuck Etchells
It's been a year of losing stars on the tracks, both drag and oval, and this corner is delighted that Etchells is reversing the trend in his own way.
Tragically, NASCAR racing lost Adam Petty and Kenny Irwin to crashes, while Darrell Waltrip climbs out of his driver's suit to take his place in the broadcast booth.
Really, now, would you prefer to see D.W. at his earlier best or in front of the microphone.
Closer to home, in drag racing, Joe Amato is leaving the Top Fuel cockpit to become a team owner. That was on the advice of his eye doctor, much like Don "Big Daddy" Garlits' departure several years ago.
But Etchells, who if you didn't know better would take to be a successful real estate salesman or maybe a corporate vice president, just decided he was the best replacement when his selected driver left for another team.
Way to go, Chuck.
In basketball, Michael Jordan tried it and was successful. Magic Johnson tried it a couple of times with considerably less success.
Wonder if Don "The Snake" Prudhomme had any such thoughts. Of course Snake probably wouldn't admit it. He'd take a draw on his cigarette and say, "No man, it's cool just like we're doing it".
Garlits, of course, hasn't fielded a team as car owner, but stays busy and maybe gets rid of any thoughts of driving by his huge Drag Racing Museum and his Drag Racing Hall of Fame.
But this is about Etchells.
If you're new to drag racing in the last couple of years, let this writer bring you up to speed:
Etchells is a 13-time National Hot Rod Association National Event winner, was the 1990 IHRA World Champions and perhaps more importantly was the first driver to post a four-second elapsed time run in a Funny Car.
"We are fortunate to have some very talented people on our staff who can pick up the slack and allow me to resume driving," he says. "It's going to be an interesting winter, but I'm excited and looking forward to getting back behind the wheel.
"I promise this Kendall Matco Tools Camaro team is going to have fun next year, and everyone involved is ready to do whatever we need to make the 2001 season a memorable one."
Etchells says the team has a long-term plan and this is the latest development.
"Our primary concern after learning of Tommy Johnson's departure was to reassure our sponsors and show them our intent and ability to move forward as planned."
And what better way than to jump back in the driver's seat himself?
Etchells said he and the team were hard at work preparing for the 2001 season when Johnson's sudden departure caused them to go to the entirely new direction. He says he took Johnson's departure in stride, crediting it to proof of the sport's sudden expansion.
"We knew he'd been approached by several teams, one offering a substantial amount of money, which he chose to accept.
"Although I was disappointed by this turn of events, I wish him well, except, of course, when he faces the Kendall/Matco Camaro."
Right, with Chuck Etchells at the wheel.
Atta-Boy, Chuck.
And an Atta-Boy and Atta-Girl to readers of this space. We hope we've been able to entertain and perhaps maybe inform over the past year. Hopefully when you've followed my offerings you have come away with sometimes a smile, sometimes a bit of information, maybe even sometimes with the thought you don't agree with what you just read.
But here's one thought from which I think I'll get no disagreement:
A Happy Holiday Season and a Prosperous and Healthy New Year to all.




NHRA: 10 Most Recent Entries [ top ]

Jun 05- NHRA Announces Revised Schedules for Pro Mod, Top Fuel Harley, Factory Stock Showdown, and Mountain Motor Pro Stock
Jun 03- NHRA Sonoma Nationals Event at Sonoma Raceway Cancelled
Jun 03- NHRA Mello Yello Drag Racing Returns Beginning with Two Indianapolis Events in July
Jun 03- A Message From Summit Motorsports Park President Bill Bader Jr.
May 21- Second JEGS SPORTSnationals Added, to be held in mid-August in New England
May 20- DENSO Sponsors NHRA Champs' Shelter-in-Place Dachshund Race
May 14- To Our Racing Community-From Racers for Christ
May 13- The Name Game Part I
May 12- Morgan Lucas, Son of Forrest and Charlotte Lucas, Appointed President of Lucas Oil Products, Inc.
May 05- Cancellation of the 14th Annual Summit Racing Equipment NHRA Nationals