Fri, 29 Dec 2000, 12:46 PM



Warren Johnson takes the Wraps Off 2001 Grand Am in First Track Test



Courtesy of Rick Voegelin



New Car Gets High Marks from the "Professor of Pro Stock"



SUGAR HILL, Ga. --
While visions of sugar plums danced in children's heads, Pro Stock racer Warren Johnson unwrapped his new 2001 GM Goodwrench Service Plus Pontiac Grand Am in a preseason test in Bradenton, Fla. The five-time NHRA champion was as delighted with his new race car as a kid with a new toy on Christmas morning.
"This car will definitely run 6.70s," Johnson predicted. "There is no doubt about that."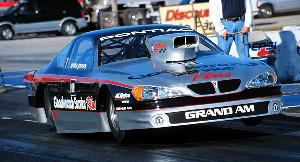 Warren test Grand Am.
Despite chilly temperatures and a stone-cold track, the Professor's new Pontiac turned competitive times in its debut at DeSoto Memorial Dragway. "The car ran 6.87 at 200.57 mph on its first full pass," Warren reported. "We made a series of suspension adjustments and ran consistently between 6.87 and 6.89.
"Everything worked just the way we wanted it to in the first test," he continued. "I'm very comfortable with the car. We learned its general characteristics, and now it's just a matter of continuing to fine tune the setup before the start of the season."
Johnson's new Grand Am has a longer wheelbase and a narrower overall width than the Firebird he campaigned last season. "You can feel the longer wheelbase because the car reacts a little more slowly and predictably going down the track," W.J. observed. "I'm so relaxed in the driver's seat that I'm thinking about putting a recliner in there!
"I think it's going to be an excellent race car," he concluded.
A second Grand Am from Jerry Haas Race Cars has joined the first Don Ness-built car in Johnson's race car stable. W.J. plans to test both cars in Florida and Arizona in January. The NHRA Winston Drag Racing Series will begin with the AutoZone Winternationals in Pomona, Calif., on February 1-4.
Johnson is already counting the hours until the start of the new season. He spent Christmas day in his shop fabricating a new throttle linkage for his race car. "I need more go," he explained with a laugh.




NHRA: 10 Most Recent Entries [ top ]

Jun 05- NHRA Announces Revised Schedules for Pro Mod, Top Fuel Harley, Factory Stock Showdown, and Mountain Motor Pro Stock
Jun 03- NHRA Sonoma Nationals Event at Sonoma Raceway Cancelled
Jun 03- NHRA Mello Yello Drag Racing Returns Beginning with Two Indianapolis Events in July
Jun 03- A Message From Summit Motorsports Park President Bill Bader Jr.
May 21- Second JEGS SPORTSnationals Added, to be held in mid-August in New England
May 20- DENSO Sponsors NHRA Champs' Shelter-in-Place Dachshund Race
May 14- To Our Racing Community-From Racers for Christ
May 13- The Name Game Part I
May 12- Morgan Lucas, Son of Forrest and Charlotte Lucas, Appointed President of Lucas Oil Products, Inc.
May 05- Cancellation of the 14th Annual Summit Racing Equipment NHRA Nationals