Sun, 2 Jun 2002, 09:51 AM



Millican and Rector Still Undefeated



By Larry Sullivan


Photo copyright 2002 BME Photography





Hahn, Stordeur, Dobbins take Home Wins



DINWIDDIE, Va. --
Rain-delayed final eliminations at the Second annual IHRA ACDelco Nationals presented by Chevrolet saw Clay Millican and Jimmy Rector continue their undefeated seasons in Top Fuel and Funny Car, respectively. Final eliminations were postponed from April 21 because of weather.
Other winners included Fred Hahn, Steve Stordeur, and Jeff Dobbins in Pro Modified, Nitro Harley, and Pro Stock, respectively.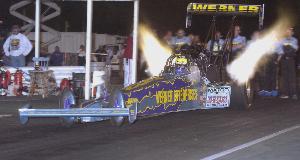 Clay Millican
Both Millican and Rector credited their teams for their wins today and for their unbeaten records so far in 2002, and both met their closest pursuers in the 2002 championship chase in the final round.
Millican, who qualified second, extended his points lead over top qualifier Bruce Litton in the Top Fuel championship chase to 89 points, running low elapsed time and top speed of eliminations with a 4.798 second, 316.15 mph effort in the final round. Litton smoked the tires and coasted to a 12.284 clocking at 75.54.
Millican credited crew chief Mike Kloeber, "Running on a hot, slick track, I was a little nervous, but Kloeber seems ton have a good handle on the new tire.
"It was miserable out there today. I think I lost weight from my whopping 142 pounds.
He also described Litton as his "teacher," "Bruce scares me to death. The first year I drove (2000) I lost two races to Bruce on holeshots and I felt like that was why I lost the championship.
"I enjoy driving the car, win or lose, but I much prefer winning."
Millican defeated Don Reed and Josh Starcher to get to the final round; Litton faced Roger Dean and Paul Romine.
Rector extended his lead over Dale Brand in the Funny Car championship race to 101, running 5.935 seconds at 237.34 mph in the final round. Brand took an early lead against Rector, but Brand's supercharger drive belt broke in the middle of the run and he slowed to a 7.926 at 113.94.
Crediting his team, Rector said, "I think I've got the best crew in the alcohol funny car business. I demand a lot, but the sponsors demand a lot. I wouldn't ask them to do anything I wouldn't do myself."
Rector also credited the track, "With the heat that was on this race track today, it was first class. Everyone expected it to go away, but it didn't."
Number two qualifier Rector defeated Ronnie Midyette, Laurie Cannister, and Mark Thomas to get to the final round, saying "I don't know if I've ever gone through four tough competitors like that." Number one qualifier Brand, facing Rector for the third final round in a row, defeated Bobby Martindale, Monty Todd, and Mike Comella.
Dobbins won the first race of his Pro Stock career, in just his fourth race. The 1998 Top Sportsman World Champion struck paydirt in his first-ever final round, defeating Carl Baker in a close race, 6.671 seconds and 208.55 mph to Baker's 6.707 and 209.82, to becoem the fourth different winner in 2002.
"We waited a lifetime for this," Dobbins said, "Carl got out on me a little but, but you have to go 1,320 feet to win."
Despite the final round loss, Baker closed to within two points of Brian Gahm in the Pro Stock championship points.
Hahn won his first event of the year, defeating points leader Al Billes in a final round battle between two supercharged cars. Hahn was clocked at 6.286 seconds and 223.14 mph against Billes' 6.380 and 221.16.
Speaking of the rivalry between supercharged and nitrous oxide boosted Pro Modified cars, Hahn said, "If they wanted us out of here, they would have had to get us out in the first two rounds. After that, the air started getting better and track started getting cooler. It came back to our side."
Stordeur became the fourth different winner of the year in Nitro Harley, closing to within 13 points of points leader Doug Vancil by defeating him in the final round, 6.546 seconds at 210.67 mph to Vancil's 6.585 seconds at 200.23.
Stordeur credited off-season testing for his success, "We changed a few things and it's coming around. We've been right in the hunt all season. We tried a lot of things during the off-season and it's all paying off right now."
The next race in the 2002 IHRA Hooter's Drag Racing Series is the Third annual Mopar Performance Parts Canadian Nationals at Grand Bend, Ontario June 7-9.
DINWIDDIE, Va. -- Friday's final results from the 2nd annual AC Delco Nationals presented by Chevrolet at Virginia Motorsports Park. The $1.1 million race is the second of 12 in the Hooters IHRA Drag Racing Series:
Top Fuel -- Clay Millican, 4.798 seconds, 316.15 mph def. Bruce Litton, 12.284 seconds, 75.54 mph.
Pro Modified -- Fred Hahn, Chevy Corvette, 6.286, 223.14 def. Al Billes, Studebaker, 6.380, 221.16.
Nitro Harley -- Steve Stordeur, 6.546, 210.67 def. Doug Vancil, 6.585, 200.23.
Funny Car -- Jimmy Rector, Chevy Camaro, 5.935, 237.34 def. Dale Brand, Pontiac Firebird, 7.926, 113.94.
Pro Stock -- Jeff Dobbins, Ford Probe, 6.671, 208.55 def. Carl Baker, Mercury Cougar, 6.707, 209.82.
Top Sportsman -- James Justice, Chevy Corvette, 7.371, 185.77 def. Sandy Wilkins, Chevy Camaro, 7.495, 180.50.
Top Dragster -- Ricky Adkins, Dragster, 7.545, 170.36 def. Charlie Culotto, Dragster, 7.332, 184.14.
Modified -- Brian Seward, Dragster, 7.329, 175.00 def. Anthony Bertozzi, Dragster, 7.577, 176.30.
Quick Rod -- Jackie Rogge, Dragster, 8.932, 169.30 def. Mark Horton, Dragster, 8.923, 168.66.
Super Rod -- Mike Gardner, Chevy Corvette, 9.905, 151.22 def. Mark Payne, Chevy Beretta, 9.909, 155.96.
Hot Rod -- William Harris, Chevy Camaro, 10.897, 133.61 def. R.L. Koontz, Chevy Beretta, 10.891, 136.26.
Super Stock -- J.G. Wilson, Pontiac Formula, 9.718, 137.69 def. Peter Biondo, Pontiac Firebird, 10.429, 121.25.
Stock -- Peter Biondo, Chevy Camaro, 11.330, 109.97 def. Whip Wilson, Camaro, 11.451, 115.20.
Moser "Axle Mania" -- Ricky Adkins, Dragster, 4.760, 139.44 def. Hunter Youmans, Chevy Beretta, 5.037, 138.02.
Top Stock -- Monty Bogan, Chevy Corvette, 10.087, 130.45 def. Mike Adams, Chevy Camaro, 10.154, 127.59.


IHRA: 10 Most Recent Entries
[ top ]
Mar 21
-
2018 IHRA Summit Sportsman Spectacular Series on April 20-22
Feb 26
-
Weather-Related Construction Delays Postpone IHRA Xtreme Raceway Park Opener
Feb 16
-
IHRA Summit Sportsman Spectacular Schedule Announced
Feb 15
-
New York Track Finds Value for Racers with IHRA Agreement
Feb 15
-
IHRA Summit Sportsman Spectacular Debut Only One Month Away Now is the Time to Pre-Enter
Feb 15
-
Summit Texas Location is a Racers' Paradise
Feb 15
-
Canadian Track Makes Large Commitment to IHRA Drag Racing
Jan 27
-
Mid-Michigan Destination Joins IHRA Family
Jan 27
-
Mississippi Track Reaches Sanctioning Agreement
Jan 16
-
Michigan Track to Host IHRA Summit Sportsman Spectacular