Fri, 7 Jun 2002, 10:09 PM



Millican, Stott, Stordeur, Rector and Gahm Lead Day One Qualifying






Photo copyright 2002 BME Photography





GRAND BEND, Ont. --
Clay Millican made the quickest Top Fuel run in Canadian history during first-day qualifying at the IHRA Mopar Performance Parts Canadian Nationals at Grand Bend Motorplex. Millican, from Drummonds, Tenn., recorded a 4.615, 317.23-mph pass. Bruce Litton in his Lucas Oil sponsored Top Fueler was number two with a run of 4.847 seconds at 298.30 mph. Millican and Litton are one-two in championship points and Millican is undefeated in eliminations for the 2002 season.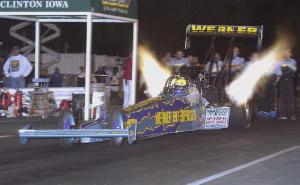 Clay Millican
Mitch Stott had the quickest passes in each of Friday's Pro Mod sessions during the first day of qualifying. He ran a 6.225-second pass at 227.21 mph during the second session to take the number one spot. Ontario resident Carl Spiering put his 1957 Chevy in the number two position with a pass of 6.301 seconds at 225.00 mph, also during the second session. Mike Janis and Harold Martin round out the top four, with Brian Daniels holding on to the bump spot with a 6.522 second effort.
Team Mancuso took the top two qualifying spots after Friday qualifying in Screamin' Eagle Nitro Harley. Steve Stordeur set the E.T. track record with a run of 6.347 seconds at 217.39 mph. Johnny Mancuso grabbed the number two spot, 6.442 seconds at 205.38 mph. Ray Price and Mike Romine round out the top half of the eight-bike field.
Even a Vodoo Doll can't stop this year's "King of Funny Car" as Jimmy Rector, who has four wins this year, is the number one qualifier after day one with a 5.840 second, 240.19 mph effort on his first qualifying run. Fellow Funny Car competitors Laurie Cannister, Mark Thomas and Dale Brand have pulled together and brought out a Jimmy Rector Vodoo Doll in an attempt to put a hex on him, but it doesn't seem to be working, the trio qualified sixth, fourth, and ninth, respectively. In addition to Thomas, Mike Comella and John Vouros fill out the top four spots on the provisional ladder.
Brian Gahm set both ends of the Sunoco Pro Stock track record in the afternoon session with a 6.565-second pass at 211.61 mph. Doug Kirk, John Montecalvo and Charlie Peppers round out the top four top to make it two Chevy Cavaliers and two Ford Mustangs in the top four positions. The field of 16 is separated by 0.104 seconds, with Jason Collins, winner of the Amalie Oil Nationals two weeks ago, on the bubble at 6.669 seconds.
Qualifying continues Saturday at 1 p.m., with final eliminations Sunday. The Mopar Performance Parts Canadian Nationals is the fifth stop in the twelve-race Hooters IHRA Racing Series.


IHRA: 10 Most Recent Entries
[ top ]
Mar 21
-
2018 IHRA Summit Sportsman Spectacular Series on April 20-22
Feb 26
-
Weather-Related Construction Delays Postpone IHRA Xtreme Raceway Park Opener
Feb 16
-
IHRA Summit Sportsman Spectacular Schedule Announced
Feb 15
-
New York Track Finds Value for Racers with IHRA Agreement
Feb 15
-
IHRA Summit Sportsman Spectacular Debut Only One Month Away Now is the Time to Pre-Enter
Feb 15
-
Summit Texas Location is a Racers' Paradise
Feb 15
-
Canadian Track Makes Large Commitment to IHRA Drag Racing
Jan 27
-
Mid-Michigan Destination Joins IHRA Family
Jan 27
-
Mississippi Track Reaches Sanctioning Agreement
Jan 16
-
Michigan Track to Host IHRA Summit Sportsman Spectacular