Sun, 9 Jun 2002, 10:19 PM



Millican and Rector Take Fifth Straight Win



Courtesy of IHRA Communications


Photo copyright 2002 BME Photography





At Mopar Performance Parts Canadian Nationals



GRAND BEND, Ont. --
In front of the largest crowd ever at the Mopar Performance Parts Canadian Nationals at Grand Bend Motorplex, Clay Millican and Jimmy Rector took their fifth straight Top Fuel and Funny Car titles of the 2002 Hooters IHRA Drag Racing Series.
Other professional winners include Ed Hoover in Pro Modified, Doug Vancil in Screamin' Eagle Nitro Harley, and Brian Gahm in Pro Stock.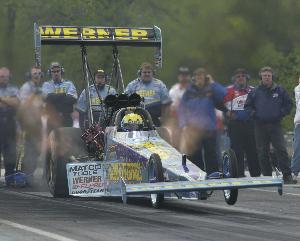 Clay Millican
Millican, the 2001 IHRA Top Fuel champion, set the tone for the weekend by recording the quickest run in Canadian drag racing history during Friday's qualifying, a 4.615 second pass at 317.21 miles per hour.
Millican won in the first round of eliminations, defeating Vicky Fanning in a bizarre race when the Texas driver couldn't put her dragster in reverse to return to the starting line after her burnout.
Paul Romine and Bruce Litton met in the semi's, where the two close friends from Indianapolis produced the day's closest finish, with three-time IHRA Champion Romine besting Litton by three ten-thousandth of a second, about one inch on the track, 5.566, 249.16 to 5.544, 227.21.
In the final, Romine smoked the tires immediately, giving Millican an easy win, his fifth Hooters Drag Racing Series victory in a row.
Earlier in the week, Romine and the Doug Herbert CARQUEST team announced a crew chief change, with veteran Jimmy Walsh replacing Mike McLaughlin. Walsh, who was a crew member for Joe Amato during his string of five NHRA Top Fuel titles and later Amato's crew chief, joined the IHRA tour earlier this year and helped close friend Don Reed improve his performance.
Millican said, "We certainly have had a very good car. We don't have parts breakage. Knock on wood, it could change at any time. The car goes down the race track and the Werner team get results.
You got to win at all results but we don't want to make any mistakes or blow up a motor. We are definitely on the offensive: Paul Romine just hired Jimmy Walsh and they will figure it out. Today, Paul made the final and we're not taking anything for granted."
Millican currently leads Litton by 130 points for the 2002 championship.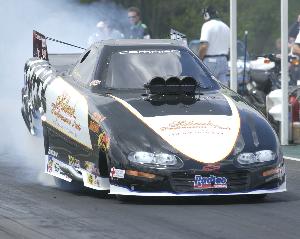 Jimmy Rector
Despite a painful ear infection, Rector took his fifth straight Funny Car title, narrowly defeating Dale Brand for the fourth race in a row.
"I come to win every one of them," stated Rector, who was clearly showing the effects of his ear infection. "It would be unbelievable to win every one.
"You need to qualify at the top so you're not facing the tough competitors early in the race. I've faced Brand in four consecutive finals this year and anytime you can beat him that many times in a row has to say something."
Rector currently leads Brand by 127 points for the 2002 championship.
In the ongoing IHRA Pro Modified supercharged versus nitrous battle, Ed Hoover (nitrous) defeated Mitch Stott (supercharged), and took his second event title of the year.
Hoover, winner of the first Pro Modified race ever held, in 1990, feels the Paul Trussel team is poised for a championship run.
"You got to make your luck out here and be around on Sunday," said the Columbia, S.C. native. "It was a tricky race track and during the final it surprised me that Mitch's engine came apart before mine did.
"You have to run these Pro Mod engines at their absolute limit to have a chance to win. It finally tore itself up at 1100 foot and I just tried to outdrive him from there. Luck followed me all day today."
Hoover and the Trussell team are preparing a supercharged car to take advantage of weather and competitive situations.
"It's come to a point where the nitrous motor is probably winding down in Pro Modified. I hate to see that day come because I've always runs a nitrous car."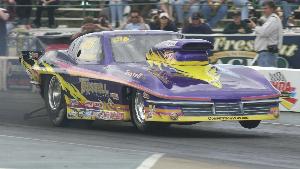 Ed Hoover
Hoover added, "Without Shannon Jenkins in the field, I felt like I was fighting a bar full of supercharged cars by myself."
Hoover now sits in third place in Pro Modified points, two points behind Mike Janis and 60 points behind Canadian driver and points leader Al Billes, who was defeated by Fred Hahn in the opening round of eliminations.
Doug Vancil of Albuquerque, New Mexico earned his second consecutive Canadian Nationals title, defeating veteran Ray Price.
"My run felt good until I spun the tire at half track. I think I won from the left lane last year. Running against Ray (Price) is tough. He may be 64 years old but he can beat you, he's tough, just like anybody else. Ray is as deadly as any racer out there."
Vancil currently leads the 2002 championship points, 28 points ahead of Price.
Brian Gahm of Lucasville, Ohio became the fifth different Sunoco Race Fuels Pro Stock winner of the 2002 season, defeating Richmond winner Jeff Dobbins.
"The IHRA Pro Stock class is tough," said Gahm. "You've got to get the job done at the starting line because everybody's about the same. Position one through sixteen is separated by a tenth and anybody can win; that's evident by the five different winners.
"We just made consistent runs all weekend and that's how you're going to win. If the driver can drive and stay on his game, you can win."
After five races, Gahm leads Carl Baker by 72 points in Sunoco Race Fuels Pro Stock.
Saturday's crowd at the Mopar Performance Parts Canadian Nationals was in excess of 21,500 fans, the largest one day crowd in Canadian Drag Racing history.
"The Canadian fans are among the best in the world," stated IHRA President Bill Bader. "We made a commitment to bring world class drag racing in Canada three years ago and it was great to see the results of our hard work pay off.
"We're looking forward to giving Canada a second great national event at the newly renovated Toronto Motorsports Park, in August."
The next event on the IHRA Hooters Drag Racing Series is the CARQUEST Empire Nationals at New York International Raceway Park, July 12 - 14.
GRAND BEND, Ont. -- Sunday final results from the Third annual Mopar Performance Parts Canadian Nationals presented by Castrol at Grand Bend Motorplex. The $1.1 million race is the fifth of 12 in the Hooters IHRA Drag Racing Series:
Top Fuel -- Clay Millican, 4.868 seconds, 301.70 mph def. Paul Romine, 11.075 seconds, 85.62 mph.
Pro Modified -- Ed Hoover, Chevy Corvette, 6.379, 205.01 def. Mitch Stott, Corvette, 6.415, 214.89.
Nitro Harley -- Doug Vancil, 6.427, 212.11 def. Ray Price, 7.455, 147.88.
Funny Car -- Jimmy Rector, Chevy Camaro, 5.830, 239.04 def. Dale Brand, Pontiac Firebird, 5.915, 237.78.
Pro Stock -- Brian Gahm, Ford Mustang, 6.592, 210.87 def. Jeff Dobbins, Ford Probe, 6.614, 211.11.
Top Sportsman -- Todd Burks, Oldsmobile Cutlass, 7.657, 175.95 def. Jackie Slone, Cutlass, 7.194, 191.20.
Top Dragster -- William Spangler, Dragster, 7.590, 175.64 def. Tom Fisher, Dragster, 7.585, 175.40.
Modified -- Scotty Stillings, Dragster, 7.483, 174.89 def. Michael Lyons, Dragster, 7.074, 188.87.
Super Stock -- Rollin Grosjean, Pontiac Trans Am, 9.808, 127.13 def. Donna Morris, Chevy Nova, 10.421, 126.08.
Stock -- Paul Dilcher, Pontiac Firebird, 11.862, 109.52 def. Ron Folk, Firebird, 11.059, 119.06.
Top Stock (completed Saturday) -- Matt Morgan, Chevy Camaro, 10.599, 94.30 def. Al Corda, Pontiac Firebird, 17.205, 71.58.
Quick Rod -- Tom Callahan, Dragster, 8.913, 152.07 def. Jim Majkowski, Dragster, 8.558, 106.55.
Super Rod -- Mike Lagos, Chevy Camaro, 9.975, 143.83 def. Ricky Adkins, '27-T Ford, 9.952, 138.05.
Hot Rod -- Rob Kropfeld, Chevy Nova, 10.901, 127.31 def. Corinne Rudy, AMC Gremlin, 10.935, 124.06.


IHRA: 10 Most Recent Entries
[ top ]
Mar 21
-
2018 IHRA Summit Sportsman Spectacular Series on April 20-22
Feb 26
-
Weather-Related Construction Delays Postpone IHRA Xtreme Raceway Park Opener
Feb 16
-
IHRA Summit Sportsman Spectacular Schedule Announced
Feb 15
-
New York Track Finds Value for Racers with IHRA Agreement
Feb 15
-
IHRA Summit Sportsman Spectacular Debut Only One Month Away Now is the Time to Pre-Enter
Feb 15
-
Summit Texas Location is a Racers' Paradise
Feb 15
-
Canadian Track Makes Large Commitment to IHRA Drag Racing
Jan 27
-
Mid-Michigan Destination Joins IHRA Family
Jan 27
-
Mississippi Track Reaches Sanctioning Agreement
Jan 16
-
Michigan Track to Host IHRA Summit Sportsman Spectacular