Tue, 11 Jun 2002, 09:53 AM



Lend-America Award Goes to Mike Janis for the Third Time this Season



Courtesy of Bobby Bennett, Jr./Harley Communications


CompetitionPlus.com





GRAND BEND, Ont. --
Mike Janis seems to have winning the Lend-America "Home Run" Award down-pat. The defending Pro Modified World Champion from Lancaster, NY, captured his third $500 bounty for the season. It marked the second consecutive one for the current IHRA World Record holder.
"We are just going to continue working hard to improve our Saturday night runs," explained Janis. "We are having a little inside battle with Mitch [Stott] in this deal. Winning tonight was high on our priority tonight. We thought the car was going to go low 6.20s, but it just didn't work out that way tonight. Regardless of what we ran, this was a fun evening."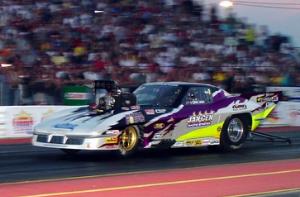 Mike Janis
Janis sat back in the lanes and had a brilliant view of the jockeying for the award. Pro Modified's inaugural national event winner Ed Hoover led the early bid for the money for much of the session as he reeled off a 6.321, 220.64.
Janis dethroned Hoover several pairs later as he blasted out a 6.282, 223.04 to take the lead for the session and leapt into the second qualifying position overall. Hoover represented the best chance that the nitrous-injected fraternity had to end their winless streak on the Lend-America "Home Run" program.
The odds-on favorite headed into the final session was Stott, who led qualifying from the start. He was in the final pair of the session, and could only muster a 6.305, 223.60.
Previous winners of the "Home Run" Award include Mike Janis (Dinwiddie & Cordova), Stott (Shreveport) and Rieger (Rockingham).
The Lend-America Home Run Award is given to the Pro Modified driver that makes the quickest run during the traditional Night of Fire program. The winning driver is rewarded with $500 courtesy of the IHRA official mortgage company.
The official website for Lend-America is www.lend-america.com.


IHRA: 10 Most Recent Entries
[ top ]
Apr 24
-
Racers Receive Prizes at IHRA Summit Sportsman Spectacular Opener
Apr 24
-
Comeaux, Hughes Make History at IHRA Summit Sportsman Spectacular
Mar 21
-
2018 IHRA Summit Sportsman Spectacular Series on April 20-22
Feb 26
-
Weather-Related Construction Delays Postpone IHRA Xtreme Raceway Park Opener
Feb 16
-
IHRA Summit Sportsman Spectacular Schedule Announced
Feb 15
-
New York Track Finds Value for Racers with IHRA Agreement
Feb 15
-
IHRA Summit Sportsman Spectacular Debut Only One Month Away Now is the Time to Pre-Enter
Feb 15
-
Summit Texas Location is a Racers' Paradise
Feb 15
-
Canadian Track Makes Large Commitment to IHRA Drag Racing
Jan 27
-
Mid-Michigan Destination Joins IHRA Family