Fri, 1 Nov 2002, 12:51 PM



Cory Lee to Drive Worsham / CSK Black Team Pontiac in Pomona



Courtesy of Bob Wilber



Photo copyright 2002 Auto Imagery, Inc.



ANAHEIM, Calif. --
Cory Lee will rejoin the Checker-Schuck's-Kragen Pontiac Funny Car team at the Automobile Club of Southern California NHRA Finals in Pomona, driving the Team CSK black car. As he did in Brainerd and Indianapolis, Lee will field the third Worsham Funny Car under the guidance of Garry Kennedy, who will return to act as Crew Chief for the team.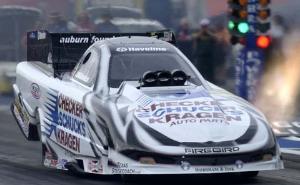 Cory Lee
Originally formed in an effort to maximize Del Worsham's chances at contending for the POWERade Championship, the black team was immediately successful in terms of qualifying, going two-for-two at the races it attended. The black squad secured spots in both the Brainerd and Indy top 16, and each time dramatically forced their way into the race field on their final qualifying attempt. Though the third car project was shelved after Indianapolis, Worsham was, at the time, quick to mention the possibility of a return late in the season.
"When we put the team together, I was convinced it was the right thing to do, and I still believe that," Worsham said. "We wanted to take every chance and make every effort, and the guys on the black team did an outstanding job for us. Likewise, when we parked the car after Indy, it was also the right thing to do at the time, since we were effectively out of the championship hunt. I always thought we might want to bring Cory and the team back out in Pomona, and that's what we've decided to do.
"Really, it's no different than any Funny Car team based in Southern California," Worsham continued. "You have a team, you have the parts, you want to race, so go race. The whole crew will come back, with Garry in charge and Cory driving, and I suspect they'll do well again. They worked great together for two races, and we were very proud of them. There are some ways they could help us, but the main motive to bringing them back out is to let them race. It's what we all do, and it's a way to say thank you to Cory, Garry, and the team as well as to Checker-Schuck's-Kragen, Mac Tools, and our other partners who all helped make it happen in the first place. It's a gorgeous car that looks great on the track and runs pretty good too. So it will be right where it belongs, on the race track."
Lee sees one major difference in how the team will operate, and how it will impact the Team CSK red and blue teams, at Pomona versus its earlier appearances.
"Del and the red and blue crews put a lot of work into originally getting this car together and getting it out on the track," Lee said. "The black team only exists at the race track, so the red and blue teams had to do all the work prior to the car's arrival in Brainerd. On top of that, once we were there the sole mission was to help Del so you can imagine how involved he and a few key crew members were. They really spent a lot of time with this car, and I know they were exhausted by the end of Indy. This time, we're pretty much there just to race and do the best we can. The red and blue teams have their own agendas in Pomona, which are both a lot more important than how we do. We'll be a lot more on our own, but our goal is still to help Team CSK any way we can."
The agendas of which Lee speaks include tight points races facing both Worsham and blue team driver Johnny Gray. Worsham enters Pomona only 31 points ahead of Gary Densham in a fight for third place, while Gray's points issues are even more severe. Gray will go into the season's final race only 11 points ahead of Bruce Sarver for the final spot in the POWERade Top Ten.
"If it somehow ends up that we can impact how Densham or Sarver do, and thereby help Del or Johnny in the points, that would be the ultimate," Lee said. "The odds are greater that we won't be lucky enough to see the stars line up that way, so our goal is to try to get this black car qualified, do it without distracting the red and blue teams, and then take it from there."
Lee has competed in three races this season, two in the CSK black car and one in another independent Funny Car. He enters Pomona with 72 POWERade points, which places him 24th on the points sheet.


NHRA: 10 Most Recent Entries
[ top ]
Apr 23
-
HOUSTON - Sunday Video
Apr 22
-
HOUSTON - Sunday Pro Mod Wrap Up