Tue, 5 Nov 2002, 01:13 PM



Who Do You Like, John or Tony??



By Bob Frey


Photo copyright 2002 Auto Imagery, Inc.





As we head into the last race of the season, about the only excitement left is who will be the 2002 Powerade Funny Car champion? With all of the other professional classes settled in Las Vegas, the battle for the top spot, the number three spot and the tenth and final spot on stage at the award's ceremony are all up for grabs this weekend. Here's the scenario…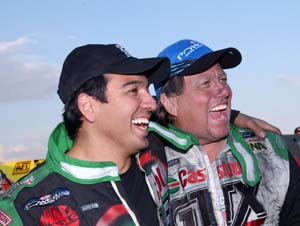 Tony and John
John Force
comes into the race 31 points ahead of his teammate,
Tony Pedregon
. With 20 points per round available, Tony has to go two rounds further than John if he wants to join his brother,
Cruz
, as one of only two guys besides John to be Funny Car champs since 1990. Historically, this final race has not been good to Tony, who has five second-round losses and two final round appearances in his seven years of competition here. Those two finals, by the way, both came against John and Tony won one and lost the other. In 1996 his car wouldn't start for the final and John won the event, and then in '97, when Tony needed to win the race to finish second, John smoked the tires in the final round and Tony did, indeed, win the race. For his part, John's been to the final round eight times with four wins, but the one race that will be mentioned often this weekend will be the 1987 race, because that's the last time that John Force failed to qualify for an NHRA event.
Did you know
that this will be John's 300
th
consecutive start if, indeed, he qualifies for the race? That means that he'll be three races behind the record that was set by
Warren Johnson
, a streak that ended earlier this year. And,
did you know
that if you want to get into NHRA's top ten list of all-time qualifiers, you have to have made at least 100 consecutive starts. Wow!!…By the way, in the history of the current NHRA points system, only once has the Funny Car lead changed hands at the final race of the season.
Did you know
that
Shirl Greer
won the championship in 1974 after trailing
Paul Smith
by 174 points coming into the final race? Paul didn't qualify, Shirl did, and he ended up winning the championship.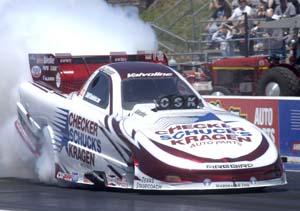 Del Worsham
The other battles in the Funny Car class will be between
Del Worsham
and
Gary Densham
for third place and
Johnny Gray
and
Bruce Sarver
for 10
th
place. Del, the defending event champ, leads Gary by 31 points, the same margin that separates John and Tony, while Gray is just 11 points in front of Sarver in the race for the 10
th
spot. If you're wondering what that means in dollars and cents, well,
did you know
that 3
rd
place pays $50,000 while 4th place is worth 30 grand? And, at the other end of the list, if you finish 10
th
in the Funny Car class you get a $15,000 Powerade bonus, while 11
th
place pays exactly zero!! Nothing!! Zip!! You get the idea…Of course the big news in the Funny Car class this past week was the announcement that
Scotty Cannon
will not return as driver of the Oakley fuel Funny Car next year. I have to admit that I was caught of guard by that, since just last week I said that I did expect him to return. Well, he won't, but I do think that we'll see
Gary Scelzi
get the ride with
"Team Schumacher"
in 2003. For his part, Scotty will go back to his roots, the Pro Mod class, where he'll start the 2003 season with a blown Studebaker and he should be one of the top contenders in that class right from the start.
Larry Dixon has a chance to make a little bit of NHRA history this weekend if he can win on Saturday or Sunday. The way I look at it, Larry could become the first Top Fuel driver in history to win $1 million in prize money in a single season if he can get to the winner's circle either day this weekend. Of course, if Larry, or any other driver, wins the "Budweiser Shootout" and the AAA Club Finals the next day, that's worth a grand total of $190,000, 100 large for winning the Shootout, 40 more for winning the race and a $50,000 NHRA bonus for doubling up. Now, if you want to know how tough that is, did you know that only once has a Top Fuel driver pulled off the elusive double? Joe Amato, who won the Shootout on Saturday and the Finals on Sunday in 1990, is the only dragster driver to ever complete the Pomona sweep. And, Joe beat Gary Ormsby in both of those finals and his Sunday win gave him the 1990 Top Fuel championship. Now that's the kind of weekend that most teams can only dream about….Kenny Bernstein, who will complete his driving career at Pomona, also has a couple of things to shoot for this weekend, including the opportunity to pass Don Garlits on the all-time Top Fuel win list. Did you know that both Kenny and "Big" right now have 35 dragster wins and they're tied for second place behind Joe Amato, who has 52 wins? Larry Dixon, by the way, with his great season, has moved into a 5th place tie on the list with 25 victories. One more win and Larry will establish the single-season mark for wins in a year (he's now tied with Gary Scelzi with 9) and he already has the record for the most final rounds in one year with 14….Clay Millican, the IHRA champ, will try his hand at NHRA racing again this weekend when he returns to Pomona, the site of two of his best outings. Did you know that, in his last two starts at the Fairplex, Clay has gone to the semi-finals? He lost to Kenny Bernstein at the "Finals" last year and he dropped a semi-final match to Larry Dixon earlier this year.
The Pro Stock point's chase is over, with Jeg Coughlin winning his second title, but Jeg still has a chance to make a little history this weekend. Did you know that Jeg has been to the final round at four consecutive races, and it's been five years since a PS driver went to the money round at five races in a row? Yep, Jim Yates was the last guy to do it and that was in 1997, but Jeg can do even more, he can win five races in a row and only two drivers have done that in the 32-year history of the class. Did you know that only Ronnie Sox and Bob Glidden ever won five races in a row in Pro Stock?…Like the FC class, there is a good battle further down the food chain, with George Marnell and Bruce Allen only separated by 4 points. George, who was the point's leader after winning the Winternationals, is currently in 10th place with 825 points, while Bruce is right behind him, in 11th place, with 821 points. Did you know that 10th place in the Pro Stock class is worth $15,000, and that 11th place is worth zero!! Zip!! Nothing!!…Darrell Alderman, who was in the top ten for most of the season, hopes to finish his year with a qualifying berth, something that he hasn't had since the Brainerd race. Did you know that Darrell has dropped from 6th to 12th following six, consecutive DNQ's? And, with the Mopar press conference scheduled for this Wednesday at the SEMA show, it will be interesting to see exactly where Darrell ends up next year. It will also be interesting to see what Mopar's involvement with NHRA will be in 2003.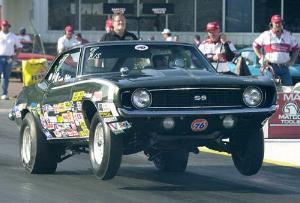 Kevin Helms
Congratulations to
Kevin Helms
, who wrapped up the 2002
Lucas Oil Stock Eliminator
title with his stellar performance in Las Vegas this weekend.
Did you know
that Kevin not only won the Stock Eliminator title at the race (thus, securing the season-long championship),but he also went to the finals in Super Stock? That means that Kevin won 13 of the 14 rounds in which he raced on Sunday…not bad, huh?
Did you know
that Kevin becomes the very first driver ever to win the NHRA Stock Eliminator crown in back-to-back years?…
Todd Stewart
had a good weekend in Super Gas, winning the event and keeping his title hopes alive. By my count, Todd needs to go six rounds this weekend if he wants to pass
Tom Stalba
for the S/G championship. And it looks like
Don Stratton
has all of the Competition Eliminator guys right where he wants them. With his runner-up spot at the D-7 points race, Don is right back where he was a year ago, that is, he's going into the final race of the year with a chance to go rounds and win the title. Last year he needed to go to the final round to win the title, and he did. This year, he's got to go four rounds if he wants to pass
Mike Saye
and win his second, consecutive Comp title.
Did you know
that only one guy,
Coleman Roddy
, ever won the title in that class in two, straight years? Good luck to all of the sportsman racers this weekend.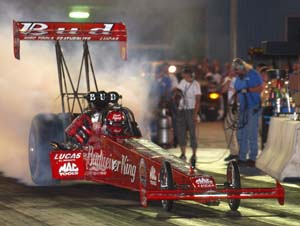 Kenny Bernstein
Finally, since Kenny is hanging it up after this weekend, I thought I'd finish with a flurry of DYK items about the "King of Speed." Ready? Here goes…
Did you know that Kenny has finished in the NHRA Top 10 for 22 consecutive years…an NHRA record?
Did you know that Kenny has raced 134 different drivers, an NHRA record?
And of those 134, did you know that 62 of them never beat Kenny, not even one round?
Did you know that Kenny is one of only four drivers to have won the U.S. Nationals in BOTH Top Fuel and Funny Car?
Did you know that Kenny's record against the other members of NHRA' s Top 10 all-time list (released last year) is 60-44, and that he is 166-108 against all of the drivers in the NHRA Top 50 whom he faced?
Did you know that Kenny's record against John Force is 13-7, and against Don Prudhomme he is 27-10?
Did you know that Kenny raced six, different father/son combos? Among them, Jim and Mike Dunn, Graeme and Andrew Cowin, Connie and Scott Kalitta, Don and Tony Schumacher, Paul and Mike Smith and Paul and John Smith?
Did you know that Kenny had a winning record in 10 of his 14 seasons in Funny Car, and 11 of his 13 years in Top Fuel?
Did you know that Kenny won races on 22 different tracks and that he has been the #1 qualifier at 22 tracks?
Did you know that he once qualified for 168 races in a row, and that's fourth best in the fuel classes in NHRA history?
And, well, there's a whole lot more, but let's just say that Kenny has been one of the biggest and brightest stars in the NHRA's 51 year history. The "Forever Red Tour…a Run To Remember," comes to an end this weekend, but there will still be a lot of runs to remember. Thanks, Kenny.


NHRA: 10 Most Recent Entries
[ top ]
Apr 19
-
HOUSTON - Friday Schedule
Apr 19
-
Tige Boats Named Presenting Sponsor of E3 Spark Plugs NHRA Pro Mod Drag Racing Series Portion of NHRA SpringNationals
Apr 19
-
HOUSTON - Previous Success, Early Win has Funny Car's Courtney Force Excited
Apr 18
-
Haney Headed for NHRA Pro Mod with Summit Racing on His Side
Apr 18
-
HOUSTON - Richie Crampton Enjoying Early-Season Success Heading to 31st Annual NHRA SpringNationals
Apr 18
-
2018 Mustang Cobra Jet Celebrates 50th Anniversary of Racing Legend with Quickest
Apr 18
-
New Ford Mustang Funny Car Scheduled to Debut In 2019 NHRA Mello Yello Season Opener
Apr 16
-
HOUSTON - Fact Sheet
Apr 16
-
HOUSTON - After Early-Season Mishap Funny Car's Jonnie Lindberg Looks to Get On Track