Thu, 7 Nov 2002, 10:17 PM



FORCE, RUSSELL, JOHNSON AND GANN LEAD THURSDAY QUALIFYING



Courtesy of NHRA Communication


Photo copyright 2002 Auto Imagery, Inc.





AT AUTO CLUB NHRA FINALS AT POMONA RACEWAY



POMONA, Calif. --
John Force moved closer to his 12th NHRA POWERade Funny Car championship Thursday by leading qualifying at the Automobile Club of Southern California NHRA Finals at Pomona Raceway.
Darrell Russell, Warren Johnson and Shawn Gann also led their respective categories at the $2 million race, the final of 23 events in the $50 million NHRA POWERade Drag Racing Series for 2002.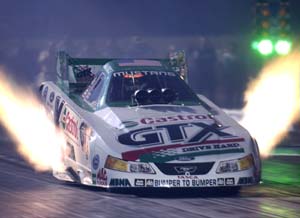 John Force
Force, who leads teammate Tony Pedregon by 31 points in the Funny Car point standings, drove his Castrol GTX Ford Mustang to a category-leading performance of 4.762 seconds at 324.05 mph. Pedregon, who lined up his Castrol Syntec Mustang opposite Force in the time trial, qualified 14th overall with a 7.328 at 285.59 after his Mustang lost traction off the starting line.
"I was a little bit surprised with that run with the conditions the way they were," Force said. "I told Austin (Coil, crew chief) to just put this thing in the show or it would be terrible for us. He said he set it up for a 4.85 or so. It was trucking, the track held and it went A to B. The difference was that the track held down there where you think it's going to get loose. I know there's lots of fans rooting for me and lots of fans rooting for Tony. I was surprised he smoked 'em cause he's got a really good hot rod. He has a lot of runs on that chassis, but they backed it way down. We did it too. I asked the guys if they wanted to go for the national record to get the extra 20 points, but they said they wanted to get in first and then we could get after it. We might give it a shot tomorrow and I bet Tony does too."
Russell drove his Bilstein Engine Flush dragster to a time of 4.571 seconds at 313.22 mph to lead the 16-car Top Fuel order. Series champion Larry Dixon was second overall with a 4.576 at 324.98 in his Miller Lite dragster. Kenny Bernstein, who will make his final start as a driver on Sunday behind the wheel of the Budweiser King dragster, posted a 4.621 at 318.62 for eighth in the order.
"There are definitely a lot of cars out here so I don't know if that'll hold for the No. 1 spot but we're certainly happy to start off the weekend like this," Russell said. "We're here for two races really, with the Budweiser Shootout looming on Saturday, so it's really important to start off strong and make a nice pass right out of the trailer. Now that we have a run under our belt we can move into race mode for the Shootout. With all the money that's on the line this weekend it's nice to get any kind of an edge you can."
Johnson led Pro Stock by posting a track record time of 6.797 at 203.31 in his GM Performance Parts Pontiac Grand Am. Greg Anderson qualified third with a 6.810 at a track record speed of 203.58 in a Chevy Cavalier.
Gann was quickest in Pro Stock Bike, clocking a 7.183 at 185.87 on a Gann Speed Suzuki. Angelle Savoie was second overall by posting an identical time and speed on her Mohegan Sun Suzuki, but Gann gets the top spot because he recorded the performance first.
Pro qualifying continues Friday with one session at 1:45 p.m.


NHRA: 10 Most Recent Entries
[ top ]
Apr 23
-
HOUSTON - Sunday Video
Apr 22
-
HOUSTON - Sunday Pro Mod Wrap Up