Sun, 10 Nov 2002, 11:45 PM



McClenathan, Force, Johnson and Hines Earn Wins at NHRA Finals



Courtesy of NHRA Communications


Photo copyright 2002 Auto Imagery, Inc.





POMONA, Calif. --
The Funny Car championship was decided in the semifinal round at the season finale Sunday. John Force defeated teammate Tony Pedregon at the 38th annual Automobile Club of Southern California NHRA Finals at Pomona Raceway, clinching his 12th Funny Car title overall, 10th consecutive.
Force went on to win the event, beating Tommy Johnson Jr. in the final round. Cory McClenathan, Kurt Johnson and Matt Hines also won their respective categories at the $2 million race, the final of 23 events in the $50 million NHRA POWERade Drag Racing Series.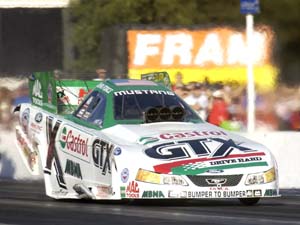 John Force
Force earned a record amount of championships when he drove his Castrol GTX Ford Mustang to a 4.954-second run at 315.12 mph to beat the No. 2 driver in the category - Pedregon's 4.935 at 310.84 in his Castrol Syntec Ford Mustang.
Force then moved on to beat Johnson in the final round with a 4.867 run at 317.12. Johnson went 4.906 at 313.80 in a Skoal Racing Chevy Camaro. It is the 106th victory of Force's career and eighth of the season.
"I am excited to win for the Auto Club and I get a POWERade championship ring on top of it," Force said. "I am going to go home and call all the sponsors and tell them this old man is still alive and don't throw him away yet."
Being the owner of Pedregon's team, there was pre-race pressure as to what would happen if both drivers faced each other during the eliminations and if it would be a clean run from both cars. The race between the two Force Racing cars was one of the closest of the weekend, proving both teams were equally racing for the championship.
"Tony was very up for the race and we talked right before the race and I knew he was ready for the win," Force said. "He had his race strategy and I had mine. I just had to think of it as another race, not a race for the championship.
"Tony did his job, his car went from point a to point b and his car actually ran better. But I guess luck is a big part of the game and I had some in my corner."
Pedregon's brother, Cruz Pedregon, is the only other driver to win a Funny Car championship in 13 seasons, beating Force for the title in 1992.
"I've been the champion 11 times before this and maybe if Tony's brother had not beaten me in 1992, I would have already had 10 straight," Force said. "But maybe it was fate that I didn't. I knew that no matter what happened today, I would be in a win-win situation being the team owner for Tony's car. That was the hardest part of the day, getting up to race my teammate.
"(Crew chief) Austin Coil told me in Dallas that if I didn't get up to race everyone, teammates included, I was going to lose this thing. The most important thing is that I had fun and really enjoyed the day."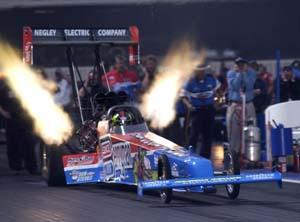 Cory Mc Clenathan
McClenathan also enjoyed the day's event. He earned the Top Fuel event victory, his first win since Oct. 2000 and 27th of his career. McClenathan went 4.756 at 302.01 in his Berryman dragster, beating Japanese native Yuichi Oyama's 4.739 at 305.36 in his Harry's Racing dragster.
"It was do or die out here for us and we knew we really needed to do well here," McClenathan said. "That kid outran us, but we pulled through (for the win)."
McClenathan sat out of last season's racing, and was pleased with his final place in the Top Fuel point standings. He tied with Doug Kalitta for fourth place. Kalitta officially will earn the fourth place bonus money because he beat McClenathan 2-1 in head-to-head racing this season. Still, McClenathan was happy.
"We tied Kalitta, and that was very exciting for us," he said. "Now I am just looking forward to coming back here in February for the Budweiser Shootout."
Kenny Bernstein wrapped up a lengthy career at the Finals. Bernstein lost to Oyama in the first round when his Budweiser King Dragster lost traction. He will put his son, Brandon, in the car next season and will stay on as the team owner.
Johnson drove his ACDelco Chevy Cavalier to the Pro Stock victory with a 6.801 pass at 202.88 to earn his first victory of the season and 23rd of his career. He beat rookie Gene Wilson's 6.843 at 201.79 in a Mopar Parts Dodge Neon R/T.
"Pomona is on my favorite list," Johnson said. "I won the last race in 2000 and the first race of 2001 here. I have been driving pretty good and the car has been running well in the last six races. I've run three different cars this year and that didn't put me in a position to win a championship. I told my guys to park the car here, lock it up and we'll come back in February."
Hines earned his second win of the season and 30th of his career with a 7.185 at 191.87 on his Eagle One Suzuki. Hines beat Geno Scali's 7.259 at 182.77 on his Lake Mortgage Kawasaki.
Hines, a three-time champion, went into Sunday's race in fourth place of the standings, and moved into the No. 3 spot.
"I only won two races this season, but I really think the bike is going in the right direction," Hines said. "The competition is so close right now and to pull up from fourth to third really feels like I won the championship and the race today."
Angelle Savoie, the 2002 Pro Stock Bike champion, clinched the season title in Las Vegas two weeks again. She has won the last three season championships, but failed to advance past the first round in the season closer. She lost to Scott Lewis in the first round. It was the first time since Aug. 1999 that Savoie has suffered a first round loss.
Larry Dixon clinched the Top Fuel championship two weeks ago as well, along with Pro Stock's Jeg Coughlin.
The 2003 NHRA POWERade Drag Racing Series season opener, the K&N Filters NHRA Winternationals, is Feb. 6-9.
Sunday's final results from the 38th annual Automobile Club of Southern California NHRA Finals at Pomona Raceway. The $2 million race is the final of 23 in the $50 million NHRA POWERade Drag Racing Series:
Top Fuel -- Cory McClenathan, 4.756 seconds, 302.01 mph def. Yuichi Oyama, 4.739 seconds, 305.36 mph.
Funny Car -- John Force, Ford Mustang, 4.867, 317.12 def. Tommy Johnson Jr., Chevy Camaro, 4.906, 313.80.
Pro Stock -- Kurt Johnson, Chevy Cavalier, 6.801, 202.88 def. Gene Wilson, Dodge Neon R/T, 6.843, 201.79.
Pro Stock Bike -- Matt Hines, Suzuki, 7.185, 191.87 def. Geno Scali, Kawasaki, 7.259, 182.77.


NHRA: 10 Most Recent Entries
[ top ]
Mar 20
-
Strong Stable of Contending Pro Stock Racers Vie for Final Starting Position for K&N Horsepower Challenge
Mar 20
-
GAINESVILLE - Special Awards
Mar 20
-
GAINESVILLE - Lucas Oil Drag Racing Series Wrap Up
Mar 19
-
GAINESVILLE - Sunday Video
Mar 18
-
GAINESVILLE - Pro Mod Sunday Wrap Up
Mar 18
-
GAINESVILLE - Sunday Wrap Up
Mar 18
-
GAINESVILLE - Pro Mod Championship Points
Mar 18
-
GAINESVILLE - Bonus Points
Mar 18
-
GAINESVILLE - Championship Points
Mar 18
-
GAINESVILLE - Mickey Thompson Top Fuel Harley Series Championship Points