Thu, 14 Nov 2002, 12:49 PM



Hail To The Champions!!…But First….



By Bob Frey


Photo copyright 2002 Auto Imagery, Inc.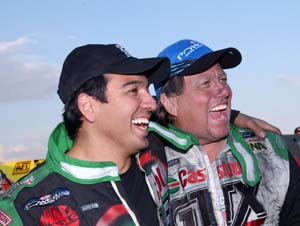 Tony and John
…..you all know how those rumors start right after the season, well, I'd like to put an end to one before it goes any further. Despite what you may have heard,
Tony Pedregon
did not leave the
John Force
team. I spoke with John today after I received several calls saying that Tony was out and moving on. "You tell 'em that Tony was upset at not winning the championship, but that's because he and that whole team are so competitive and they wanted to win so badly," John told me. "Tony is a vital part of this team and he'll be with us next year. In fact, you can also tell 'em that
Rob Slavinski
will be part of our team next year helping Ashley and, hopefully, running his own car. Nope things are fine, the guys got their bonus checks and we're moving' on looking forward to next year." Thanks, John, 'nuff said. Oh, by the way, I'll go back to what I said the week after the Las Vegas race when my sources told me that
Scotty Cannon
would return to the Oakley / Schumacher team. I knew I had good sources. And, look for that team to run those Mopar bodies next year. Now…
With all of the excitement of the AAA Club of Southern California Finals, the newly crowned champions, the extra day of racing and the two awards ceremonies (professional and sportsman), I hope you can understand why this column is a day late this week. After a long travel day yesterday, I finally got the time to put down some final thoughts on the season. Of course I'll fill this space each week during the off-season, but for now, let's just look back at the last race of the 2002 Powerade drag racing season.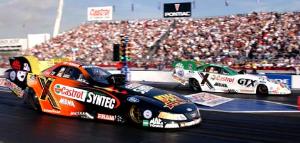 Pedregon vs. Force
When
John Force
beat
Tony Pedregon
in the semi-finals on Sunday, it assured that the champ would, indeed, win his 12
th
NHRA championship and his 10
th
in a row. The feat was so special that it actually got airtime on the ESPN "Sportscenter" show on Sunday night (and, of course, the replay on Monday morning). Now that's real progress for our sport, don't you think?
Did you know
that this was the latest that John has ever gone to clinch his Funny Car championship? In 1990 he had to go to the final race before clinching, but all he had to do at that event was qualify and he closed out
Ed McCulloch
, who finished second that year. Even when he got the big threat from
Ron Capps
in 2000, he wrapped up the title at the Houston race, the last event before coming to Pomona. In winning his 12
th
title,
did you know
that John did something this year that he has never done before? For the first time in his career, John won both Pomona events, the Winternationals and the Finals, and he's never completed that double before. And, how about this? John opened up the season by beating
Tommy Johnson
in his first round of racing this year and he closed the season by beating Tommy Johnson in his last round of racing this year. Now that's cool!! Plus, just to put a punctuation mark on the season, John swept the final race, that is, he was the number 1 qualifier (112
th
time), he set low elapsed time (107
th
time) and he recorded top speed (82
nd
time). Now that's total domination of an event. Now that's John Force!!…In some other Funny Car news, it's official, or as official as it can be until an official press release goes out, but
Rob Flynn
and
Dave Fletcher
will team up again in 2002, this time with
Cruz Pedregon
and the
Advance Auto Parts
car. The way I look at it that makes Cruz instantly more competitive next year than he was in '02. Good luck to Rob, Dave and Cruz next year….
Del Worsham
, who finished third in the points for the second, consecutive season, may have finished higher if he could find a way to beat Ron Capps.
Did you know
that, when he dropped his round one race to Capps, Del's record against the Skoal driver fell to 2-15? Sure, only two of those losses were this year, but still, it's amazing that one driver can hold that much of an edge over another driver, isn't it, especially when both guys have good cars and very good teams? The loss, by the way, dropped Del back to the .500 level for his career, finishing the season with an overall record of 204 – 204. And, for whatever reason, Del must like qualifying in the 12
th
spot, since Pomona marked the 24
th
time in his career that he's started from there, and that's more than any other position in the top 16 for Del. Still, 2002 was a career year for the former "Rookie of the Year" who finished with four wins, his best single season total ever.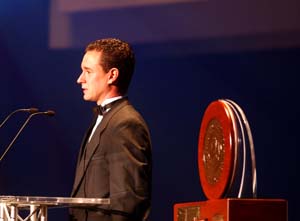 Gene Wilson
On the topic of the "Rookie of the Year," congratulations to
Gene Wilson
who earned that honor this year. With three final round appearances, Gene had a marvelous season and, despite not starting the season until Gainesville, and despite not qualifying for a race until Bristol, Gene still managed to finish with a flourish and he ended up in the Powerade Top 10 (9
th
place) for the year. His four rounds in Pomona vaulted him from 13
th
to that 9
th
spot. Way to go, Gene, and good luck next year with the newly formed
Larry Morgan
team….Gene's teammate this year,
Darrell Alderman
, finally hit the 400 round mark with his one round in Pomona. After being on hold for the past six races (all DNQ's) D.A. finally made the field and reached a plateau that very few Pro Stock drivers have reached. Good luck next year, Darrell, with the newly formed
Allen Johnson
team….
Jim Yates
, who finished second this year, might have finished higher if he could find a way to beat
Warren Johnson
? With his second-round loss to WJ,
did you know
that Jim's record against the "Professor" dropped to an amazing 16 – 40? OK, so only one of those losses came this year, but you get the idea. Imagine a two-time NHRA champ dropping 40 decisions to Warren. Wow!! The 40-losses are the most for Jim against any opponent and the next guy is way back at 18 losses and that just happens to be Warren's kid, Kurt!….
Kurt Johnson
, the winner this week, kept his streak alive of having won at least one race in each of the last eight years.
Did you know
that 1994 is the only year of his career when Kurt didn't win a race? He did win the Pro Stock Challenge that year, but not a single, NHRA national event. His 8
th
place finish in the points does run Kurt's streak to 10 consecutive seasons of standing on the stage at the end of the year. And,
did you
know
that Kurt's last three national event wins have all come at Pomona? He won the Finals at the end of 2000, and then he opened 2001 with a win at the Winternationals, and now, 47 races later, he wins his third race at Pomona….The win for Kurt gave
Chevrolet
a total of 110 national event wins in Pro Stock, and that moves them ahead of
Pontiac
on the all-time win list in the class.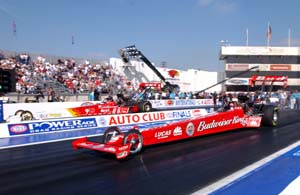 Bernstein vs. Oyama
Kenny Bernstein's
"Forever Red Tour" certainly didn't end the way that he wanted it to, did it? A round one loss to
Yuichi Oyama
sent the "King" packing early, although he did get a huge ovation from the fans when he came up the return road. Kenny's race against Oyama was their first meeting and meant that he finished his career after racing a record 135 different drivers. Oyama, for his part, will now go down in history as the guy who bumped
Don Garlits
from the Indy field and the guy who ended Kenny Bernstein's career. With the Budweiser Shootout being postponed (for the second time in three years), that means that Kenny's spot in the field will be taken by his son,
Brandon
. By the way, if you weren't at the award's ceremony on Monday night, you missed Kenny's farewell speech (or "talk" would be more like it), and that's a shame, because he was speaking right from the heart and had a lot of really nice, poignant things to say about his career and the people who have played a big part in it. Kenny will surely be missed and I, for one, am glad that I was there for most, if not all, of his great career….
Cory McClenathan's
win was probably the most emotional of the event.
Did you know
that Cory has now won 27 Top Fuel races, and that's 4
th
best in the history of the sport? Plus, he has fifteen runner-up spots, giving him 42 final rounds for his career. Cory now has at least one win in nine of the past eleven seasons, and he's finished in the top ten spot in each of those nine years. Let's hope that the entire Henkelman-Baca TF team returns next year, with Cory driving the
Berryman
car and
David Baca
at the wheel of the
Prolong
car. Cory's win over Yuichi means that he has now faced seven different drivers in his last seven final rounds.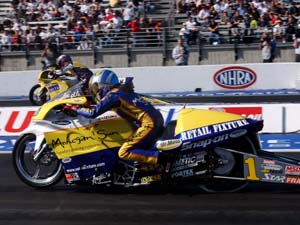 Savoie vs. Lewis
Angelle Savoie's
loss in round one at Pomona ended her streak at 46 races at which she had won at least one round. Angelle's .620 reaction time had a lot to do with the loss and I believe that was simply a result of a loss of focus, I mean, she had the championship wrapped up and that took a lot of pressure off of her coming into the race.
Larry Dixon
also lost in round one, in case you hadn't noticed.
Did you know
that this was only the 6
th
, round one loss of Angelle's entire career? Now that's amazing….
Andrew Hines
almost upset his brother,
Matt,
in round two.
Did you know
that the younger Hines had a perfect .400 reaction time against Matt, but he just didn't have a good enough bike to win the race. And,
did you know
that there were only four perfect reaction times in ALL of the pro classes combined this year, and that three of the drivers who had the perfect reaction times lost? And, believe it or not, the Hines family had two of those perfect reaction times. In addition to Andrew's r/t in Pomona, Matt had a .400 lite in the final round in Atlanta. Oh, by the way, Matt lost that round, too, even with a perfect move off the line, mainly because Angelle had a .402 in the other lane…Matt's four rounds for the weekend put him over the 300 mark, leaving him with a total of 302 for his career (236 – 66).
Lucas, Saye, Bertozzi, Helms, Compton
(Front Row) Gallant and Manzo
The sportsman racers, more than anyone else, were inconvenienced this weekend, with several of the final rounds ending, literally, minutes before the
Lucas Oil Drag Racing
Series
awards presentation show got underway downtown on Monday afternoon. Congratulations to
Todd Stewart
, who went 15 rounds in the last two weekends of the season to catch and pass
Tom Stalba
in the race for the Super Gas championship…
Mike Saye
, who went to the final race of the year for the second consecutive season before winning the Competition Eliminator crown (he finished second last year), grabbed his second national title (he won Super Stock in '95), when
Don Stratton
lost in the second round…
Jim Hughes
, who was in the top ten in both Super Gas and Super Comp for most of the year, earned the 8.90 national crown when
Kent Hanley
went out early in the program, and
Anthony Bertozzi
punctuated his championship year with his first NHRA national event win in Super Stock. Anthony had an interesting year, winning his first national event in the Super Comp class a few weeks ago and then, finally winning a S/S title but doing it in a borrowed car (he drove one of the Jeg's cars). I'll tell you, Anthony can flat out drive a race car…any car. Congratulations to all of the 2002 NHRA champs, both professional and sportsman….And, since I mentioned people being inconvenienced by the weather this week, a big pat on the back to NHRA for running the race on Sunday instead of postponing it a week. I guarantee you that they took a big financial hit, but that one of the main concerns for them was the racers, especially those who had come from so far away, and the spectators who came from all over the country to see the race. While everyone is inconvenienced by something like this, no one was as adversely affected as NHRA, and I applaud them for holding the race this weekend. It couldn't have been an easy decision!!


NHRA: 10 Most Recent Entries
[ top ]
Apr 20
-
HOUSTON - Friday Wrap
Apr 20
-
HOUSTON - Saturday Schedule
Apr 20
-
HOUSTON - Top Fuel Qualifying, Session #2 Order
Apr 20
-
HOUSTON - Top Fuel Qualifying Notes, Session #2
Apr 20
-
HOUSTON - Pro Stock Qualifying, Session #2 Order
Apr 20
-
HOUSTON - Funny Car Qualifying, Session #2 Order
Apr 20
-
HOUSTON - Pro Modified Qualifying, Session #2 Order
Apr 20
-
HOUSTON - Funny Car Qualifying Notes, Session #2
Apr 20
-
HOUSTON - Pro Stock Qualifying Notes, Session #2
Apr 20
-
HOUSTON - Pro Modified Qualifying Notes, Session #2