Thu, 14 Nov 2002, 02:33 PM



Oakley Expands Program with Second Funny Car Sponsorship at Schumacher



Courtesy of David Ferroni



Drivers to be Scotty Cannon and Gary Scelzi



INDIANAPOLIS --
Racing NHRA team owner Don Schumacher announced that Oakley will expand its sponsorship program at Schumacher Racing with the addition of a second Funny Car, beginning with the 2003 season.
The drivers for the two Oakley-sponsored Funny Cars will be Scotty Cannon and Gary Scelzi.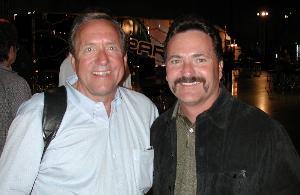 Schumacher and Scelzi
"To be affiliated and supported by a quality company as Oakley makes everyone on the team proud to be involved in this special relationship," said Schumacher. "Oakley's high profile presence is a boost for all of drag racing and we truly welcome them as a partner.
"I am delighted that Scotty Cannon is returning to our team and that Gary Scelzi is joining our team. They are both talented individuals who will represent Oakley and all of our sponsors in the highest standard."
Cannon, 40, who recently announced he would leave Schumacher Racing as the Oakley driver to become a Pro Modified team owner, reconsidered his decision. However, Cannon did say that he still plans to form a Pro Modified team next year with a driver to be named later.
Jim Jannard, founder and chairman of Oakley, will personally administer Cannon's team, which will be based in Indianapolis.
"After ten minutes of begging Scotty on my hands and knees he finally agreed to come back and drive the Oakley Funny Car," said Jannard.
Scelzi, 42, a three-time NHRA Top Fuel season champion, will drive the Oakley car that will be tuned by crew chief Mike Neff with assistance from Schumacher Racing co-crew chief Dan Olson.
"We are fortunate to have a three-time champion driving for us," said Jannard. "Gary carries himself with class and Oakley style."
Cannon, of Lyman, S.C., has been the Oakley Funny Car driver since the company's NHRA sponsorship began in 1999. Cannon joined the NHRA Funny Car ranks following a legendary career on the International Hot Rod Association (IHRA) with six national championships as a Pro Modified driver.
"I was ready to move on but the overwhelming support I received from Oakley made it an easy decision to return," said Cannon, the 1999 NHRA Rookie of the Year. "This is great and I am really looking forward to 2003. I want to thank Jim Jannard and Don Schumacher for making this happen. We have plenty of work ahead of us, but it will get done and we'll be ready to roll with loads of enthusiasm come February."
Scelzi, of Fresno, Calif., was an immediate success when he joined the Top Fuel category in 1997. He won the season championship for team owner Alan Johnson the first two seasons and came back to win a third title in 2000. He switched to the Funny Car category at the beginning of the 2002 campaign and competed for nearly half a season before mutually agreeing to depart from the Alan Johnson team.
"This is incredible and I can't tell you how thrilled I am to join Schumacher Racing and Oakley," said Scelzi, a 25-time race winner in Top Fuel. "With all of the people that Don Schumacher has assembled it is every bit as good as being with Penske or Ganassi or any major motorsports team. This is as good as it gets.
"It's also a perfect fit for me. I've been a fan of Scotty Cannon for a long time and I am happy he is staying in Funny Car. Whit (Bazemore) and I were teammates with the Winston program. Tony (Schumacher) and I fought for the Top Fuel championship in 1999. He won, but we became good friends. Don Schumacher and Jim Jannard are not only my bosses but also good friends. I am so excited and so thrilled that I hope this dream never ends."
With the sponsorship expansion of Oakley, Don Schumacher Racing has become a four-car team -- the Oakley Funny Cars driven by Scotty Cannon and Gary Scelzi, the Matco Tools Funny Car driven by Whit Bazemore and the United States Army Top Fuel dragster driven by Tony Schumacher.


NHRA: 10 Most Recent Entries
[ top ]
Mar 17
-
GAINESVILLE - Saturday Wrap Up
Mar 17
-
GAINESVILLE - Super Gas Round 3 Eliminations
Mar 17
-
GAINESVILLE - Pro Modified Eliminations Ladder
Mar 17
-
GAINESVILLE - Pro Modified Final Qualifying, Session #4 Order
Mar 17
-
GAINESVILLE - Super Stock Round 3 Eliminations
Mar 17
-
GAINESVILLE - Super Comp Round 3 Winners
Mar 17
-
GAINESVILLE - Stock Eliminator Round 3 Eliminations
Mar 17
-
GAINESVILLE - Super Comp Round 3 Eliminations
Mar 17
-
GAINESVILLE - Top Alcohol Funny Car Round 1 Eliminations
Mar 17
-
GAINESVILLE - Total Qualifying Bonus Points