Thu, 14 Nov 2002, 08:35 PM



Dixon, Force Among Nominees for Driver of the Year Award



Courtesy of NHRA Communications


Photo copyright 2002 Auto Imagery, Inc.





GLENDORA, Calif. --
NHRA POWERade Drag Racing Series champions Larry Dixon and John Force headlined the nominees for the prestigious Driver of the Year Award, it was announced recently by Barry Schmoyer, president of the Driver of the Year Foundation.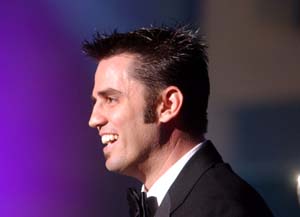 Larry Dixon
Other nominees include stock car driver Tony Stewart and open wheel racers Cristiano da Matta and Sam Hornish Jr. Dixon, whose fast start earned him the title of Second Quarter Driver of the Year for 2002, had a career-season behind the wheel of his Don Prudhomme-owned Miller Lite Top Fuel dragster. He set a record for final round appearances (14) and tied Gary Scelzi (2000) for the season win record (9).
Dixon opened the season at a rapid pace, winning seven of 10 final round appearances in the first 11 races, setting a mark for the best start in NHRA history for a Top Fuel driver. He added victories in Memphis and Las Vegas and runner-up finishes at Indianapolis and Brainerd, Minn., near the end of the season to hold off hard-charging rival Kenny Bernstein to secure his first NHRA Top Fuel crown.
"It's cool that we've got a couple of NHRA guys in the running for Driver of the Year," said Dixon. "It's a great honor to be recognized for what the entire Miller Lite team did this season. This goes beyond any goal we set for this season and any I've set for my career. It's an absolute honor."
Force, the only drag racer to ever win the Driver of the Year Award (1996), earned his 10th consecutive NHRA Funny Car championship, and 12th overall, behind the wheel of his Castrol GTX Ford Mustang. Force powered to eight victories in 10 final round appearances for the season, increasing his career win total to 106, second all-time among drivers in major auto racing series, behind stock car legend Richard Petty (200). He also posted six No. 1 qualifying awards and extended his eliminations streak to 300 consecutive races without a DNQ (did not qualify).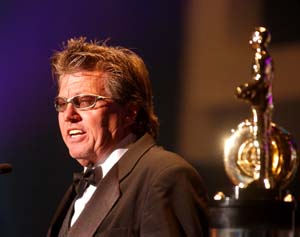 John Force
The championship run came down to the wire for Force, as he squeezed out a title- clinching semifinal victory over top rival and teammate Tony Pedregon in Sunday's Auto Club NHRA Finals at Pomona (Calif.) Raceway. Pedregon got hot late in the season, recording three straight victories and a runner-up finish to challenge Force to the end, which ultimately came on a holeshot loss to his boss. Force surged ahead of Pedregon by less than an inch at the finish line, gaining an extremely close margin of victory of 0.0055 of a second.
"It's always an honor to be considered one of the top drivers. When I won (the Driver of the Year Award) in 1996, I didn't really know what it was all about but I knew it was something (Dale) Earnhardt and Richard Petty and Mario Andretti had won before me, so it definitely was a big deal," Force said. "Bottom line, it's one of those awards that just to be in the running is something I'm proud of. I think it says a lot about how far our sport has come and where it's going."
The Driver of the Year program is administered by the Driver of the Year Foundation, located in Sarasota, Fla. The Driver of the Year is picked by a select panel of motorsports journalists, including Chris Economacki, National Speed Sport News; Shav Glick, LA Times; Steve Ballard, Indianapolis Star; Mike Harris, Associated Press; Mark Armijo, Arizona Republic; John Sturbin, Ft. Worth Star-Telegram, Chris Jenkins, USA Today and Gary Long, Miami Herald, among others. ESPN.com also participates, through an online poll, allowing fans to cast a vote.
The Driver of the Year is based on a 25-point system. Each panelist ranks the nominees from 1-6, and points are awarded to the drivers as follows: 9 points for first, 6 for second, 4 for third, 3 for fourth, 2 for fifth and 1 for sixth.
Last year's winner was stock car driver Jeff Gordon. In addition to Force, other drivers to win the award include Mario Andretti, Cale Yarborough, Al Unser, Richard Petty, A.J. Foyt, Darrell Waltrip, Dale Earnhardt, Emerson Fittipaldi, Dale Jarrett and Bobby Labonte, among others.

LARRY DIXON
Birthdate: Oct. 23, 1966
Hometown: Indianapolis
Birthplace: San Diego
Category: Top Fuel
Car: Miller Lite dragster
2002 wins/final rounds: 9/14
Career wins/final rounds: 25/47
Best points finish: 1st (2002)
First victory: Phoenix 1995
Career No. 1 qualifying awards: 19
First career No. 1 qualifying position: Englishtown 1995
Career-best elapsed-time: 4.486 seconds (Houston 1 1999)
Career-best speed: 327.27 (Dallas 2001)
2002 Highlights:
Was named Second Quarter Driver of the Year
Equaled a category record with nine victories in one season (Gary Scelzi, 2000),
including seven of the first 11 events
Set a category record for most final round appearances in one season (14)
Qualified No. 1 seven times
Recorded low elapsed-time of the event five times
Recorded top speed of the event three times
Career Highlights:
1995 NHRA Rookie of the Year after replacing legendary Don "The Snake" Prudhomme as
driver of the Miller Lite dragster
Became only the third rookie to win the $100,000 Budweiser Shootout in 1995; also
won in 2001
Has finished in the top 10 in the Top Fuel points standings every season in career,
with his previous best coming in 2001 (second to Kenny Bernstein)




JOHN FORCE
Birthdate: May 4, 1949
Hometown: Yorba Linda, Calif.
Birthplace: Bell Gardens, Calif.
Category: Funny Car
Car: Castrol GTX Ford Mustang
2002 wins/final rounds: 8/10
Career wins/final rounds: 106/163
Best points finish: 1st (1990-1991, 1993-2002)
First victory: Montreal 1987
Career No. 1 qualifying awards: 112
First career No. 1 qualifying position: Baton Rouge 1986
Career-best elapsed-time: 4.731 seconds (Reading 2001)
Career-best speed: 325.14 (Reading 2001)
2002 Highlights:
Captured a category-best eight victories
Earned his 100th career victory on April 14, becoming only the third driver in auto
racing history to win 100 races (David Pearson - 105, Richard Petty - 200)
Qualified No. 1 times six times
Recorded low elapsed-time of the event six times
Recorded top speed of the event three times
Career Highlights:
Most prolific driver in NHRA history with 106 career NHRA national event victories,
trails only Richard Petty in auto racing history
Has won 10 consecutive NHRA Funny Car championships, and 12 overall
Became most prolific winner in NHRA history with 86th career victory at Joliet, Ill.
in 2000
Holds the Funny Car E.T. record at 4.731 seconds
Only drag racer to win Driver of the Year in 1996
Won first NHRA Funny Car title in 1990



NHRA: 10 Most Recent Entries
[ top ]
Mar 17
-
GAINESVILLE - Saturday Wrap Up
Mar 17
-
GAINESVILLE - Super Gas Round 3 Eliminations
Mar 17
-
GAINESVILLE - Pro Modified Eliminations Ladder
Mar 17
-
GAINESVILLE - Pro Modified Final Qualifying, Session #4 Order
Mar 17
-
GAINESVILLE - Super Stock Round 3 Eliminations
Mar 17
-
GAINESVILLE - Super Comp Round 3 Winners
Mar 17
-
GAINESVILLE - Stock Eliminator Round 3 Eliminations
Mar 17
-
GAINESVILLE - Super Comp Round 3 Eliminations
Mar 17
-
GAINESVILLE - Top Alcohol Funny Car Round 1 Eliminations
Mar 17
-
GAINESVILLE - Total Qualifying Bonus Points