Mon, 18 Nov 2002, 07:51 PM



Henkelman and Baca Sign Johnny West as Crew Chief



Courtesy of Mickey Schultz



PITTSBURG, Calif. --
Rick Henkelman and David Baca, partners and owners of the Henkelman & Baca Motorsports Top Fuel Dragster, announced today that Johnny West has been named the crew chief for their NHRA Top Fuel team effective immediately.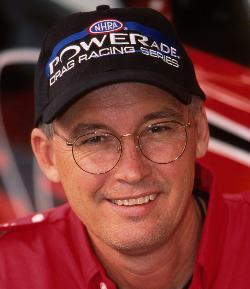 Johnny West
"The future of the Henkelman and Baca Motorsports Top Fuel Dragster is now in the hands of Johnny West," said Baca, who will drive the team's dragster in 2003. "Johnny West is the crew chief that has always been at the top of our list and he is the crew chief that we feel can take our program to the next level of competition beginning with the 2003 season.
"I believe that with his past experience, the teams that he's worked for and who he's been mentored by, that Johnny West has the potential to be the next Tim Richards or Dick LaHaie."
Rick Henkelman added, "We had to give up two first round draft choices and a supercharger to be named later to get Johnny West, the guy that we've always wanted."
Most recently, West has been the crew chief for Doug Herbert wrenching him to seventh place in the 2002 NHRA POWERade point standings, one win, two number one qualifying positions and several passes in the 4.50 second range.
"I look forward to the new opportunity and challenges of accepting the crew chief duties at Henkelman and Baca," said West. "I worked with Wes Cerny while I was with Doug Herbert's team and now am following him here.
"My plans call to pick up where Wes left off here and bring with me some of the knowledge we learned on Doug's car. This combination should give us a competitive car from day one."
West's drag racing roots run all the way back to 1972 when he first campaigned his own Funny Car. His hallmark then was a consistent tune-up and that's still the way he tunes today.
His Top Fuel experience began in 1997 when Bruce Sarver drove a rail rather than the flopper he pilots today. He worked with veteran crew chief Lee Beard, who tuned the late Gary Ormsby, Sr. to a Top Fuel championship in 1989. From there he moved to Vandergriff Motorsports from 1998 until 2000.
West started as Bob Vandergriff, Jr.'s assistant crew chief under Ray Alley but moved up to crew chief in 2000. Vandergriff wound up eighth in points that year despite not attending two races and one DNQ. Once again the key to West's success was consistency.
Just prior to his stint at Herbert's race team, West served as an assistant crew chief on Kenny Bernstein's Top Fuel title team of 2001.
"The future for this team will be dictated by how many sponsorship dollars that we are able to generate to operate this car. Naturally, the amount of dollars generally dictates how well you compete with the teams vying for the championship. I know that David (Baca) is aggressively searching for sponsorship for this car so that we will have the best of everything and be competitive from the first green light at Pomona next February," concluded West.


NHRA: 10 Most Recent Entries
[ top ]
Apr 23
-
HOUSTON - Sunday Video
Apr 22
-
HOUSTON - Sunday Pro Mod Wrap Up