Fri, 22 Nov 2002, 02:21 PM



The Year In ReviewÖTop Alcohol Funny Car



By Bob Frey


Photo copyright 2002 Auto Imagery, Inc.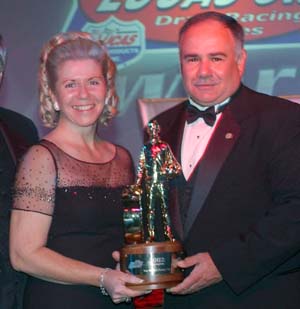 Michelle and Frank
The closest that I ever get to an ace
is when I talk about Frank "Ace" Manzo. Really! After a few trips to Las Vegas this year, about the only ace I saw all year was Frank, and thatís not bad, because heís very appropriately named, especially when you look at what heís done in the Top Alcohol Funny Car class. This year, all he did was win his 8
th
World Championship, his 51
st
national event, his 6
th
U.S. Nationals title, his 13
th
Division 1 title and a whole pile of division races. Maybe they should rename him Frank "The Royal Flush" Manzo!!
As I look back of the past season in the TA/FC class, I see nine different drivers who won national events and a couple of them who won multiple races. Still, it was the consistency of Mr. Manzo and his crew that proved to be the difference in the end. With another sweep of the Division 1 races, Frank gave himself enough points to clinch the championship before anyone else in the sportsman ranks. One of the keys to Frankís success, as it is with any good team, is his crew, and Frank has one of the best. John Glade, who has been with Frank for all 51 of his national events, anchors one of the more talented teams in the sport. John, who works with Frank full-time, heads up a cast that includes Ed Hoffman, Fred Bauer, Mike Howardson and Kevin Manley, and together, they give Frank the best car out there. And, maybe more importantly, they give Frank the confidence that everything will be right when he pulls to the starting line. Just like John Force, Frankís team hardly ever makes those little mistakes that can cost you a race, and thatís why both guys continue to dominate their respective class. Before I go on to the rest of the class, consider this about the "Ace." Frank is 18-2 in his last twenty national event final rounds. Since the 1993 Gatornationals, only four drivers, Tony Bartone, Bob Newberry, Jay Payne and Marc White have beaten him in a final round. Wow!! Now if only I could take this "Ace" to Vegas with me. Also, Michelle, Frankís wife, plays a big part in his success both on and off the track and he, more than most drivers, is always quick to thank her. Good move, Frank!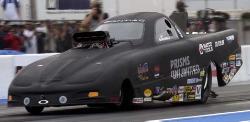 Steve Gasparrelli
There were a couple of teams who looked like they would challenge for the championship this year, and donít be too surprised if they donít mount a strong charge next year. Steve Gasparrelli, who won the last race of the season, finished up with, maybe, the most consistent car in the class. With his dad at his side, this second-generation racer has developed into one of the best drivers in the category, and the car can run with anyone. With a couple of national event wins and several divisional titles, including one in D-4, Steve finished the season on a high note and ended up second in the points. His three national event final round appearances should tell you something about the caliber of that team. Steve and his dad, Lou, love running at Pomona so look for them to come out of the gate smoking next year.
Jay Payne had another, typical, Jay Payne season. The touring, "professional" sportsman racer continues to amaze me with his spirit, his drive (pardon the play on words) and his enthusiasm for the sport. The former Top Alcohol Dragster World Champion, who has forty-five national event final rounds to his credit, can beat anyone, including Frank, on any day. Jay, in his Valvoline-sponsored Chevrolet, added some more national event wins to his total this year and he had a career weekend in Chicago when he won both the Jegís All Star race and the national event. If he had gotten off to a better start (meaning winning races before he ran out of events to claim), we might have been crowning a new champion this year. But then, if Iíd have gotten that ace in VegasÖ.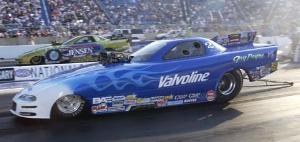 Payne vs Smith
Three other drivers who had very good seasons were Von Smith, Tate Branch and Marc White. Tate, who continues to be the best alky car driver out there without a national event win, ran well all year long. He, too, has a very good crew chief who keeps him in the hunt at virtually every race. Dave Scheelk, along with Dick Harshey, provide the power for Tate who ran under the banner of the Rapid Temps folks this year. In addition to performing well on the track, Tate spent a lot of time visiting hospitals near the races this year and that says a lot about this New Mexico native. After winning in Las Vegas at that tough D-7 event, Tate finished the year as the Division 4 champion and he will be a contender again in 2003.
Von Smith and Marc White were two of the other real threats in the class this year. Von, who won in Dallas where he ran the table, that is, he was the top qualifier, set low elapsed time and top speed, had as good a car as anyone throughout most of the year. With ten final round appearances (counting divisional races and national events), Von went to as many money rounds as just about anyone in the class. Vonís Jensen Audio and Stereo sponsorship is good for him, and the class, and expect Howard Moon to give Von even more power next year, and thatís saying a lot for a team that has already been in the 5.50 zone. Marc White, meanwhile, has to consider his season a success, after all, heís one of the very few guys who beat Manzo in a final round (Columbus). Marc, with car owners George and Jane Etterman, made six final round stops this year on both the national and divisional level and, at the end of the year, the car was running in the low 5.60ís and thatís going to win you a lot of drag races. With Haulmark, Michigan Kenworth and Valvoline on board, Marcís team was as competitive as they have ever been, and he looks like heíll be a permanent fixture in the top ten.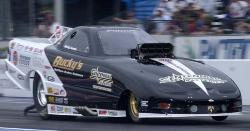 Bucky Austin
There are a couple of other teams that need mentioning here. First of all, Pat Austin. Pat, the winningest driver in the history of the class, made a rare (these days) appearance at the Winternationals and he proceeded to beat up on everyone, including his uncle, Bucky, in the finals. Bucky, who had all of the numbers on his side (#1 qualifier, low elapsed time and top speed), just tried too hard in the final round, where he shook the tires and lost. Pat has decided to spend more time at his family business, and with his family, and I applaud him for that. From a selfish point of view, Iíd love to see him run all of the races like he used to do. But, as a parent, I know that your kids take priority and that they grow up all too fast, so you have too enjoy them while you can. Patís appearance at Pomona, though, just served as a reminder to all of us how really good he is. Seventy-five wins good, by the way. The "other" Austin, Bucky, with twenty-seven final rounds to his credit, was, again, as strong as ever. But a fire at his shop this year, a fire that destroyed virtually all of his office and a lot of his classic car collection, obviously slowed him in his pursuit of the championship. In the end, everything came out all right (that is, no one got hurt) and Bucky came out and raced again at the end of the season. Over the years, there might not be a harder runner on a race-by-race basis than "The Northwest Hitter," Bucky Austin. And, while both Austinís have some things to take care of on the home front, I, for one, always enjoy the races more when they are at the track, and I applaud both of them for their great careers.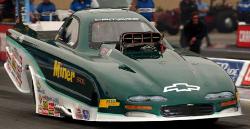 Larry Miner
Before I go, Iíd be remiss if I didnít mention the Miner Brothers. One of the truly great teams, not only one the west coast, but in the country, I heard that they sold their operation just days before the Finals in Pomona. If thatís true, and if they are out of racing, then weíve lost one of the best teams in the history of the class. Just this year they won three national events, including impressive wins in Las Vegas, Topeka and Sonoma, and they showed everyone the power that has been the hallmark of this team for years. One of the few 5.50 cars in the class, and one of only two to top 260 miles per hour (Bucky is the other one), this team is as good as they come in the alcohol class. While Larry got the props for driving the car, his brothers, Bob and Fred, were huge parts of the team and, lately, so were Larryís boys, Greg and Tommy. With the Fontana motor that they ran for years, when this team showed up, you knew it was going to be a better race. Again, strictly from a selfish point of view, I hope their "retirement" from the sport is temporary, because we are a much better sport when theyíre involved. Remember, this is the team that gave Gary Scelzi and Cruz Pedregon their starts in the class.
Before I go, (have you heard that before), Iíd like to give a special mention here to Mert Littlefield, the great veteran, who won his first NHRA national event this year in Seattle. I was fortunate and honored to be there at the end of the track when Mert got out of the car in Seattle after that win and, if I can remember what his words were, he said something like
Mert Littlefield
this, "If I werenít so big, Iíd jump up and down Iím so happy!" It was, indeed, one of the real thrills of the entire season. Now, as fate would have it, as soon as Mert wins a race, his son, Brad, decides he wants to get his license and go racing, too. Well, Brad, you keep selling those stats and saving your money, because I donít believe dad is quite ready to give up the seat just yet.
Yes, it was a great year in the Top Alcohol Funny Car class, and, for all of the guys who watched Frank Manzo win the title again this year, remember what Warren Johnson always says, "After the Finals, weíve all got the same number of pointsÖzero." Good luck to all of you and thanks, from a fan, for a great year of drag racing.


NHRA: 10 Most Recent Entries
[ top ]
Apr 24
-
CHARLOTTE 1 - Steve Torrence Enjoying Four-Wide Success Heading to NGK Spark Plugs NHRA Four-Wide Nationals
Apr 24
-
CHARLOTTE 1 - Fact Sheet
Apr 24
-
Kalitta Motorsports Welcomes NASCAR Stars to the SealMaster Track Walk in Charlotte
Apr 24
-
zMAX Dragway Celebrates 10th Anniversary
Apr 24
-
CHARLOTTE 1 - NGK Spark Plugs NHRA Four-Wide Nationals Brings 40,000 Horsepower Thrill Show to zMAX Dragway
Apr 23
-
HOUSTON - Lucas Oil Drag Racing Series Wrap Up The NHRA Lucas Oil Drag Racing Series Wrap Up
Apr 23
-
CHARLOTTE 1 - J.R. Todd Aiming for Two Four-Wide Racing Wins in 2018
Apr 23
-
Mid America Dragway Joins NHRA Member Track Network
Apr 23
-
HOUSTON - Special Awards
Apr 23
-
HOUSTON - Sunday Video