Tue, 26 Nov 2002, 11:03 AM



Pro Stock Bike Driver Geno Scali Announces New Team Partnership



Courtesy of Tracy Myers



PALATINE, Ill. --
NHRA Pro Stock Bike driver Geno Scali has partnered with Joe Koenig, president of Trim-Tex Drywall Products, to form Team Trim-Tex, a professional motorcycle drag racing team that will compete in the Pro Stock Bike class for the NHRA POWERade Drag Racing Series Championship in 2003.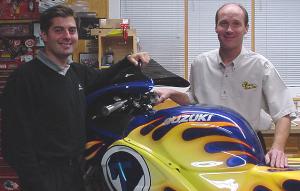 Scali and Koenig
Scali and Koenig, a former championship contender in the AMA/Prostar Pro Stock Bike class, will be equal team owners in Team Trim-Tex. Both partners are looking forward to putting together an extremely competitive team that can consistently perform at all fifteen NHRA events.
"We're happy to announce our partnership as team owners," Koenig said. "This is an incredible opportunity for both of us. Geno's main duty will be riding the bike. He is an experienced driver with a cool head. He has the unique ability to store data about the run as he's going down track, and then tune the bike from it. In addition he will run the day-to-day operations of the team. I will concentrate on other areas of the team such as management, marketing, and sponsorship. Plus I will serve as a technical advisor. We each bring talents to this team that are needed to race competitively, and ultimately to win the Pro Stock Bike championship."
Last season, Scali impressed competitors and fans alike as he drove the Pete Briggs-owned Kawasaki to three final round appearances and a solid sixth place finish in the 2002 NHRA POWERade Championship. And to the thrill of thousands of die-hard Kawasaki fans, he won his first NHRA national event – the first win for a Kawasaki in over ten years. "Pete and I certainly had one incredible year," Scali said. "We ended the 2002 season in the final round at Pomona [the last race of the season], and I am very proud of our accomplishments."
"It has always been my dream to be a driver and owner of my own competitive team, and I am grateful for this opportunity to work with Joe and be a partner in Team Trim-Tex," Scali continued. "I can't wait to ride the Suzuki TL1000 again! Joe put me on it for two test runs recently, and I love the way bike handles."
Scali contributed last season to Koenig's team during the AMA/Prostar series as a racing consultant, while Koenig's company, Trim-Tex Drywall Products, was an associate sponsor on the Pete Briggs Racing Kawasaki. Scali also rode for Koenig on the team's number two bike at three Prostar events in 2002, making two final rounds.
Business and personal reasons will take Koenig off the driver's seat after competing in Pro Stock Bike for the last three years, finishing second in the AMA/Prostar US Drag Racing Championship this past season. "I'm looking forward to retirement from riding because I'm excited about the possibilities ahead for 2003 with Geno," Koenig said. "He is a quality guy, and we really clicked as friends. We have a lot of the same values and ideas, and I am looking forward to a long partnership with him."
Now the two racing veterans are combining their knowledge and abilities to be front-runners in the NHRA series. "Joe is a hard worker, like myself. He's a doer," Scali said. "He impresses me because he has such a positive attitude. With the two of us working together, we'll see some great things in the upcoming season and for years to come." Scali also noted that his wife Donna, a CPA, will manage the team's books and pay the bills.
One thing they both bring to the table is speed – Koenig holds the record as the world's quickest Pro Stocker with a 7.029-second, 193.58 mph run on his Suzuki TL1000, and Scali holds the title as driver of the world's quickest Pro Stock Kawasaki with an elapsed time of 7.143 at 191.27 mph.
With the new partnership, Scali will leave his position as a sales consultant for a Lexus dealership and is looking forward to racing full-time. "By focusing on racing as my only job, I can concentrate on finding new ways to win. My heart has always been with racing, and now I have the time and resources to devote to it," Scali said, who added that the new role of full-time owner and rider will allow him to do one thing he has never done before – test. "Because I will be racing full-time, I will be able to test the bike between events," he continued. "Before my testing occurred when I was trying to qualify at a national event, but now I can try out new ideas on the bike like the other top championship contenders do."
Scali and Koenig are now pushing the start button on their new team and strategizing for the 2003 season. Team Trim-Tex is currently in negotiations with several potential associate sponsors. The team's main sponsor is Trim-Tex Drywall Products, a manufacturer of rigid vinyl drywall beads based in Lincolnwood, Ill., and owned by Koenig.
Trim-Tex has been the innovator and industry leader for high quality drywall products for 34 years. Many homes being built today use these fine products for improved homeowner satisfaction. For more information on Trim-Tex, visit their website at www.trim-tex.com.


NHRA: 10 Most Recent Entries
[ top ]
Mar 20
-
GAINESVILLE - Special Awards
Mar 20
-
GAINESVILLE - Lucas Oil Drag Racing Series Wrap Up
Mar 19
-
GAINESVILLE - Sunday Video
Mar 18
-
GAINESVILLE - Pro Mod Sunday Wrap Up
Mar 18
-
GAINESVILLE - Sunday Wrap Up
Mar 18
-
GAINESVILLE - Pro Mod Championship Points
Mar 18
-
GAINESVILLE - Bonus Points
Mar 18
-
GAINESVILLE - Championship Points
Mar 18
-
GAINESVILLE - Mickey Thompson Top Fuel Harley Series Championship Points
Mar 18
-
GAINESVILLE - Bonus Points