Wed, 27 Nov 2002, 07:37 PM



Next Year, Mike Dunn Is Going ToÖ..



By Bob Frey


Photo copyright 2002 Auto Imagery, Inc.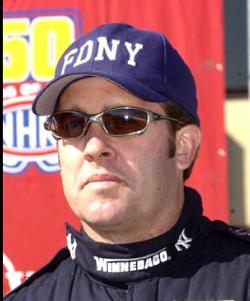 Mike Dunn
Ö.do what? One of the big topics thatís being discussed this off-season is what will
Mike Dunn
be doing in 2003? We all know what a great job Mike did on the
ESPN
television shows this past season and how much weíd all like him to return to the booth next year. But, those of us who know Mike, also realize that he has a burning desire to return to the driverís seat and make a real run for the Top Fuel world championship. Well, if my sources are correct, that could be a lot closer to happening than anyone, even Mike, thought possible just a few weeks ago. According to what I hear, Mike is in some serious negotiations with a major, international firm in an effort to put a team together in time for next season. Mike has made no bones about the fact that the only way that he would return would be with enough financial support to be able to challenge the top teams in the sport, and this deal, apparently, would give him just that. In a time when so many teams are fighting for budgets and budget approval, Mike knows that time is not on his side, but that hasnít stopped him from moving forward. My sources tell me that the next two weeks will be key and that if any deal is to be done, thatís the time frame they have to do it. From a fanís point of view, Iíd love to see Mike back behind the wheel of a dragster, while the TV side of me wants him to stay where he is because he did do such a wonderful job. One thing I can tell you is that if Mike Dunn comes back it will be with enough parts and pieces to make a run for the championship. Let ís wish him well and, where ever he lands, NHRA Powerade drag racing is better because Mike Dunnís involved with it. By the way, I can tell you this, contrary to what you may have seen, heard or read elsewhere, Mikeís deal has nothing to do with the
John Force
team. Nothing!! Just for the record,
did you know
that Mike Dunn has been in 40 final rounds in his great career, including both Funny Car and Top Fuel, and that he has competed in almost 600 rounds of competition?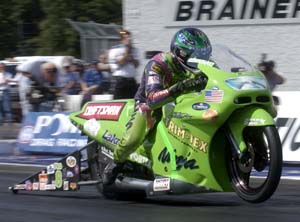 Geno Scali
Other than that, here we are, a couple of weeks into the "off-season" and there really hasnít been any earth shattering news so far. Sure, the off-again, on-again
Scotty Cannon
story was big for a while, and so was the addition of
Gary Scelzi
to the Schumacher camp, but other than that, it has been a surprisingly quiet time. One story that came out this past week, but wasnít a real surprise to most of us, who the announcement that
Geno Scali
would be leaving the
Pete Briggs
team to join his friend
, Joe Koenig
, in a Pro Stock bike operation next year. The two bring some pretty impressive credentials with them as they chase the Powerade Pro Stock Bike title next year.
Did you know
that itís Koenig, and not
Angelle Savoie, Matt Hines, Craig Treble
or any of the other household names in the bike class who holds the quickest Pro Stock bike time card off all time? Joe ran an amazing 7.029 at a Prostar race and, even though thatís with slightly more liberal rules, itís a pretty good indication that he knows where to get the power and how to get it to the strip. Geno, in addition to taking his Kawasaki to the winnerís circle in Brainerd, also has the fastest Kawasaki speed in drag racing at a blazing 193.58 mph. The two should be contenders right from the start and, remember you heard it here first, they will have two bikes before very long into the í03 campaign. Now, I have two words for Genoís former owner, Pete Briggs
Ö.Antron Brown
. Pick up the phone, Pete, and call him, because together, you guys could make a lot of noise next year. Antron,
Mark Peiser
and Pete, it has a nice ring to it, donít you think?
I was thinking back on the 2002 season and what a great championship run it was for Larry Dixon and I thought Iíd throw a couple of numbers at you. Did you know that, in the entire season, between qualifying runs (83 of them), and elimination rounds (70 of them) that Larry only had 22 passes that were slower than five seconds? Thatís 22 out of a total of 153 passes down the quarter mile, and that ís why heís the champion. Of course that St. Louis race, where he only ran a best of 5.104 for the weekend (and didnít qualify) is one that Larry and the team would like to forget. Whatís amazing about the whole thing is that Larry started the year off with a 9.474 as his first qualifying effort at the Winternationals. After that pass,
Larryís slowest run the rest of that entire weekend was a 4.992, and his next slowest was a 4.708. Whatís also a bit ironic, I think, is the fact that at that same race, the Winternationals, he ran 4.509 at 326.87 mph. Whatís so surprising about that? Well,
did you know
that Larry never went quicker or faster than that the rest of the year? Amazing, huh?Ö.
Kenny Bernstein
, who finished the year with his head held high, will now go through the switch from driver to car owner, much like
Don Prudhomme
and
Joe Amato
did before him, and it probably wonít be easy. By the way, I want you to know that Iíve offered to help Kenny clear some space on his walls by taking that
Kenny Youngblood
painting off his hands. "Blood," who is, simply put, the best in the business, was commissioned to do the painting for Kenny commemorating the "Kingís" great career and it was presented to him at the awardís ceremony. Next to the spectacular piece that Mr. Youngblood did a few years back of
Gary Densham
and the "Blue Angels," this may be his finest hour. Congrats to both Kennys!! And if Kenny doesnít take to watching from the sidelines too well, and if Mike Dunn returns to the driverís seat, wellÖ.
Alderman, Johnson, Morgan and Wilson
The Pro Stock wars should heat up next year with the formation of those two, new Mopar teams.
Larry Morgan, Gene Wilson, Allen Johnson
and
Darrell Alderman
should hit the ground running next year and it will be good to see them in the title chase. Of course, if my sources are correct,
David Nickens
, who ran the Mopar team through this year, will also have a very competitive team of his own. While the exact configurations of the team are still up in the air, look for David to field one and maybe two cars, either on his own or with another partner, and look for him to not miss a beat. David, who has been a winner (and champion) on every level of the sport, has already done more testing since the last race of the year than most teams, and Iím hearing times in the low, low 6.80ís. Should be funÖ.Also, from what I hear, in an effort to spread the wealth around, look for a few of the guys who drove Chevrolet Cavaliers this year to make the switch to Pontiacs in í03. I think that
Greg Anderson
and
Mike Edwards
might be the first to make the announcement. And, of course, even though he made only one pass at Pomona because of the weather, is there anyone out there who doesnít expect Jeff Taylor to be a player in the Pro Stock class next year?
Did you know
that this wouldnít be Jeffís first foray into the world of professional racing? He actually competed at a couple of events in Pro Stock back in the early 1980ís, in fact,
did you know
that Jeff and
Malcolm Durham
have something in common, and thatís the fact that they both competed at the 1985 Southern Nationals in Atlanta in Pro Stock? Oh yeah, they have one more thing in common, they both failed to qualify at that race. Just thought Iíd point that out! Sorry, guysÖ.And, look for bigger and better things from the
JR Carr
camp next year. The Powerade "Rookie of the Year" candidate tells me that he has some new cars coming and expects to be much more suited for the rigors of a full NHRA season now that he has one in the books.
Angelle Savoie will be honored for her 2002 accomplishments at the Mohegan Sun Casino in January. Unless I missed it, I havenít seen an announcement that the Mohegan Sun folks are sponsoring her next year, but I have to think that having her at their place is a pretty good indication. I can tell you this, I still think that Angelle and her Star Racing team may be the best buy in drag racing. She ís young, attractive, well spoken, extremely competitive and very talented, and George Bryce gives her all the power and encouragement she needs to be a winner. Congrats and good luck to that entire team.


NHRA: 10 Most Recent Entries
[ top ]
Apr 22
-
HOUSTON - Pro Modified Round 1 Eliminations
Apr 22
-
HOUSTON - Pro Stock Round 1 Eliminations
Apr 22
-
HOUSTON - Funny Car Round 1 Eliminations
Apr 22
-
HOUSTON - Top Fuel Round 1 Eliminations
Apr 21
-
HOUSTON - Sunday Schedule
Apr 21
-
HOUSTON - Saturday Video
Apr 21
-
HOUSTON - Saturday Wrap Up
Apr 21
-
HOUSTON - Super Stock Class Eliminations Finals
Apr 21
-
HOUSTON - Funny Car Qualifying, Session #4 Bonus Points
Apr 21
-
HOUSTON - Total Qualifying Bonus Points