Wed, 5 Dec 2001, 05:01 PM



That's A Whole Pile Of Money!!



By Bob Frey




POWERADE
Monday, December 3, 2001, was a red-letter day in the history of the NHRA. With the departure of Winston, NHRA needed to fill the void left by their partner / sponsor of the past 27 years, and they did that Monday. POWERADE, a division of the Coca-Cola Company, has stepped in to fill that void, and they did it to the tune of about $3 million. Now thatís a whole pile of cash. And, as much as Ií m enjoying being home at this time of the year, I canít wait for the start of the 2002 POWERADE Drag Racing season.

Warren's new ride.
Did you know
that the two champions in the fuel classes will each earn $400,000 next year? Thatís twice as much as Kenny and John got this year. And the Pro Stock champ will get a hefty raise to $200,000 (from $125,000 this year). Plus, if you look closely at the numbers, the second place finishers in each of the three, top categories, will also get a one hundred percent increase in their year-end bonus. And so it goes on down the line, and any way you want to add the numbers up, it comes up huge for the racers in 2002. And it can only get better. In Pro Stock alone, for example, the winner will get almost as much money himself as the number two thru ten finishers got combined this year. Do you think
Kenny Bernstein, John Force
and
Warren Johnson
would like to make this program retroactive? Ironically, Warren Johnson will have a new (old) sponsor next year and he will depart from the black and silver colors that he has run for so long on his cars. In 2002, the "Professor" will change to a vibrant blue and yellow colored car that will look like two different flavors of POWERADE. Go figure.
With all of the attention placed on the NHRA announcement, there really hasnít been much done or said on many other fronts in the sponsor business recently. Most teams that are looking for sponsors kept saying that any potential partners were waiting until NHRA announced whom the series sponsor would be before making a decision. Well, now you know, so let the signings begin. With the ESPN television package, with a new format and time for the NHRA Heat show probably happening in 2002, and with the POWERADE sponsor, things are looking really good for the sport next year and for many years to come.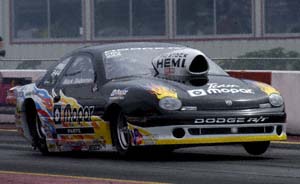 Mark Osborne
There are a couple of things that I do know. By now, most Pro Stock fans know that
Mark Osborne
will be back with the Team Mopar camp next year, and so will
Darrell Alderman
. The two, will be part of the Mopar Pro Stock team that will, again, include
Larry Morgan
and, possibly, a third car out of the Nickensí camp. As competitive as the Pro Stock class was this year, and with 200 grand up for grabs for the champion, itíll be important for every team to come out strong at the start of the season, thatís why youíll probably see more two-car teams next year than ever before. Warren and
Kurt Johnson
will have about five cars between them and they should be testing extensively during the off-season. Warren, who lost eleven times in the first round this year, vows to have all of his hot, cold, warm, wet and wild weather cars ready to go by Pomona. If he gets out of the gate quickly, he could be tough to catch next year. After all, is there a better money racer in the class? Speaking of those first round losses,
did you know
that the most times that Warren had ever lost in round one prior to this year was 7? In 1996, W.J. lost in the opening stanza seven times, and, other than that, in his entire Pro Stock career, he had only lost more than five, opening round encounters on three occasions. Three, in 27 years of racing. Not bad, huh? Warren also won six times this year, making it seventeen years that he has won more than one race in a season. Now thatís impressive. Still, when you do the math, he had six wins and eleven first round losses in twenty-four races, which doesnít leave much room for anything else, does it.
Did you know
that, statistically, the Pro Stock finish between Warren and
Jim Yates
was the closest in NHRA history? His 78-point margin was much closer than the 168 points that
Bob Glidden
beat
Wayne Gapp
by in 1974, the previous, closest finish. Of course, with inflation (meaning the new way they count points vs. the old,) the í74 battle was, technically, the closest.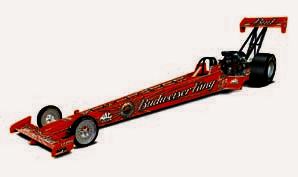 Kenny's 2002 Forever Red look.
Kenny Bernstein
, who will begin his "Forever Red" tour at the Winternationals next year, had a marvelous season in 2001. In addition to winning the title and the $400,000, oh, thatís next year,
did you know
that the "King" won more events in 2001 than at any other time in his career? His eight wins even topped some of his remarkable seasons in the Funny Car class. Plus, his twelve final rounds was also an NHRA mark for Top Fuel in one season. Seems like only a few years ago we were celebrating the year that
Gary Beck
had when he went to three finals, an NHRA record at that time. Kenny also had three "slams" this year, meaning times when he was the number one qualifier, set low elapsed time, top speed and won the event. Plus, he ended the season holding both ends of the TF record. And, even though he is very proud of his twenty-one year association with Budweiser, and he should be,
did you know
that Kenny has another sponsor who has been with him even longer? The La Paz Mixer name that you see on his car has been riding with Kenny since before the Budweiser era, and thatís a long time. Nice going, Kenny. Thanks LaPaz. By the way, think about this. With the increased awareness, advertising and promotion that POWERADE will bring, along with the heavy promotion for Kennyís farewell tour, NHRA drag racing should be everywhere next year. Itís gonna be great!
Angelle Savoieís off-season will be pretty busy since she just opened her new Suzuki dealership in Houma, Louisiana. If she puts the same drive and determination into the dealership that she puts into her racing, "Angelleís Motorsports" should be a great success. Letís see, if itís hunting season in the bayou area right now, those ATVís ought to be flying off the showroom floor. Angelle and the Star Racing folks are looking at several different options and programs right now and you can expect to see her back to defend her title, and try to make it three in a row in 2002. With all of the available teams out there, not only in drag racing, but also in all forms motorsports, I donít think that there is there a better opportunity for a company than to hook up with Angelle right now. As they say in the world of advertising, she has it all to offer. In the area of fan popularity at the races, she is right up there with the top names in the sport, and on the track, well, her record there speaks for itself.
A couple of top fuel teams are closer to signing sponsors this week, and, as mentioned here a week ago, donít be surprised if you donít hear about a couple of major announcements real soon. Plus, one Funny Car team from last year is about to add another car, while a former Federal Mogul standout tells me that heís about "90% sure" that he has a deal for 2002. Stay tunedÖ




NHRA: 10 Most Recent Entries [ top ]

Jun 05- NHRA Announces Revised Schedules for Pro Mod, Top Fuel Harley, Factory Stock Showdown, and Mountain Motor Pro Stock
Jun 03- NHRA Sonoma Nationals Event at Sonoma Raceway Cancelled
Jun 03- NHRA Mello Yello Drag Racing Returns Beginning with Two Indianapolis Events in July
Jun 03- A Message From Summit Motorsports Park President Bill Bader Jr.
May 21- Second JEGS SPORTSnationals Added, to be held in mid-August in New England
May 20- DENSO Sponsors NHRA Champs' Shelter-in-Place Dachshund Race
May 14- To Our Racing Community-From Racers for Christ
May 13- The Name Game Part I
May 12- Morgan Lucas, Son of Forrest and Charlotte Lucas, Appointed President of Lucas Oil Products, Inc.
May 05- Cancellation of the 14th Annual Summit Racing Equipment NHRA Nationals