Fri, 7 Dec 2001, 12:22 PM



Steppin' Up



By Bob Frey



| | |
| --- | --- |
| | |
Most of the talk around the NHRA water coolers a week ago centered on the Federal Mogul folks and their reduced level of participation in 2002. This week, the talk, obviously, was about the great, new program for the professional racers. With POWERADE coming aboard, NHRA and its racers on the professional level are guaranteed that the sport, and the financial opportunities that are available to both, will continue to grow in the years ahead. Every pro guy or gal out there should be ecstatic about the recent announcement, and they should all be trying to hit their sponsors up for more money. OK, so maybe thatís a stretch, but you get the idea. As I mentioned at the beginning of this year, with the continued expansion of the ESPN television package, and that companyís increased promotional involvement, it wonít be long before the "trickle down" effect begins to reach every racer. And, while there is not a new sportsman sponsor in place at this time (there will be soon), NHRA has assured the racers that they will continue to fund the program at its current level, and thatís good news for sportsman racers everywhere. Now, with all of that said, with the big bucks now in place for the pro racers, I wonder how many of the current crop of racers will decide to make the step up to the professional level. Manzo, Santos, Austin (Bucky), Payne and others in the alcohol classes would seem to be prime candidates to jump into the fuel ranks. Oh sure, they may not want to go run the entire 23 race schedule, but they may decide to test the waters. After all, the current ranks of pro racers are populated with guys who used to race at the grass roots level, arenít they? And, over the past 50 years, where have most of the pro racers come from? Right, from the sportsman classes. Sure, you have your Bernsteinís, Forceís and Johnsonís who began at the top, but you also have the Dixonís, Scelziís, Schumacherís, Cappsí, Pedregonís and many more, who cut their teeth in the sportsman ranks. And now, with the big bucks up for grabs, the time may be right for a few more to take that giant step up to the next level.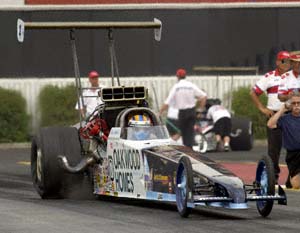 Rick Santos
Every year about this time, or about the time he clinches his annual championship, Rick Santos begins fielding questions about "when are you guys going to run top fuel?" And every year, at least for as long as I can remember, Rickís answer is the same, "Weíd love to, but that takes a lot of money." Well, Rick, there ís a lot of money out there right now, so come and get it! Now I know that itís not as easy as that, and I certainly know that getting funded to run in the fuel classes takes a lot of time, effort and hard work. It also takes a lot of luck, believe me, but I will tell you this, itís going to get easier. With POWERADE, with the increased television exposure, with the play that Budweiser is going to give Kennyís "Forever Red" tour next year, NHRA drag racing will be everywhere, and thatís good. Itíll be good for the current professional teams and it will be good for the sportsman teams who want to step up.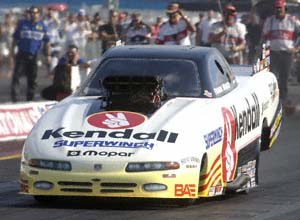 Frank Manzo
If Rick Santos and his team arenít the first ones to make the move, I think theyíll follow very shortly. Frank Manzo, who, like Santos, has to answer that question a hundred times a year, probably isnít primed to become a full time, touring pro just yet. But I ask you, is there a better, more determined racer out there than Frank? If youíre looking for a guy who you know will be competitive from the time he hits the track for his first race, a guy you know will be a winner and will represent your company well, could you ask for more than Frank? Probably not. In fact, a two-car team with Rick and Frank would be rather formidable, donít you think? But no matter how good you are, it is a huge jump, and anyone who has tried it before will tell you that you canít believe the difference from running in the alcohol classes to being a pro. Or from running in one of the sportsman gas classes, to competing in Pro Stock. Itís like playing baseball at the Triple A level and then getting called up to "the show." All of a sudden, the .350 hitter at Tidewater becomes a .250 guy in New York. The pitcher, who was unhittable in Reading, is regulated to the bullpen at Philadelphia. The home run slugger in Des Moines has warning track power in Chicago. And thatís the way it can be in drag racing. Still, if youíre a good racer at one level, I firmly believe that youíll succeed at the next level. After all, you donít win five or seven championships by being lucky, you win them because you know what it takes to be the best. And Iím not talking just about money, although that does help. Iím talking about surrounding yourself with the right people, trusting them, believing in them and having them believe in you. Thatís what it takes to be a champion, and, if you donít believe me, ask Rick or Frank.
Over the years, Iíve watched a lot of sportsman racers turn pro, and, for the most part, those who were successful at the sportsman level, succeeded in the pro ranks. Pat Austin, Randy Anderson, Tommy Johnson, Jeg Coughlin, Mike Edwards, Tim Wilkerson and virtually everyone in the Pro Stock Truck class all began their careers as a sportsman racer, and all were very successful at that level. Theyíve done pretty well for themselves as pros, too, havenít they. Even the great Blaine Johnson, who was as dominant as any driver in the history of the alcohol dragster class, was a star as a pro. But even Blaine, with all of the resources at his disposal (like is brother, Alan), struggled at first. Not for long, but he struggled. In the end, however, that entire team showed you that the same formula that makes a winner in one class, will do it in another class. It just takes a little more time and, without a doubt, a lot more money.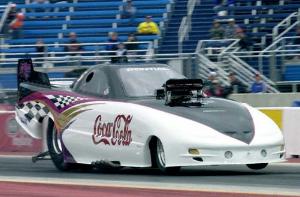 Cy Chesterman
As I write this, Iím thinking of a whole group of racers that I would love to see turn pro. Iíve mentioned a few, but names like Keith Stark, Bob Newberry, Michael Gunderson, Cy Chesterman and Brandon Bernstein also come to mind. OK, scratch Brandon, I understand he already has a gig for next year, but you get the idea. These are great racers who would only make the professional classes that much more entertaining and enjoyable, just like Johnny Gray, Tom Martino and Scott Weis did this year. And, with the continued increase in exposure for the NHRA teams, I think itís only a matter of time before we see some of these names going head to head with Force and Bernstein and Johnson. And if that happens, the big three better watch out, Ďcause these guys will be tough. Very tough. If you donít believe me, just check their track records up to now. Well, Iíd like to continue, but Iíve got to go now, Iíve got to start working on that Santos-Manzo fuel team. Iíll keep you posted.


NHRA: 10 Most Recent Entries
[ top ]
Jun 05
-
NHRA Announces Revised Schedules for Pro Mod, Top Fuel Harley, Factory Stock Showdown, and Mountain Motor Pro Stock
Jun 03
-
NHRA Sonoma Nationals Event at Sonoma Raceway Cancelled
Jun 03
-
NHRA Mello Yello Drag Racing Returns Beginning with Two Indianapolis Events in July
Jun 03
-
A Message From Summit Motorsports Park President Bill Bader Jr.
May 21
-
Second JEGS SPORTSnationals Added, to be held in mid-August in New England
May 20
-
DENSO Sponsors NHRA Champs' Shelter-in-Place Dachshund Race
May 14
-
To Our Racing Community-From Racers for Christ
May 13
-
The Name Game Part I
May 12
-
Morgan Lucas, Son of Forrest and Charlotte Lucas, Appointed President of Lucas Oil Products, Inc.
May 05
-
Cancellation of the 14th Annual Summit Racing Equipment NHRA Nationals