Fri, 7 Dec 2001, 03:10 PM



NHRA's 50 Greatest Drivers



Courtesy of NHRA Communications



#2: John Force



Nothing in John Force's athletic background could have suggested the level of success that he has achieved: He is the most prolific driver in professional drag racing history and is entering the season-ending Automobile Club of Southern California NHRA Finals at Pomona Raceway having won a record 11 Winston championships and an unprecedented 98 national events.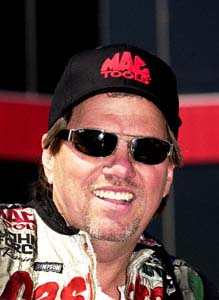 John Force
That's a striking contrast to a high-school football career in which he quarterbacked Bell Gardens High School, in Bell Gardens, Calif., to 27 consecutive losses. That's three full seasons without even a hint of success.
>From that experience, he learned that a quarterback is only as good as the team around him, a premise he applied in 1985 when he borrowed enough money and made enough promises to hire former Chi-Town Hustler co-owner Austin Coil as his crew chief. He subsequently filled each position on his team with the best talent available and maintained that formula each time his racing stable grew. In 1992, he hired Bernie Fedderly to work with Coil; in 1996, John Medlen was brought in to oversee a second team headed by talented driver Tony Pedregon; and this season, Jimmy Prock was selected as crew chief for a third car driven by Gary Densham.
Nevertheless, Force attributes all his success, which includes 113 victories as car owner, to his late uncle, Gene Beaver, who encouraged him to hire Coil, a decision that Force briefly questioned when Coil initially failed to end a series of final-round frustrations that extended to nine events.
"I promised Coil a million dollars, and he promised me a championship," Force recalled, no doubt embellishing the story somewhat. "But when we went through two seasons and hadn't won anything, I whined to him that he promised to make me a winner. He looked at me with that ol' toothpick sticking out of his mouth and said, 'Yeah, and you promised me a million dollars.' "
Both subsequently made good on their pledges: Coil has earned several million dollars as the principal tuner of the record-holding (4.731 seconds) Castrol GTX Ford Mustang, and Force has become the biggest winner in history, eclipsing all of Pro Stock legend Bob Glidden's records from the 1970s and '80s.
However, back in 1986, neither Force nor Coil could have anticipated the success that their collaboration would ultimately yield.
Force's breakthrough first victory was memorable. It came in 1987 at now-defunct Le Grandnational, which was contested at Sanair Int'l Dragstrip in St. Pie, Que., where he beat Ed "the Ace" McCulloch in the final round.
"I was looking around for a TV commentator to do my interview, and there was nobody down there [at the end of the track] but a couple of drunk Canadians," Force said. "For years, I'd been practicing the winner's circle interview I was going to give [NHRA television commentator] Steve Evans, then the first race I win is the one that doesn't have TV [coverage]."
Of course, Force has made up for that one missed opportunity by mugging for the cameras countless times, and in the process, he has created a dynasty that has won more consecutive series titles than any team or individual in sports history.
Force's nine consecutive NHRA Funny Car championships is unprecedented in all of sports. The Boston Celtics won eight straight NBA basketball titles, the Montreal Canadiens won five straight Stanley Cups, and the N.Y. Yankees won the World Series five consecutive times. In auto racing, the only one close is Steve Kinser, who won six straight World of Outlaws sprint car titles. The record in NASCAR Winston Cup racing is just three in a row by Cale Yarborough - the late Dale Earnhardt never won more than two straight; ditto Richard Petty.
Force, the only drag racer ever to be named national motorsports Driver of the Year (1996), owns a bevy of NHRA Winston Drag Racing Series records, including most final rounds in a season (16), most wins in a season (13), most round-wins in a season (65), most career final rounds (153), most career round-wins (755), and most rounds run (1,006).
As a result, the members of the American Auto Racing Writers and Broadcasters Association have voted him onto their Auto Racing All-America Team a record eight consecutive times. Moreover, based on his performance this season (six wins, 13 final-round appearances, and a national record), it's likely that he will make that elite lineup for the ninth straight time and 10th overall. By contrast, no other driver has been named to the team more than seven consecutive times.
Force has won at least one national event for 15 straight seasons and has won 10 or more races five different times - the combined total of 10-win seasons for everyone else in the sport is three.
Since 1990, almost all of Force's seasons have been great, but few could match his 1996 campaign, when he won 13 of 19 races, appeared in 16 final rounds, and won 65 of a possible 76 eliminations rounds. That season, Force locked up the title by late summer and finished with 2,023 points, 636 more than his teammate, Tony Pedregon, who finished second. Force's points total that season was also the most by any Professional racer since the current points-scoring system was adapted in 1994.
In 2000, Force broke a record that was once considered untouchable when he claimed his 86th national event victory to surpass Glidden's mark of 85. Ironically, the decisive victory came at the sparkling-new Route 66 Raceway in Chicago, Coil's hometown.
In winning this year's Winston Funny Car title, his 11th, Force broke Glidden's record of 10 championships - no Funny Car racer has won more than four.
On being selected as one of NHRA's Top 50 drivers, the always gracious Force was hardly disappointed to be second to three-time NHRA Winston Top Fuel champ "Big Daddy" Don Garlits.
"Naturally, I would have liked to have [been No. 1]," Force said, "but anytime you're in a group with Shirley Muldowney, Don Prudhomme, Kenny Bernstein, Bob Glidden, all the hitters, and especially 'Big Daddy,' you've gotta be proud. I want to congratulate everybody in the Top 50 because, in a period of time in our lives, we've all been part of something special.
"I want to congratulate 'Big Daddy' Don Garlits and say that no one else deserved it more because of what he has done for the sport. I'd have voted for him myself. It would have been great to be No. 1, but I guess all I can do now is try to be No. 1 in the next 50 years."
NHRA's Top 50 Drivers were unveiled on NHRA.com and through the pages of National DRAGSTER, in reverse order throughout the 2001 season. Don Garlits was named the No. 1 driver at the Automobile Club of Southern California NHRA Finals at Pomona Raceway on Nov. 11.
As NHRA celebrates its 50th anniversary in 2001, it has emerged as one of the most popular spectator sports, highlighted by a $50 million, 24-event, nationally televised tour. The NHRA has developed into the world's largest motorsports sanctioning body, with more than 80,000 members nationwide, and more than 140 member tracks.




NHRA: 10 Most Recent Entries [ top ]

Jun 05- NHRA Announces Revised Schedules for Pro Mod, Top Fuel Harley, Factory Stock Showdown, and Mountain Motor Pro Stock
Jun 03- NHRA Sonoma Nationals Event at Sonoma Raceway Cancelled
Jun 03- NHRA Mello Yello Drag Racing Returns Beginning with Two Indianapolis Events in July
Jun 03- A Message From Summit Motorsports Park President Bill Bader Jr.
May 21- Second JEGS SPORTSnationals Added, to be held in mid-August in New England
May 20- DENSO Sponsors NHRA Champs' Shelter-in-Place Dachshund Race
May 14- To Our Racing Community-From Racers for Christ
May 13- The Name Game Part I
May 12- Morgan Lucas, Son of Forrest and Charlotte Lucas, Appointed President of Lucas Oil Products, Inc.
May 05- Cancellation of the 14th Annual Summit Racing Equipment NHRA Nationals