Mon, 10 Dec 2001, 07:19 PM



Harry Turner Discusses GM Racing's Winning Record



Courtesy of Jeff Romack, GM Racing Communications



DETROIT --
Harry Turner has been the GM executive manager for NHRA drag racing since 1997. The team of engineers that he assembled have played a key role in the development of new technologies and strategies that have kept GM racers ahead of the competition. Over the last five years, drivers carrying the GM Racing banner have accumulated 212 wins, 217 No. 1 qualifying spots and nine Winston championships in Pro Stock Truck, Pro Stock and Funny Car. In 2001 alone, GM racers in the professional categories captured 50 of 62 national events for an .810 winning percentage. In addition, Pontiac took the NHRA Manufacturer's Cup for the sixth consecutive season while Chevrolet won its third straight Pro Stock Truck Manufacturer's title.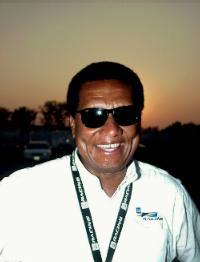 Harry Turner
Harry Turner talks about the '01 season and the bright future at GM Racing as it prepares for the opening of the '02 NHRA campaign next February at Pomona.
Can you talk about the overall improvement of the GM race teams this year?
"It's been terrific and we're all very proud of the teams that chose to compete in GM racecars. We've had Warren (Johnson) helping us develop new GM Performance Parts for quite some time, getting a lot of dyno runs with GM equipment and subsequently winning his sixth championship. But now you have people like Tom Martino, Mark Pawuk, Jim Yates, Reher-Morrison, Ron Krisher and Jeg & Troy Coughlin getting a lot of dyno pulls with GM parts. It's the never-ending work that Warren talks about, and the hours and hours behind the scenes that the other guys are starting to accumulate. Mark (Pawuk) committed his engine development program to the DRCE2, the new cylinder heads, about three years ago, and now their program is starting to get enough time with those parts to where they're able to harvest all the power that they can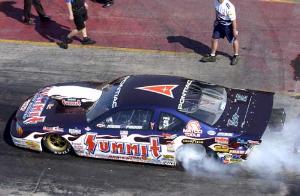 Mark Pawuk
possibly get. The rest of the pack may not dyno test as much as Warren, but they've had enough time with the same parts to where they're all putting out about the same amount of power. Now you have to look at who has the strongest teams as far as being able to read the track, deciding which clutch settings to use, how to adjust their rear suspensions and that sort of thing. The drivers have always been pretty good and now their reaction times are starting to improve as well. Through some pretty thorough research, we found that many of the problems with reaction times weren't a matter of the driver not doing his job, it was a matter of getting the racecar to launch quickly. We've had our drivers attend seminars with Frank Hawley, probably three in the last four years, where the car's reaction time and the driver's reaction time were measured. We found that many times the problem was with the car and not the fact that a driver was slowing down because of age. The guys have the driving under control, and the engine teams have rung out about everything they can with the DRCE and the DRCE2. If you look at the incremental numbers, we still have a mismatch at about halftrack on with the Neons, so we're looking into the development of the DRCE3 in order to regain that parity."
What is the plan for the GM DRCE3 (Drag Racing Competition Engine) development program?
"We're in conversation right now with our race teams and they are analyzing proposals for a new cylinder-head program - we'll make a decision soon on which direction to go. By utilizing our different race teams, we can bring the new DRCE3 technology up to speed much more quickly. Part of being a GM factory team is helping to develop new technology and new parts, and next year everyone will be working hard to make that happen. By the season's halfway mark our new engine program should be up and running strong."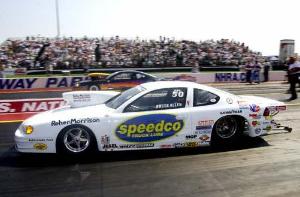 Bruce Allen
With their win at Pomona, the Reher-Morrison program seems to have stepped up with its performance. "The engines they race with, as far as from a power standpoint, are the same engines they sell. They don't save all of the best parts for their race team and they race you head to head - they don't ask their customers to let them win just because they're selling engines. We're just very impressed with the fact that they're running so well and they're making so much power. We're also impressed with how well their business is run. It's really a clean program the way they're doing it and we're very proud of those guys. They're doing it in a non-traditional way, the way you want to see it."
What sort of work is being done with the Ecotec powerplant?
"The Ecotec is GM's four-cylinder, 2.2-liter global powerplant that we're using with our front-wheel drive program. That program is running parallel with the 500 cubic-inch engine program we use in Pro Stock. We're making over 700 horsepower with the Ecotec four-cylinder engine right now, so we're really excited about the potential with our front-wheel drive program. We've found that it's extremely difficult to get a front-wheel drive car to launch and stay up on the power curve, and if you look at the way the competition runs over there right now, there's a lot of opportunity to go into this field and do well. We're hoping to eliminate some of the turbo lag we see in the class with the rpms dropping off after the driver launches the car, and then having to build back up. If you look at the way some of the major competitors are running in that class right now, there's a real opportunity for someone who can come in, get a car to go up to the red line and stay there for all five gears. If we can pull this off, we'll be looking at the same success in that series that we've had in NHRA for the last five years."
Is there a technology transfer between the front-wheel program and Pro Stock?
"There's a technology transfer from a safety standpoint and from an aerodynamic standpoint. When you get beyond those two things they are two totally different animals. With the front-wheel drive program, we started with the Cavalier Pro Stock body and there were some obvious differences. One, the wheel clearance for the front-wheel drive car was too small in the front and too large in the back. Once we got past that, there were some differences in the front lift of the car with the transmission, the engine and the slicks up front, so there was some technology transfer there. With the Chevy Cavalier, we had a Pro Stock body that was good at 204 mph so that was a good baseline for a 160 mph front-wheel drive racecar that's going to run a quarter in eight and a half seconds."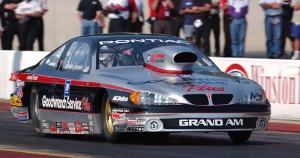 Warren Johnson
How has the introduction of the Grand Am and the Cavalier been beneficial to NHRA Pro Stock competition?
"Aerodynamically, something that really helped us was the NHRA rules change that allowed the Pro Stock bodies to be molded - a mold for the front end, a mold for the roof and a mold for the rear quarter-panel. In the past, when I first took this job, we had to use a production vehicle's roof, a production vehicle's quarter-panels, and headlights, taillights, those kind of things. We spent a lot of time on the design of the Cavalier and the Grand Am and were able to come up with a mold that dictated the shape. The only aspects that change with the chassis builders is how the body is mounted to the chassis, and how well they flush things out as far as the windshield to body, and side glass to body and things of that nature. The variability is gone. We spent a lot of time developing the shape of the two cars. Then we brought two of the teams race cars , one of each, into the windtunnel just to double-check that they were the same as the development bodies that we had and they were. As long as the cars are "x" number of inches from the ground to the front fascia, and "x" number of inches from the ground to the rocker panels, they're all the same. Now there aren't too many people beating our doors down to get in the wind tunnel. It used to be that the chassis builders had to take the rear quarter-panels and blend them in with fiberglass to the rear end - it was a real pain for them. Now they get a body in a box and all they have to do is attach it to the tubing. They don't have to finesse metal to plastic trying to make it look good. That eliminates cheating. The bodies have been pre-approved by NHRA so there are templates for all of the molds when someone has a racecar built. When you take the car to the racetrack the same templates are put on them there. The same thing is true for the Neon. Now winning or losing comes down to tuning, engine power and the driver, and everything being equal, I think our teams will pull us through every year."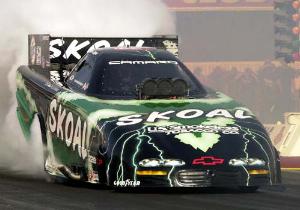 Ron Capps
What is GM Racing's role in promoting safety in the sport?
"Back in the early '90s we formed an alliance with our research department. Dr. John Melvin was appointed as the head engineer to work with GM Racing to work on protecting our drivers. It's grown tremendously from there, and whenever a safety issue presents itself, it's the job of GM Racing's safety team to fix it. They're always doing development and research work because it's an ongoing educational process. A lot of safety equipment goes on board all the GM-owned vehicles and every driver is required to use a six-point harness, a fresh-air system and a HANS device. For the cars that we don't own but we're associated with, we're only in an influential mode. You'll see a lot of teams using the HANS, or the six-point harness, or padding on the chassis because we've been able to show them that it's effective. Prudhomme's team jumped on board right away from Larry Dixon, to Ron Capps to Tommy Johnson. We've influenced a lot of IHRA guys as well. We strongly encourage all drivers to use all of the effective safety devices. GM has probably purchased 20 HANS devices for IHRA competitors and probably another 25 for NHRA competitors. We're constantly trying to show guys the benefits of the different safety systems. It can be a dangerous business and we want our competitors to have every chance of surviving a catastrophic accident. We spend so much time with these guys that they become our family, so we keep working on them trying to show them the benefits of the various safety systems at their disposal."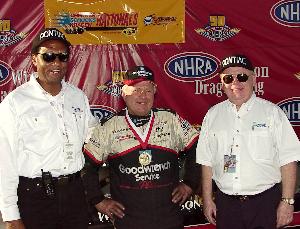 Turner, Johnson and Fred Simmonds
How do you explain the success of GM Racing's drag racing program over the last decade?
"Success comes from having the proper staff and a highly motivated group that is interchangeable. For example, Russ O'Blenes and Steve Boswell were big players for us on our off-road program. We were able to take that talent and bring them over to help us on the drag racing program - both the front-wheel drive and now the Pro Stock engines. Our entire department works that way. We have programs like Winston Cup and Busch that are strong every year, and we have other programs that are strong a certain number of years, they fall off a little bit and then they come back later. We're constantly having to manage where individual skills sets are needed, so we have folks that go from program to program putting out the hot fires of the day. We can take people who work in NHRA, like Alba Colon, and have her work in Winston Cup, and whatever they learn in any one specific program, they can utilize that information when they are needed on another program. We have the luxury of taking a lot of talent and moving it from program to program wherever it's needed. We have a lot of pride in the programs we've put in place. We have a lot of energetic, young people that work at GM Racing who are able to make the sacrifices, and who put in long hours with very little sleep. Another example, wind-tunnel tests are rarely held during a day shift.
So our staff work their normal gig during the day, and then at four o'clock we'll go to a wind-tunnel test that can last until midnight. But that's if we're lucky because most of the time it's a midnight to 8 a.m. test. The production vehicles get priority since that's where we make our money. When the teams are testing, they try their best to be there. When the teams are racing, they try their best to be there - and then they're back here designing and testing new technology for the race teams. Basically, everyone on our team is a part of every aspect of the racing program and it takes a certain person to be able to handle that - the travel, the days away from your family, and then the reward of seeing their teams being successful that motivates them to continue. We have some great people here at GM Racing and I'm proud to be a part of it."




NHRA: 10 Most Recent Entries [ top ]

Jun 05- NHRA Announces Revised Schedules for Pro Mod, Top Fuel Harley, Factory Stock Showdown, and Mountain Motor Pro Stock
Jun 03- NHRA Sonoma Nationals Event at Sonoma Raceway Cancelled
Jun 03- NHRA Mello Yello Drag Racing Returns Beginning with Two Indianapolis Events in July
Jun 03- A Message From Summit Motorsports Park President Bill Bader Jr.
May 21- Second JEGS SPORTSnationals Added, to be held in mid-August in New England
May 20- DENSO Sponsors NHRA Champs' Shelter-in-Place Dachshund Race
May 14- To Our Racing Community-From Racers for Christ
May 13- The Name Game Part I
May 12- Morgan Lucas, Son of Forrest and Charlotte Lucas, Appointed President of Lucas Oil Products, Inc.
May 05- Cancellation of the 14th Annual Summit Racing Equipment NHRA Nationals