Wed, 12 Dec 2001, 07:43 PM



All's Quiet On Every Front



By Bob Frey



Wow, we've gone an entire week without one, big, blockbuster announcement in the sport. I can't remember an off-season like this in quite some time. By that I mean, you had the huge announcement by NHRA about their new series sponsor, and not much else. Sure, several teams are poised and ready to pull the trigger on some sponsor deals, but until they're actually signed, mum's the word. One team owner who I spoke to this week said that, "We're 90% sure that we have a deal for next year. But it's that last 10% that has you worried." Indeed. Until you've dotted all the " I's" and crossed all the "T's", you don't have a deal. But with all of the excitement around the
POWERADE
deal,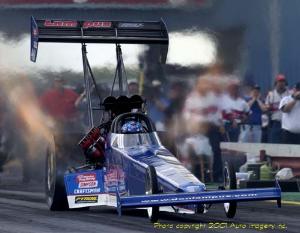 Don Lampus
it won't be long before the new sponsors start to fall into line. One of them just did, as a matter of fact.
Don Lampus,
the 2000 NHRA Rookie of the Year
,
has announced that he will carry the logo of
M.A.D.D
., the Mother's Against Drunk Driving next year. In a unique partnership, the corporate sponsors who support M.A.D.D. will actually sponsor the car, and they will share space on the side of the car with M.A.D.D. Plus, Don will have a trailer with interactive displays at the track that will help promote awareness for the organization. Sounds like a great deal all around. But the best thing about the announcement, other than the fact that it puts another top notch car and driver on the tour, was the glowing remarks by Don's spokesman, Cragg Eubanks, who said that, "Investing money in an NHRA team is the best thing a company can do these days." And he should know since he was involved in the high-powered world of CART racing for quite a while. I've said it for a long time, this is a great sport with unlimited potential for sponsors. Now, if we can only get more of them involved…..Speaking of getting more involved, I can tell you that, as of this time,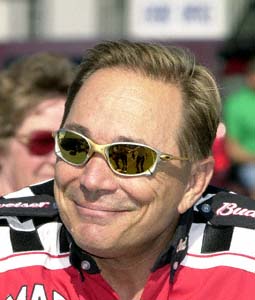 Kenny Bernstein
there is no truth to the rumor going around that
Kenny Bernstein
is going to get "more involved" by adding another car to his stable. Not that the "King" couldn't or wouldn't do a great job for another sponsor, or for another Anheuser Busch product, it's just that I think he'll be pretty busy with his
"Forever Red"
tour next year, especially since he'll be doing it as the reigning, world champion. Interesting, I think, that Kenny was one of the very first to have a real, corporate sponsor over twenty years ago, and now he'll make his final tour for that very same sponsor and he'll do it as the champ. Quite fitting, isn't it?….By the way,
did you know
that Kenny and
John Force
are both finalists for the prestigious Titus Award this year? The two are finalists for the award which is given to the driver of the year and which will be presented in Pomona on January 12
th
. John has already won the award three times, in 1996, 1999 and last year, that's why I think Kenny's a lock for it this time around, Of course, he'll have to beat out
Jeff Gordon
for the honors, but he can do that.
Did you know
that
Shirley Muldowney
won the Titus award back in 1982? Way to go Shirley….John Force has also already been named as the winner of the Eastern Motorsports Press Association "Driver of the year." Now that's really neat since only one other drag racer has ever won that.
Did you know
that
Gary Scelzi
won it in 1997, after his first Winston Championship. So, it looks like John will do the banquet deal on January 12 in California, and January 20 in Pennsylvania. Now, if we could only figure out what he'll do with his teams next year?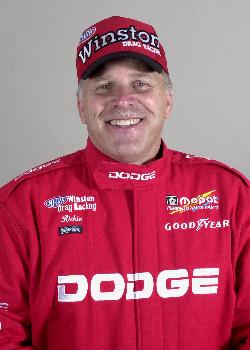 Rickie Smith
Rickie Smith
and
Tommy Utt
should be joining the
David Nickens
camp any day now. If the weather stays warm down in the Texas area, you just might be able to catch the Dodges testing this weekend. Rickie, who will do a lot of the test-driving for the team this year, will be joined in Texas by Utt, the long time friend and crew chief for
Richie Stevens
. Tommy brings a world of experience with him and I think he is a great addition to he Mopar camp. I firmly believe that the Dodge cars will hit the track running in2002 and be in contention for the championship all season long. Rickie, too, has a lot to offer the team.
Did you know
that Rickie made his first, NHRA Pro Stock start in 1982? That's a long time ago. Since then, he has competed in over 200 races and has been in almost 300 rounds of competition. His best year on the NHRA trail came back in 1996, when he finished 5
th
in the points, went to two finals and won 20 rounds of racing.
Did you know
, or better yet, did you remember, that Rickie went to the finals at Indy in that year of 1996? OK, then, do you remember what car he was driving? How about the Pontiac Firebird out of the Troy Humphrey Motorsports stable. It was his first final round in over three years and he lost to
Kurt Johnson
. Rickie's been doing this so long he even competed in a round against the great
Lee Shepherd
. A round he lost, by the way, but then, lots of folks lost to Lee.
The Barrett-Jackson car auction will feature a special group of items this year. The Race Rock in Las Vegas, which went out of business earlier this year, has commissioned those folks to auction off all of the collectible items that were part of the Las Vegas night spot. Hey, just think about it, you could buy one of John Force's old Funny Cars and then drive it right down to Southwestern International Raceway the next weekend for the Pro Warm up. The auction is the weekend of January 17th through the 20th, while the warm up is the next weekend.
What an opportunity, huh? I can tell you that they had some great drag racing memorabilia at the "Rock" and it would be worth a trip to Phoenix just to get a chance to bid on some of it. Hey, maybe John will go and buy back his own car! And, while I don't usually do a financial report here, since I did mention collectibles, has anyone noticed what the
Action Collectible
stock has done lately? Well, it's gone from about $15 a share three months ago to about $35 a share today. Great to see Action on the rebound, that can only be good for everyone in the motor sports industry. Wait 'til Kenny wins that Titus award next month and watch his stock go up, too…Let's hope there's lots of good news on the sponsor front in the next few weeks, because that really would be good for everyone.


NHRA: 10 Most Recent Entries
[ top ]
Jun 05
-
NHRA Announces Revised Schedules for Pro Mod, Top Fuel Harley, Factory Stock Showdown, and Mountain Motor Pro Stock
Jun 03
-
NHRA Sonoma Nationals Event at Sonoma Raceway Cancelled
Jun 03
-
NHRA Mello Yello Drag Racing Returns Beginning with Two Indianapolis Events in July
Jun 03
-
A Message From Summit Motorsports Park President Bill Bader Jr.
May 21
-
Second JEGS SPORTSnationals Added, to be held in mid-August in New England
May 20
-
DENSO Sponsors NHRA Champs' Shelter-in-Place Dachshund Race
May 14
-
To Our Racing Community-From Racers for Christ
May 13
-
The Name Game Part I
May 12
-
Morgan Lucas, Son of Forrest and Charlotte Lucas, Appointed President of Lucas Oil Products, Inc.
May 05
-
Cancellation of the 14th Annual Summit Racing Equipment NHRA Nationals