Fri, 14 Dec 2001, 08:40 AM



Bruce Allen Reflects on the 2001 Race Season



Courtesy of Jeff Romack, GM Racing Communications



DALLAS --
The 2001 NHRA drag racing campaign was a year to remember for Reher-Morrison Pontiac Grand Am driver Bruce Allen. The 51-year-old Texas Pro Stock veteran had one of his best seasons in a long time, racking up two national-event victories en route to his third career third-place finish and 13th top 10. Although Allen finished fourth in '97, his effort this season was his best since '89 when he compiled four wins in six final rounds for a second-place finish.
Allen blasted out of the starting blocks strong at the Winternationals in Pomona, Calif., qualifying No. 1 and advancing to the semifinals before losing to eventual race winner Kurt Johnson. He captured three more pole positions at Bristol, Tenn., Denver, and Seattle, qualified in the top half of the field 16 times, in the top four 12 times, won at Brainerd, Minn., and the NHRA Finals in Pomona, and tallied 29 round wins for a raceday batting average of .604. During the second half of the season, beginning with the NHRA 50th Anniversary Nationals in Pomona, Allen accumulated more round wins (20) than any driver in the Pro Stock category. He talks about the completion of '01, the progression of the Reher-Morrison engine development program and what to expect from his Pontiac Grand Am in '02.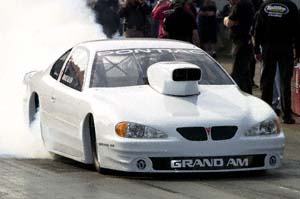 Allen at the Super Bowl.
How would you evaluate the '01 season?
"We were fast enough all year to be in contention for the championship but we weren't consistent enough. We started out winning the Super Bowl race in Houston, which got us pretty pumped, and then we went to Pomona and ran well. But then at Phoenix and Gainesville we stubbed our toe a little bit and at several other races after that. We would qualify well, but we weren't consistent enough to make good runs down the track and we didn't take advantage of other people when they messed up - we were the ones making the mistakes. We went through a learning curve all the way up to the second Pomona race. Then we kind of got on to something that was helping us and were able to start going more rounds. Like in every sport, when you're in a position that you're struggling, people that you race may not think that you're going to make the run either, so when your car consistently shakes or you have trouble, other people see that and they may not take you seriously. When you're fast like Warren (Johnson) and Jim Yates, and you make round after round, they're probably not going to beat themselves - you're going to have to beat them. During the first half of the season a lot of our competitors felt that if they gave us a chance then we'd probably screw up - and most of the time we did. The difference in the second half was that we were making more rounds and people had to take more chances against us to beat us. Not a gamble, but they had to be more aggressive because they knew our Grand Am was running well."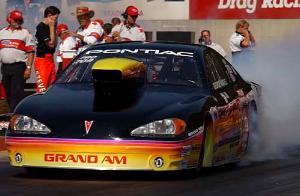 George Marnell
How much did George (Marnell) and Mike (Edwards) using Reher-Morrison horsepower help your program?
"The one thing that it did do was no matter how we ran we had two other people to gauge what we should be doing. It was hard for all three of us to mess up all at one time, but we were racing with different racecars and each car requires a slightly different setup. On some teams they run the same cars and they're able to make changes based on how each car is running. We didn't have that, but the one thing we could do is compare our runs which gave us a benchmark. That way we knew how fast we should be running because somebody with the same horsepower was running that fast."
Was winning Pomona a momentum booster for 2002? "Not really. You're only as good as your last race. All you get to do is look back and enjoy it a little bit longer. Over the winter a lot of things will change -crew chiefs, drivers, new equipment, etc. The engine aspect of Pro Stock racing is so competitive, and extremely power related in the sense that if you gain five or ten horsepower over the winter you can expect everyone else to do that too. Just to stay even you have to increase your power. As far as momentum, it might make the morale around the shop a little bit better, but by the time we get back to Pomona for the first race, everything will be new and fresh. From a personal standpoint it was awesome for me. We accomplished a lot last year. In my midyear preview I think I said that we could finish in the top-five and win a couple of races, and we did. I felt like the potential was there all year. But personally I look at it as you're as good as your last race."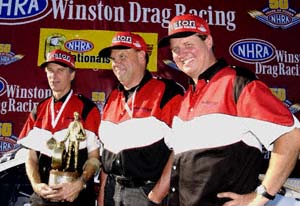 Allen celebrates Brainerd win.
But it must have helped just to be able to stay alive on so many Sunday afternoons. "Winning 29 rounds of eliminations definitely helped us. I think looking back, if you start from Pomona, which we call the halfway point, we gained more points in the second half of the year than anybody. If we had all been tied going into that race, we could've won the championship - at least that's how it appears on paper."
How much more horsepower can you get out of the current engine configuration?
"I think in the current configuration you could keep milking them a little bit and pick up 10 or 15 horsepower on average per year. Statistically that is about what we average year to year. But we're about to start a new program with GM, the DRCE3, and we're pretty excited about the potential there."
How much testing will you be doing during the winter? "The majority of whatever we do will be at Houston. We're getting a new car that we'll take out and debug. You like to get out at least three or four times - some people like to test more than others. I would say our goal is to test three or four times before Pomona, but it's more beneficial for us to stay in the shop for a couple of reasons. One is for ongoing development and the other is from a budget standpoint. That approach has always worked real well for us because we have to be smart with how we do it. When you start out the year you need to have fresh equipment, and you yourself need to be fresh. You don't need to be beaten down and already been to the equivalent of 10 races by the time you get to the Winternationals. The race season is long enough."
Can you test too much? "I think one of the things people get caught up in is going fast. I like that, too, but everything is relative. If you go to Reading, and it's fast there, that's great and I like that. But for the most part, everywhere we test in the preseason is conducive to fast times and speeds. But going fast in Houston in January doesn't mean much by the time you get to Pomona. Everyone goes to test with a plan. The key is to be disciplined enough where a fast run during the first session doesn't throw you off from your initial purpose."
Were you satisfied with the third-place finish? "Yeah. We had enough trouble in the beginning of the year that we finished as high as we could. I don't feel like I drove very well this year either. One of the things that makes for a bad combination is not making good runs and not driving well. When you get in that rut it's a pretty tough road. I was real happy that we finished third considering the year we had and where we were. There's a groove that you have to try and get in. Once you're there it helps tremendously, and builds confidence and motivation."
Any sponsorship in the works? "We always have a couple of people we're talking to. We don't have anything very promising at the moment. That's not going to keep us from racing. We'll still have Speedco on the car in some capacity, and of course we have Pontiac. Not having a major sponsor is not going to make an impact on whether we win or not. If something comes along, great. But if it doesn't we'll just do the best we can."
Do you have high expectations for 2002? "Yes, but not unrealistic. I think we've got a pretty good idea on what it takes to race and be competitive. One of the key ingredients is money. You also need to set realistic goals. I think we've got as good of a chance of winning this year as we ever have - at least for as long as I've been here. There are a lot of other people that feel that way too. If we do the same kind of things that we did last year, and run into some luck here and there, I really think we can win it. It's all a matter of keeping the proper perspective and being real honest with yourself at where you are. The key for anyone to do well is to put yourself in a position to win. Then you do the best you can - the big picture takes care of itself. If you pay attention to the little details the rest of it happens on its own."




NHRA: 10 Most Recent Entries [ top ]

Jun 05- NHRA Announces Revised Schedules for Pro Mod, Top Fuel Harley, Factory Stock Showdown, and Mountain Motor Pro Stock
Jun 03- NHRA Sonoma Nationals Event at Sonoma Raceway Cancelled
Jun 03- NHRA Mello Yello Drag Racing Returns Beginning with Two Indianapolis Events in July
Jun 03- A Message From Summit Motorsports Park President Bill Bader Jr.
May 21- Second JEGS SPORTSnationals Added, to be held in mid-August in New England
May 20- DENSO Sponsors NHRA Champs' Shelter-in-Place Dachshund Race
May 14- To Our Racing Community-From Racers for Christ
May 13- The Name Game Part I
May 12- Morgan Lucas, Son of Forrest and Charlotte Lucas, Appointed President of Lucas Oil Products, Inc.
May 05- Cancellation of the 14th Annual Summit Racing Equipment NHRA Nationals