Mon, 17 Dec 2001, 09:19 AM



It's A Whole New World Out There



By Bob Frey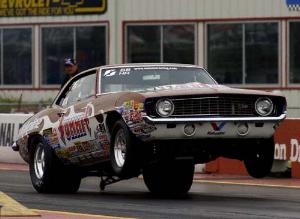 Dan Fletcher
I just received my last "National Dragster" for the year. As expected, it has lots of info in it about POWERADE, the new series sponsor for NHRA. But, by far, the highlight of the issue was the article by Dan Fletcher, the guy who is the Super Stock World ChampionÖagain. For a couple of years now, Dan has documented his racing season in a series of articles in "Dragster." They are very well written, occasionally funny (only kidding, Dan), and they give you a real insight into the world of a touring sportsman racer. Dan is quick to thank a lot of the other racers who helped him during the year, and he talks about what it is like to compete on the highest level, in the sportsman ranks. Nice job, Dan. (Note: I should make a deal with Dan that he doesnít get too good and too funny at this writing stuff and I wonít learn how to drive a Super Stocker. Yeah, that should strike fear in his heart!).
When I finished the story, I began to think about how the perception of the sportsman racer today has changed as opposed to say, well, sometime in NHRAís early years. Back when I began my career in drag racing, a traveling sportsman racer was one who would go from Atco Dragway to Vargo Dragway on the same weekend. Or one who would actually race at divisional events in two, different divisions in the same year. Imagine that! Clyde "Shifting" Harnish, Harry Luzader and Pete Shadinger were among the best sportsman racers of their time (late 1960ís and early 70ís, and they only traveled out of their own back yard to go to Indy for the Nationals, a race that two of those guys won by the way. And, of course, the sportsman racers of that era were never sponsored by a national company. In fact, most of them werenít sponsored at all. There was, of course, the ubiquitous, shoe polish lettering on the side of some of those cars, announcing that "Bobís Garage" was the main sponsor. But, in most cases, the sponsor was the shop that the racer owned. Or, at best, the one where he worked. In short, most of the early sportsman racers did it all out of their own pocket and in their own back yard. My, how things have changed.
As I look back at the 2001 drag racing season, I realize that the line between "professional" and "sportsman" racer is a very fine one, indeed. No longer is it true that the only professionals are the racers are who compete in Top Fuel, Funny Car or Pro Stock. No longer are the sponsorship dollars restricted to those top, three classes. No longer can it be said that "you canít make a living" as a sportsman racer, because you can. If you donít believe me, just ask Dan. Of course, his line at the awardís ceremony kind of put it all into perspective. He said, "When I told my wife that I wanted to quit my job at Xerox and go racing fulltime, you can imagine that she was all for it. She thought that it was the smartest thing I could do." Yeah, right. As loving, and supportive (and stunningly attractive) as Donna is, Iím sure she had some reservations about this sudden, life style change. Of course, for them, it has all worked out rather well. It hasnít been too bad for some of the other new-breed of sportsman racers, either.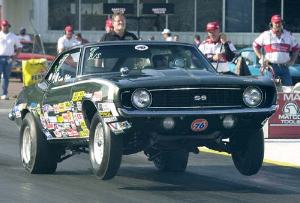 Kevin Helms
Admittedly, the number of racers who make a living while competing in the sportsman category is small, but it is also growing. In addition to Dan, you have Arnie Martel and his fleet, led by the awesome Jeff Taylor, along with the "Terminator," Peter Biondo and David Rampy, who have been doing this for a living for some time. This year, Bernie Cunningham, Kevin Helms and Toby and Jody Lang also started touring the country in an effort to make a living doing what they loveÖ.racing. Helms ended up winning the Stock World Championship while the Langs both had a good year. The Richardsons, Scotty and Edmond, may be the original pro-sportsman racers and I think theyíve done reasonably well. Anthony Bertozzi and his (s.a.) wife, Malinda, who usually prowl the IHRA ranks, competed more at the NHRA national events this year. One of them (Iím not saying which one, Anthony, to protect the innocent), even won a national event. And, while I donít know this for a fact, I believe they have a rather nice standard of living. Rob Slavinski, who has been fortunate to be sponsored by Castrol for a number of years now, is another guy who makes a living doing what he does best. And the list is growing every year.
The point that Iím trying to make is that, as NHRA heads into its 51st year, there are a lot of opportunities for racers, even those in the sportsman classes. And, while it isnít exactly a sellerís market, yet, I do think that you will begin to see more and more companies getting involved as sponsors of sportsman racers. I say this because I know several teams who are actively pursuing various companies in an effort to get support for their racing activities. Sure, itís a labor-intensive process, but if this is what you want to do, it can be very rewarding. From a sponsorís point of view, it can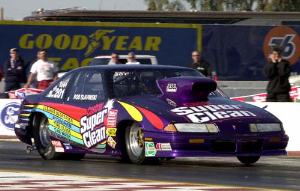 Rob Slavinski
also be money well spent, or, better yet, money well invested. Just ask Castrol, Summit, Pennzoil, Jegís (yes, Jegís), and other major firms who have put their names on the side of a sportsman race car. Or, going one step further, into the alcohol ranks, how about Valvoline, Oakwood Homes, Kendall, Jensen and many more? Iím sure those firms have gotten a great return on their investment, and Iím sure they will in the future, too.
Races like Dan Fletcher should be a motivation for others who hope to follow in his footsteps. Dan has shown that you can get sponsorship for your car, if you are prepared to work for it. With the advantages of financial help come responsibilities, too, but Iím sure that any racer who can cut a .500 light (or a .400), and run right on the dial, can also figure out how to give his or her sponsor their moneyís worth. Develop a game plan, or a marketing plan, and stick with it and you, too, can be racing for a living, even if youíre a sportsman racer. While it is important that you deliver what you promise, I donít believe that itís important that you learn how to write articles for "National Dragster." But then, thatís just my opinion. For what itís worth, after the first of the year, Iíll write an article on how I think sportsman racers could go about getting, and keeping, a sponsor. Like I said, take it for what itís worth!!
There is one more thing. If you check out Danís article you will see a picture of me, single-handedly changing the engine in his car at Bristol. My back still hurts from that little episode and I still havenít heard from his lawyer. But I know I will!




NHRA: 10 Most Recent Entries [ top ]

Jun 05- NHRA Announces Revised Schedules for Pro Mod, Top Fuel Harley, Factory Stock Showdown, and Mountain Motor Pro Stock
Jun 03- NHRA Sonoma Nationals Event at Sonoma Raceway Cancelled
Jun 03- NHRA Mello Yello Drag Racing Returns Beginning with Two Indianapolis Events in July
Jun 03- A Message From Summit Motorsports Park President Bill Bader Jr.
May 21- Second JEGS SPORTSnationals Added, to be held in mid-August in New England
May 20- DENSO Sponsors NHRA Champs' Shelter-in-Place Dachshund Race
May 14- To Our Racing Community-From Racers for Christ
May 13- The Name Game Part I
May 12- Morgan Lucas, Son of Forrest and Charlotte Lucas, Appointed President of Lucas Oil Products, Inc.
May 05- Cancellation of the 14th Annual Summit Racing Equipment NHRA Nationals