Tue, 18 Dec 2001, 07:34 PM



Rumors, What Rumors?



By Bob Frey



As I mentioned last week, this has been a surprisingly quiet off-season. While there havenít been a lot of sponsor announcements yet, there have been a whole pile of rumors. And, while there havenít been a lot of drivers switching places, there have been a whole pile of rumors. And, while there havenít been a whole lot of new teams stepping up, there have been a whole pile of rumors. Well, to the best of my ability, Iím here to confirm some rumors, and put an end to some others. ReadyÖ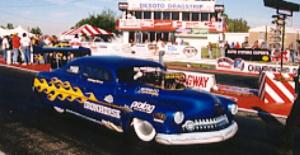 Rocca at 1997 Snowbirds
First of all, and this is no rumor, the Pro Mod class will lose one of its pioneers this year now that
Johnny Rocca
has announced his retirement. There werenít a lot of details with the announcement, Johnny simply said that, "Itís time to go back to my tribe." Let me tell you, not only will the Pro Mod class b diminished because of his departure, but the entire sport will be, too. Johnny brought everything you wanted in a team owner to the table, a great car, superb drivers, a colorful tradition and so much more. We can only hope that he changes his mind, but, as of today, Johnny will not race this yearÖOne of the guys who has been at the center of many of the off-season rumors this year is
Norm Grimes.
Norm, who has been the crew chief on the highly successful "Oakwood Homes" car of
Jack OíBannon
for the past few seasons, has been linked to everyone from
Tony Bartone
to
Jerry Toliver
to
Jay Payne
. Well, I can tell you that, as of today, Norm isnít going to work for any of those guys. In fact, I donít know how the rumors about Jack and Jay ever got started, and Iím not sure that they do, either. Jay Payne will run his alcohol funny car again in 2002, complete with an updated Chevrolet body, but, as he always has in the past, Jay will call the shots and tune it himself. Having said that, there is a real chance that Norm may be in the fuel ranks in 2002, since my sources tell me that Mr. OíBannon has purchased a complete, ready to race, top fuel operation. Having said that, I can also tell you that I spoke with
Rick Santos
a couple of days ago and he doesn ít know what heíll be doing in 2002. If Jack decides to go ahead and race the fuel car, I can only assume that Norm will tune and Rick will drive, but, as of this time, none of that is etched in stone. On a personal note, I will tell you that no one runs a better, overall operation than Jack OíBannon, and having that crew in the fuel class next year would be a huge plus for the sport. Letís keep our fingers crossedÖ.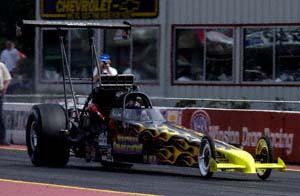 Paul Jones
One other note before I leave the alcohol classes. Look for
Paul Jones
to drive the
Darien
and
Meadows
car next year now that
Brandon Bernstein
has moved on to help his dad, the "King," in 2002. With help from Ashley Jeffrey and the
Western Stabilization
Company, Paul should win his share of races this year. Of course, itís great for everyone anytime that Jerry Darien and Ken Meadows field a car, and I fully expect them to make a serious bid for the championship in 2002.
Back to the fuel ranks, the one big rumor thatís going around is that Cory McClenathan will be driving for Joe Amato next year (I must admit, we even had that story on the NHRA Heat show at the end of the season). Well, after speaking with Cory the other day, I can tell you that that deal is not going to happen. Cory and Joe remain friends, but they just couldnít put the right deal together that would satisfy both parties.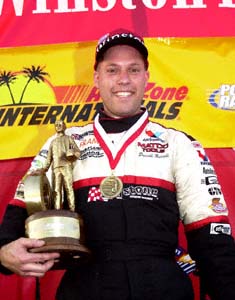 Darrell Russell
Joe and
Darrell
"Rookie of the Year"
Russell
will return and, with a year under their belts, this team should be even bigger and better than they were in 2001Ö
Gary Scelzi,
Bruce Sarver
and
Alan Johnson
will all return in 2002, and the story goes, theyíll do it in Funny Cars. While that isnít exactly in the "stop the press" news category, it should be noted that the team is keeping a very big lid on all of their potential sponsors for next year, and thatís the way it should be. Until a deal is actually done, teams are much better off not telling anyone (including me), what their plans are. That way, no one is disappointed if the deal doesnít work out. And, all I will say on the potential of a new body style, is that NHRA would welcome the introduction of any, new body style in the class regardless of brand, as long as it conforms to the rules. Stay tuned.
On the topic of new body styles, look for a new body style in Pro Stock. Actually, itíll be an old one, but the approach will be new, and so will the team. Dick "The Champion Maker" Maskin, has signed an agreement with young, J.R. Carr of Washington, to run in Pro Stock for at least the next two years. The interesting thing about this is that the team is testing (today) in Florida with a Pontiac Firebird. It seems that Mr. Maskin, always thinking, bought an old Ron Krisher car, extended the front end, and made it into a 1997 model. Remember when Bob Glidden ran the 1970 Mustang in 1975, and when Wayne Gapp ran the four-door car in order to take advantage of the rules? Well, thatís exactly what Dick and J.R. plan to do and, from some of the early numbers Iíve heard from Florida (6.87), I think they may be on to something. How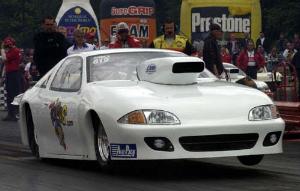 J.R. Carr
about if I nominate J.R. for the early "Rookie of the Year" honors? Think about his history and tell me if you would want to bet against Dick Maskin?Ö.In a related move, Maskin and
Jerry Bickel
are also teaming up to help
Larry Nance
this year. With his involvement with the
U.S. Marines
, Larry has attracted a lot of attention in the marketplace and may be a very hot commodity in 2002. Heís a great guy, and any company that ties in with that operation should certainly get their moneyís worth. Dick Maskin told me that he and Jerry figured that getting involved with Larry and the Marines is a great way to "give something back" to the sport, and the country, meaning, I assume, that they may be offering Larry and the Marines some special programs during the season. Good luck to all of them. Oh yeah,
Taylor Lastor
, of Texas Racing Engines fame (and Pro Stock Truck), is also included on the Maskin team this year, which means that J.R. and Larry will be more than competitive. Taylor has done a great job with everything that he has touched, and donít be too surprised if he doesnít drive a car before the year is overÖ.Other truck guys who will probably run in the car class in 2002 include, but are not limited too,
Mark Whisnant
,
Greg Stanfield
(maybe in a Dodge),
Don Smith
and more.
The test session in Florida, Iím told, is like a national event, with Warren and Kurt Johnson, the Dodge team of Mark Osborne and Darrell Alderman, Robert Patrick and the Ford, Allen Johnson (with two cars), and more. Speaking of the Ford, wouldnít it be the best thing that could happen to the class if Robert Patrick became competitive this year? As good as he has been in the past, Robert could surely benefit from some factory help, and that, more than almost anything else, would breathe new life into the category. Everyone, even Warren Johnson, will tell you that we need the Fords and the Mopars out there to battle the GM carsÖ.There are more things Iíd like to comment on, but then I might not have any news for next week. Still to come, the status of Mike Dunn, Jerry Toliver and Iím still waiting for that new Funny Car team to be announcedÖ.soon, I hope. On Thursday, I will address the alcohol cars and the announced increased payout for those cars at the NHRA national events.




NHRA: 10 Most Recent Entries [ top ]

Jun 05- NHRA Announces Revised Schedules for Pro Mod, Top Fuel Harley, Factory Stock Showdown, and Mountain Motor Pro Stock
Jun 03- NHRA Sonoma Nationals Event at Sonoma Raceway Cancelled
Jun 03- NHRA Mello Yello Drag Racing Returns Beginning with Two Indianapolis Events in July
Jun 03- A Message From Summit Motorsports Park President Bill Bader Jr.
May 21- Second JEGS SPORTSnationals Added, to be held in mid-August in New England
May 20- DENSO Sponsors NHRA Champs' Shelter-in-Place Dachshund Race
May 14- To Our Racing Community-From Racers for Christ
May 13- The Name Game Part I
May 12- Morgan Lucas, Son of Forrest and Charlotte Lucas, Appointed President of Lucas Oil Products, Inc.
May 05- Cancellation of the 14th Annual Summit Racing Equipment NHRA Nationals