Wed, 19 Dec 2001, 08:34 AM



Mopar Releases First Photo of New NHRA Funny Car



Courtesy of David Harris, CMI/Cotter Group



Dean Skuza to Drive All New Dodge Status R/T in 2002



AUBURN HILLS, Mich. --
The Mopar Parts division of DaimlerChrysler Corp today officially released the first photo of the new Dodge Stratus R/T Nitro Funny Car body for National Hot Rod Association (NHRA)-sanctioned drag racing competition in 2002. The car will be campaigned by Mopar Parts factory driver Dean Skuza and makes its competitive debut during the season-opening 42nd annual NHRA Winternationals at Pomona (Calif.) Raceway Feb. 7-10.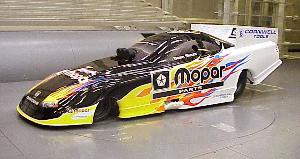 Dodge Stratus R/T
"Quite simply, we built this body to win the 2002 Funny Car championship," said Brett Fischer, DaimlerChrysler Corp. drag racing program manager. "At the very least, we want to make it very, very hard for John Force to win a 12th title next year. Anything less will be a huge disappointment.
"We needed something, as a manufacturer, that represents a product line currently available in our Dodge Dealers' showrooms across the country. We also wanted a car capable of contending for the 2002 POWERade Funny Car championship."
Last season, Skuza drove his Mopar Parts Dodge Avenger to a ninth-place points finish and one semifinal appearance during the rain-delayed Gatornationals in Gainesville, Fla. According to Skuza, it was a struggle, but one he wouldn't have traded.
"We finished ninth with a body that, in reality, should have only finished in 14th or so," said Skuza, who finished fifth in points during the 1999 NHRA season. "It should be easy, in theory, to win with the new tools that Mopar is going to give us. The car will have much more downforce than what we've been used too."
"We utilized the same 'state-of-the-art' Mopar design and manufacturing capabilities in the new Dodge Stratus R/T Funny Car that we use in our production vehicles and parts," said Fischer. "The technology is unbelievable when compared to just a few years ago. Our scientific labs and modeling departments have used their extensive knowledge and expertise in this technology to turn out a pretty wicked piece of machinery.
"I could spend hours just talking about the CFD (Computational Fluid Dynamics) work that was done on this new race car, let alone the other technology that I'm not allowed to talk about," Fischer continued. "Our old Dodge Avenger body was hand modeled a decade ago. The entire design of the 2002 Dodge Stratus R/T Funny Car was created and developed in-house on supercomputers. There is a lot of Chrysler Group pride and dedication invested in the Stratus R/T Funny Car project, which, in the long run, is even more valuable than the technology we put into it."
Technical officials from the NHRA have approved the body design, allowing that no changes will be made after the bodies are complete. The body will then receive final approval for competition after NHRA technical inspection is complete at Pomona.
"We have worked hand-in-hand with the NHRA from the very early concept stages of this project to make sure we satisfied the entire scope of the rules, while maintaining the styling cues of the production Dodge Stratus," Fischer noted. "We were given the green light in mid-November, and both Dodge/Team Mopar and the NHRA are satisfied with the final product."
Skuza Motorsports, which is owned and operated by Dean's father Don, will take delivery of the new body in January. Testing will begin immediately after that.
"The first two bodies delivered to Skuza Motorsports will be ready to go on the chassis," Fischer said. "There has been a lot of effort put forth to make sure the body has the right attitude in relation to the track, therefore all of the underbody support and mounting will be completed prior to delivery. We are entering uncharted territory in terms of aerodynamic loads on the body, which affect other areas of the car. It will take a lot of track time and a number or runs before the new race car is ready for competition. Above all, we need to make sure it is safe for Dean to drive more than 320 mph."




NHRA: 10 Most Recent Entries [ top ]

Jun 05- NHRA Announces Revised Schedules for Pro Mod, Top Fuel Harley, Factory Stock Showdown, and Mountain Motor Pro Stock
Jun 03- NHRA Sonoma Nationals Event at Sonoma Raceway Cancelled
Jun 03- NHRA Mello Yello Drag Racing Returns Beginning with Two Indianapolis Events in July
Jun 03- A Message From Summit Motorsports Park President Bill Bader Jr.
May 21- Second JEGS SPORTSnationals Added, to be held in mid-August in New England
May 20- DENSO Sponsors NHRA Champs' Shelter-in-Place Dachshund Race
May 14- To Our Racing Community-From Racers for Christ
May 13- The Name Game Part I
May 12- Morgan Lucas, Son of Forrest and Charlotte Lucas, Appointed President of Lucas Oil Products, Inc.
May 05- Cancellation of the 14th Annual Summit Racing Equipment NHRA Nationals