Fri, 21 Dec 2001, 08:43 AM



Larry Dixon looks back on a Career Season



Courtesy of Skip Allum



Shares his Thoughts during Short Off-Season



INDIANAPOLIS --
The exciting race for the 2001 Top Fuel Championship between Larry Dixon and Kenny Bernstein may one day become folklore, as it will certainly go down in drag racing annals as one of the most intense points battles during the first 50 years in National Hot Rod Association history. In fact, if there were a way to condense their season-long points struggle down to only 60 minutes, it would almost be a lock as an ESPN Instant Classic.
Bernstein vs Dixon
The two pilots swapped the points-lead with each other after 20 out of 24 events last season - events that pitted the two cars side-by-side throughout the majority of qualifying, as well as nine dramatic head-to-head meetings during the money rounds. When it was all said and done, both drivers had re-written the record books for round wins, total points, track record speeds and elapsed times, but perhaps the biggest impact was made with the fans which swooned back to the highly competitive Top Fuel class.
Now, nearly six weeks have passed since that historic championship weekend in Pomona and each driver, crew chief and team are in the midst of preparing for an additional milestone in the sport – the launch of the 2002 NHRA POWERade Drag Racing Series. And while the excitement of another great season of racing grows just like a child's anticipation on Christmas Eve, the time away from the track and the daily pressures of a championship fight have given Dixon time to reflect on the Miller Lite Team's accomplishments last season.
Dixon in Shootout Final.
"I am still very pleased with our effort last season," said Dixon upon completion of his seventh year as a driver for Don Prudhomme's Snake Racing. "Going into 2001, Gary Scelzi had the record for most round wins in a season with 54. Well, we exceeded that (57 wins), got six victories, won the $100,000 Shootout, and overall just had a really strong year. Looking back on things now, I think there was one round here or there that I would have liked to have back. I'm sure that Kenny can look back at a few rounds that he felt they let slip away also. Any racer will feel that way no matter how they finish at the end of the year. Kenny and his team were just a little better. They won more events, more rounds, and set e.t. and speed records. If and when the day comes when we win the championship, that's how I want to do it. To win the most races with the quickest car, and I think we are a lot closer to accomplishing that now than ever. I really like the direction we are heading, it just seems like such a long process. At the end of the 2000 season, the best run we could manage was a 4.60 flat at around 321 mph. Over that winter, crew chief Dick LaHaie found a way to make some power and we picked up a tenth (.10) and ran 4.50 flat at almost every race toward the end of the season, while picking up our speed to 327 mph. Well, we're still not satisfied and plan to change a few things to get even better."
The "beer war " truly was an exhibition in consistency and performance excellence as Dixon's 2,007 points last season were the second most in NHRA history and came just 95 points shy to Bernstein's record total of 2,102. Putting things in perspective, John Force's championship point total in Funny Car for 2001 would have seen him finish third in the Top Fuel class, while Pro Stock champ Warren Johnson's final tally would only be good enough for sixth. In retrospect, the second-generation pilot feels that if it weren't for the pressure that each team placed on each other, perhaps neither team would have achieved the things they did on the track in 2001. "We really tried hard last year and did our best," said Dixon. "When someone is running as strong as Kenny was, it makes you push yourself, so maybe we wouldn't have accomplished the things that we were able to if it hadn't been for that. But don't get me wrong, we pushed back a little ourselves and it made for quite a dogfight. I am okay now with how things wound up. I'm not doing any cartwheels, but I am happy with the overall performance of the car and the team."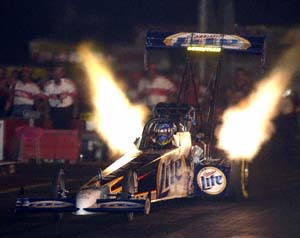 Dixon at night.
With the conclusion of the 2001 season and the impending off-season, a series of changes began for Dixon, starting off with the NHRA Winston Awards banquet. "Last year I remember sitting in my tuxedo with a cast on my leg at the awards ceremony, just wanting to get out of there and catch the red eye home to Indianapolis," recalls Dixon. "My wife Ali was pregnant at the time and all I wanted to do was be there in time. This year was a lot different. While I wasn't the last guy standing at the podium, I had a blast. We had our son Donovan all dressed up in his little tux, Ali looked awesome, and maybe this makes us sound like bad parents, but we stayed out with him until 2:00 AM. On the track you are only racing for four or five seconds, but you have to have a life the rest of the time. I was very happy and had a much better time than the year before."
And after several months of exhilarating trips to the winner's circle, gut-wrenching setbacks and the ubiquitous stress and pressures of the season, what was the first thing Dixon did to reward himself for survival? Unlike other seasons, he slept! "I didn't think that the season would wear on me the way that it did, but it definitely does," admitted Dixon. "I got home and I slept. I mean, I probably slept for most of the next three or four days once I got back. I didn't realize it, but I hadn't slept very well since mid-summer. If you ask Kenny, I'll bet you he will tell you the same thing. It's tiring. And to be honest, I was a little depressed also. Not so much because we finished second, but because there were no more races to go to. That's what we do as racers and the way our car was running, we had the potential to go into any race and win. So, to not have any races left, that made me a little depressed. Next thing you know, it's Thanksgiving and we are starting to gear up for next season."
But don't let Dixon's no-nonsense approach and reputable work ethic give you the impression that he does not have time for some fun. So far this off-season has seen Dixon and his teammates spend some quality time away from the shop on several occasions, including a night out to see drag racing fan Stephen Pearcy and his rock band Ratt. Not surprisingly, Dixon can draw a correlation between a night out with the boys and his feelings as a racecar driver. "I remember seeing Ratt in the early 1980's, then again with Motley Crue in the 1990's where they still were packing 10,000 fans into venues," remembered Dixon. "Now, they don't draw as many fans as they used to, but I like to compare that to how it is when I take my Nova out bracket racing. People ask me how I can go back to doing that once I have been in the seat of a Top Fuel car. Well, it's no different for me than it is for the guys in Ratt. They are doing what they love to do. They love music the same way that I love racing, so we all do it because we are passionate about it, no matter who is watching."
A new addition to Dixon's interests away from the track has become racquetball. Again, he seems to find a way to relate yet another of his interests back to his driving career. "I am really starting to dig playing racquetball," said Dixon. "The way that you focus on that ball is very similar to the way you focus on the tree at the starting line. I think it can only help both my driving and my game if I look at it as another way to help focus and to help keep that type of mindset."
Those who know Dixon well know that he has a strong interest in professional football, specifically the Oakland Raiders, and he has strong feelings about how the remainder of the NFL season will play out. "First off, I am definitely not a Detroit Lions fan," joked Dixon as he pokes fun at one of his teammates who happens to be a Lions fan. "My team has always been the Raiders, especially when they were in L.A., and even now that they are back in Oakland. I have been fortunate that even though I now live in Indy, the Colts have played against the Raiders twice here and I have been able to see Oakland win both times. The one thing that is really fun is following along on the team's website. I can see (head coach) John Gruden's post game interviews, Monday morning press conferences and the whole deal right there. As far as my prediction for who has a shot at the Super Bowl, I think in the AFC it will be either Oakland or Pittsburgh and in the NFC it will be either Chicago or St. Louis. Our defense gave up a lot of yards to Kansas City's Preist Holmes the other week, but they still found a way to win the game. The Raiders scrap to win games and the ones they have lost have been on fluke plays. They only have three games left (Tennessee, Denver, New York Jets) so we'll have to see how things work out."
Dixon can also find a common theme between the Raiders and the Miller Lite Team. "When we win a round and the car has just run good, I get back to the pits and ask LaHaie about it," Dixon explains. "The first thing he does is tell me about what went wrong. It just shows that no matter how well you do, you are always looking to improve. It's the same way in football. A team might win a game, but there are always mistakes you can try and correct. You can always improve and believe me that we are not just going to dust off our car for next season. We will improve."
On the topic of improvements, while Dixon is saddened to see long-time supporter RJR-Winston gone from the tour, he is also equally pleased to see the level of commitment being made by new series sponsor POWERade. "To have POWERade, a part of a big company like Coca-Cola, believe in our sport the way they have shown with a five-year commitment says a lot," said Dixon. "And they didn't just take over where Winston left off, they moved forward by doubling the purses for the point funds, and I feel that's how it should be. Going into Pomona this fall, had we won the Shootout, won the race, but lost the championship, we still would have left with more money than Kenny for the weekend. It's not supposed to be like that. When you win the championship, it should be like hitting the lotto. Well, POWERade has now made that possible."
There is one change for next year that Dixon is not happy to see come about, the departure of two vital members of his crew who also happen to be two of his closest buddies. "I am not only going to miss Leon (Citarella) and Willie (Wolter) on the team, but I am going to miss them as friends," said Dixon. "I certainly feel worse about losing those two guys then I do about losing the championship last season. Gosh, Willie and I have worked together every year since 1986 except for one (1989). That's going to be a huge difference for me next season because he is basically the only guy who has ever pulled me up to stage. I have known Leon since high school and we have worked together since 1994. It is sad to see them go, but they both have their personal reasons for leaving and if it feels right inside for them, then I am okay with that. I will miss having them around because they are great people and have been great friends."
Like anything else however, life moves on and the Miller Lite Team must overcome the challenge of losing two of its closest members. While difficult, Dixon feels that the timing will not hurt too badly. "I think of it the same was as a basketball team might look at it," said Dixon. "If a basketball team loses one or two guys, there is still a solid foundation in place. When you lose four or five guys, that's when you start getting into a rebuilding situation. But to put things is perspective, we lost two guys in Willie and Leon, and we have needed to hire three new ones to replace them. Still, I feel we have one of the best teams out there and the new guys coming on board are way more than capable, so we should be in good shape for the start of the season."
And how will Dixon spend the rest of his time preparing for mid-January test sessions in Arizona? "I plan to go into the shop two or three days a week, working mostly on the appearance of the car with graphics and decals," said Dixon. "Dick LaHaie and Donnie Bender have a great handle on things and that makes it easy from my standpoint. Other than that, being a dad is all encompassing. I am not a part-timer. If the diapers need changing, I am right there doing it."




NHRA: 10 Most Recent Entries [ top ]

Jun 05- NHRA Announces Revised Schedules for Pro Mod, Top Fuel Harley, Factory Stock Showdown, and Mountain Motor Pro Stock
Jun 03- NHRA Sonoma Nationals Event at Sonoma Raceway Cancelled
Jun 03- NHRA Mello Yello Drag Racing Returns Beginning with Two Indianapolis Events in July
Jun 03- A Message From Summit Motorsports Park President Bill Bader Jr.
May 21- Second JEGS SPORTSnationals Added, to be held in mid-August in New England
May 20- DENSO Sponsors NHRA Champs' Shelter-in-Place Dachshund Race
May 14- To Our Racing Community-From Racers for Christ
May 13- The Name Game Part I
May 12- Morgan Lucas, Son of Forrest and Charlotte Lucas, Appointed President of Lucas Oil Products, Inc.
May 05- Cancellation of the 14th Annual Summit Racing Equipment NHRA Nationals