Sat, 22 Dec 2001, 08:37 AM



Underneath The Christmas Tree For The Dragster and Funny Car Teams This



By Bob Frey



More Money!!



With the holidays, literally, right around the corner, the new POWERADE drag racing season will be here before you know it. With all of the attention that has been given to the professional classes for 2002, the increase in payouts that will be given to the alcohol dragsters and funny cars has almost gotten lost in the shuffle.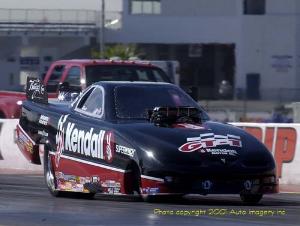 Vern Moats
Most folks know, (certainly all of the racers who will be affected know), that the schedule for the alcohol dragsters and funny cars has been changed for next year. In an effort to make it a little easier on the competitors, NHRA has reduced the number of events where the alcohol classes will compete. Instead of racing at every event in 2002, there will be sixteen races that feature the dragsters and funny cars. And, while you can never come up with the "perfect schedule," I do believe that the alignment that NHRA has come up with is the best one possible. In addition to the reduction in the total number of races for these classes, NHRA has also changed the configuration for the way points will be accumulated. Previously, a driver in the dragster or funny car class could claim his best five national races out of the first ten at which he competed. Now, that number will be reduced to eight, meaning, simply, that the points that go toward deciding the national championship, will be earned at two less events. It's not a real big deal, but it will lighten the burden on some of the racers, because now, a team won't have to run as many races as last year in order to win the season championship, and, for the sportsman racer, that's a good thing. Oh, sure, you'll still have racers who will run at ten or more events, and that's their choice. But, for most of the teams, eight is enough, and now, that' s all you'll have to go to if you want to run for the championship. Some racers, like Jay Payne and Frank Manzo, for example, won't be affected by this, and we'll still see them at a lot of races and that's a good thing. But the majority of the teams will find that this will make a championship run a little easier for the men and the machines, not to mention the budgets.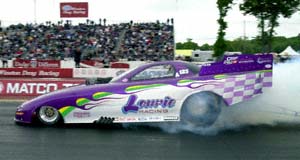 Eric Lourie
Even though there is no series sponsor as of this time, NHRA has committed to a huge increase in the purse for the dragster and funny car classes, and they will stick with that increase. Now, you can do the math anyway you want, but I'll tell you that each class, that's dragsters and funny cars, will get an increase of almost 40%, or about $10,000 per race. That's a total increase of about 20 grand per event or slightly more than $300,000 for the year! Basically, the total payout for each class will jump from around $26,800 per event, to over $36,500. Now that's a whole bunch of money for the top sportsman cars in the country. And, while there will always be the doubters out there who will say it's not enough, tell me anything else that's going up 40% these days. Believe me, that's an act of good faith on the part of NHRA. Sure, if they get a company to pick up the tab, they'll save some money, but, if that doesn't happen, NHRA, and their partner tracks, will foot the bill. My hope is that this will mean full fields at all of the races, and I hope it will mean a better, bottom line for the racers.
With the change of schedule also came an announcement from NHRA that all of the national events that have the alcohol cars will be televised on ESPN2. That means that 16 races, and the All Star event in Chicago, will get a one-hour television program in 2002. As one of the hosts of the show, along with Marty Reid, I will tell any of the teams out there that if there is ever anything we can do for you at the races, please don't hesitate to ask. Last year, for example, several teams were either looking to promote new sponsors or help their old ones get some additional television exposure. To that end, they came up with a list of sponsors, crewmembers, and some other pertinent information and they gave it to me on Saturday at the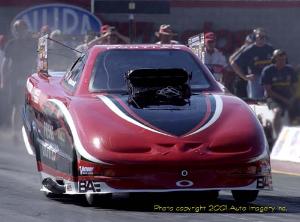 Steve Gasparrelli
track. That way, both Marty and I were aware of whom they wanted us to mention, which sponsors were the primary ones on the cars and which ones needed a little extra push. I know for a fact that several of the teams either obtained sponsors or cemented their relationships with their current sponsors because of the mentions they got on the television shows. It's a great opportunity for the teams and I urge you to take advantage of it. And, as much as I like to think that I can get around to all of the teams, or that I can always be aware of the sponsors on any given team, it just isn't possible sometimes. So, don't hesitate to flag me down and let me know what I can do to help. Marty, too. After all, we're all in this together. Each of the shows last year also featured the final round in all of the other sportsman classes. And, while I realize it's not as good as having your own TV show, it sure is a lot better than what we had in previous years. Plus, I'll keep working on trying to get some of the other classes some additional television exposure.
2002 looks like it will be a banner year for NHRA and the racers, and as soon as I get the official word on what the increased payouts will be, I'll pass it along to you. In the meantime, I hope you all have a great holiday season and may all of the lights on your Christmas tree be green.




NHRA: 10 Most Recent Entries [ top ]

Jun 05- NHRA Announces Revised Schedules for Pro Mod, Top Fuel Harley, Factory Stock Showdown, and Mountain Motor Pro Stock
Jun 03- NHRA Sonoma Nationals Event at Sonoma Raceway Cancelled
Jun 03- NHRA Mello Yello Drag Racing Returns Beginning with Two Indianapolis Events in July
Jun 03- A Message From Summit Motorsports Park President Bill Bader Jr.
May 21- Second JEGS SPORTSnationals Added, to be held in mid-August in New England
May 20- DENSO Sponsors NHRA Champs' Shelter-in-Place Dachshund Race
May 14- To Our Racing Community-From Racers for Christ
May 13- The Name Game Part I
May 12- Morgan Lucas, Son of Forrest and Charlotte Lucas, Appointed President of Lucas Oil Products, Inc.
May 05- Cancellation of the 14th Annual Summit Racing Equipment NHRA Nationals