Thu, 27 Dec 2001, 08:43 AM



Wrapping Up The Year!



By Bob Frey



Since the 2001 season, and the Winston Drag Racing era, have both been over for a couple of weeks, I thought Iíd clean out the notebook with a couple final issues of "Did You Know?" Of course, the fact that there hasnít been much new news around the sport lately may have precluded me putting any really new stuff in this weekís column, although, I will tell you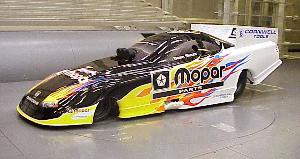 Skuza's Stratus
this. Watch for the announcement real soon by one of the fuel teams that most folks have written off as dead. This will probably come as a shock to everyone, since most of the experts had already discounted this team for the year 2002. And, Iíll tell you this, it will be big!! And, watch for the subtle restructuring of one of the very big Pro Stock teams to take place in 2002. It may not come in the form of an announcement, but it will be readily apparent to any, true fan. Of course, the battle between the Ingersolls should be exciting next year, with Mark in the
Allen Johnson
(Pro Stock) camp, and Buddy, in the
Warren Johnson
arena. That, by the way, is a major addition to W.J.ís team and heíll be awfully tough to beat in the Pro Stock ranks next year. Of course, with
Rickie Smith
and some testing opportunities on the horizon for Team Mopar,
Mark Osborne
and
Darrell Alderman
wonít be pushovers, either. Word has it that the Neons cranked out some 6.78 & í79 runs at the end of last weekís testing. And, with the new Dodge Stratus body on
Dean Skuzaís
(and no one elseís) Funny Car next year,
John Force
may get a real challenge, and not just from those rumored new Toyota cars. By the way, since I mentioned Buddy Ingersoll, I think Iíll give you folks the real rundown on what his famous Buick V-6 turbo car really did back in the mid 1980ís. Weíll do that in my next "From The Tower" column on Friday of this week. NowÖ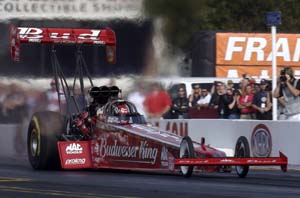 Kenny Bernstein
Since
Kenny Bernstein
won the Winston Championship this year, itís pretty obvious that he won the most rounds of competition. But,
did you know
that he also had the best winning percentage in the class? Kennyís final total of 61 wins and 16 losses gave him a winning percentage of .792. Wow, now thatís impressive. It edged out
Larry Dixon
who chalked up a .760 mark, which, I think youíll agree, isnít too bad, either. By way of comparison,
Gary Scelzi
, in winning last year, finished up with a 54-14 mark, good for an amazing .794 percentage, while
Tony Schumacher
only needed a .637 mark (37 Ė 21), and one national event win, to win the crown in 1999. Life is all about timing, isnít it?Ö
Did you know
that, with all of the talk about the demise of the Top Fuel class this year, that there were 42 different drivers who competed in at least one round of competition during the season? Two years ago, when there was no talk about the lack of cars, there were a grand total of 29 drivers who competed in at least one round. 29. HummmmÖ.If you wanted to win this past season in Top Fuel, it was a good thing if you qualified in the top half of the field. Thatís because drivers who qualified eighth or better in 2001 won 22 of the 24 races. Only
Darrell Russell
(#9 at the Winternationals), and
Doug Kalitta
, (#10 at Phoenix), won when qualified in the bottom half of the field. That means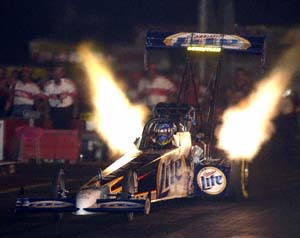 Larry Dixon
that, after the second race of the season, every winner in TF came from the top of the field.
Did you know
that the number one qualifier won nine times, and the number two guy won on four occasions? That means the top two guys won over 50% of the races this year in the dragster class. WowÖ..Still in the dragster class,
did you know
that there were six, multiple winners this year? Of course, Kenny (8) and Larry (6) did it, but so did Doug Kalitta (3), while
Mike Dunn
, Darrell Russell and Gary Scelzi each won a pair of races.
Andrew Cowin, David Grubnic
and
Tony Schumacher
all shared a dubious, distinction in 2001.
Did you know
that all three of them made it to a Top Fuel final, but none of them won a race? The rest of the statistical honors were split between K.B. and Mike Dunn, with Kenny getting nine, number one spots and eight low elapsed time marks, while Mike, in the Yankeesí car, set top speed at an amazing 11 races. Still, the "King of Speed" wasnít too far back in that category either.
Did you know
that Kenny set top speed at 8 races this year.? Look back at the numbers and itís easy to see why Mr. Bernstein won the title, isnít it?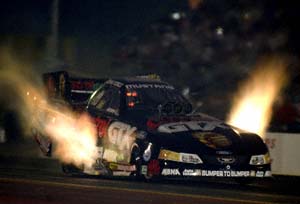 John Force
The other fuel class, the one dominated by John Force, gave us some interesting stats, too. The most amazing one is this.
Did you know
that there were only 23 drivers who competed in at least one round this year? Thatís 23 compared to the dragster mark of 42. And,
did you know
that there were 33 drivers who scored points in the Funny Car class this year? Thatís 33 compared to the dragster number of 46. Now by "scoring points" I mean drivers who entered at least one event, whether they qualified or not. Of course, John had the best winning percentage with a .753 mark, based on a round total of 55 Ė 18. Only three Funny Car drivers qualified for a race and never won a round this year, do you know who they are? Iíll bet you guessed
Bob Bode
and
Dale Creasy
, but do you know who the third one is? Iíll tell you later. By the way, as an aside, I understand that some big things may be in store for the Creasy family this year. Let ís keep our fingers crossed. AnywayÖAs far as where to qualify in the Funny Car class, itís almost as important to be in the top half of the filed here as it is in the dragster class.
Did you know
that only four races were won last year by drivers in the bottom half of the filed? And three of them were by the same team.
Del Worsham
won from the number 11 spot in Pomona, and he won from the number 12 spot in Sonoma, while his teammate,
Frank Pedregon
, won Atlanta after qualifying 12
th
.
Gary Densham
, also won from the bottom half of the field, winning in Texas after starting 12
th
. Like the dragster class, the top two qualifiers in Funny Car were tough to beat, winning a total of eight races, seven of them by either John Force, Whit Bazemore or Tony Pedregon. Tonyís win in Englishtown marked the first and only time that he has ever won a race when qualified number one.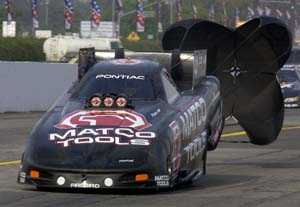 Whit Bazemore
Like the dragsters, we saw six, different, multiple winners in the Funny Car class this year, with five of them winning more than twice. Gary Densham won a pair of races, while Force, Del, Baze, Tony and
Ron Capps
all won three or more races. In all, there were nine guys who won races in 2001. With all of the talk about what a great season Whit Bazemore had,
did you know
(or remember), that Del Worsham actually won more races (4) than Whit did (3)? And, to show the parity in the Funny Car class, (yes, there was parity),
did you know
that 13 different drivers went to final rounds this year? Hey, when only 23 drivers qualified for a race, 13 is a pretty, impressive number, I think. That means that four guys made it to the finals, but not to the winnerís circle, right? They were
Jim Epler, Al Hofmann
, Dean Skuza and
Bob Gilbertson.
For the first time in a long while, Mr. Force did not dominate the statistical categories this year, except for the big one, of course. Did you know that Whit Bazemore had more number one qualifying spots and more low elapsed times than John did this year? Well, he did. Whit qualified at the top of the pack nine times, including five of the last seven races, while John had to settle for second best, with six. Whit also had the upper hand in the low E/T category, with eight to Johnís six. Force ran the best speed at six events, while Whit did it at 5. Sounds like 2002 should be some fun, huh?
Next week, Iíll look at the Pro Stock classes and then weíll get into the 2002 season predictions. For now, I want to wish you all a Happy New Year, and I hope you íve had a great holiday season so far. Oh, by the way, the other Funny Car guy who qualified for a starting berth but didnít win a round this year was, of course, Vinny Arcadi. But you knew that, didnít you?




NHRA: 10 Most Recent Entries [ top ]

Jun 05- NHRA Announces Revised Schedules for Pro Mod, Top Fuel Harley, Factory Stock Showdown, and Mountain Motor Pro Stock
Jun 03- NHRA Sonoma Nationals Event at Sonoma Raceway Cancelled
Jun 03- NHRA Mello Yello Drag Racing Returns Beginning with Two Indianapolis Events in July
Jun 03- A Message From Summit Motorsports Park President Bill Bader Jr.
May 21- Second JEGS SPORTSnationals Added, to be held in mid-August in New England
May 20- DENSO Sponsors NHRA Champs' Shelter-in-Place Dachshund Race
May 14- To Our Racing Community-From Racers for Christ
May 13- The Name Game Part I
May 12- Morgan Lucas, Son of Forrest and Charlotte Lucas, Appointed President of Lucas Oil Products, Inc.
May 05- Cancellation of the 14th Annual Summit Racing Equipment NHRA Nationals