Sun, 2 Dec 2001, 07:49 AM



GM Performance Parts to Sponsor NHRA Pro Stock Champion Warren Johnson



Courtesy of Rick Voegelin



INDIANAPOLIS --
The team that won two Pro Stock championships and broke the 200 mph barrier will be reunited in 2002 when Warren Johnson returns to the red, white and blue colors of GM Performance Parts in NHRA championship drag racing. Johnson, a six-time NHRA champion and the most successful Pro Stock driver in drag racing history, will debut his new GM Performance Parts Pontiac Grand Am at the season-opening Winternationals in Pomona, Calif., on Feb. 7, 2002.

Rendering of WJ's new look.
"The 2002 season will mark the 17th consecutive year that GM Service Parts Operations has supported Warren Johnson's championship-winning team," said Bill Fitzgerald, manager of GM Performance Parts and Vehicle Care at a press conference held today at the Performance Racing Industry trade show in Indianapolis. "Warren began his long-term relationship with GM SPO in 1986 with sponsorship from the GM Performance Parts brand, and we are proud to renew this association as he starts his quest for a seventh NHRA title.
"The enduring association between Warren Johnson Enterprises and General Motors exemplifies the teamwork that is essential for success in both motorsports and business," Fitzgerald added.
Johnson, 58, of Buford, Ga., has driven GM products exclusively throughout his 26-year professional career. He introduced GM Performance Parts -- then known as "Goodwrench Performance Parts" -- to NHRA drag racing in 1986 on his silver-and-black Oldsmobile Firenza. In its first year, that partnership produced three national event victories, a runner-up finish in the championship, and Pro Stock's first 190 mph run.
Johnson drove GM Performance Parts-sponsored Oldsmobiles to NHRA championships in 1993 and 1995. In April 1997 he became the first Pro Stock driver to exceed 200 mph with the GM Performance Parts logo on the doors of his record-setting Pontiac Firebird. Johnson won 32 of his record 87 career victories with primary sponsorship from GM Performance Parts. He donned the familiar silver and black colors of GM Goodwrench Service Plus in June 1997, capturing three more Pro Stock crowns in 1998, 1999 and 2001.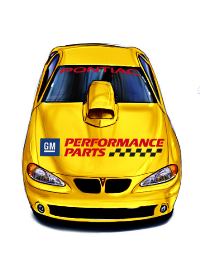 Front veiw.
"This is a perfect fit for both parties," said Johnson, who is known as the "Professor of Pro Stock" for his analytical approach to racing. "I use the same components in my Pontiac race car that are available to racers and performance enthusiasts through GM Performance Parts authorized dealers."
Johnson was instrumental in the design and development of GM's original Drag Race Competition Engine (DRCE) in 1983. After nearly two decades and dozens of updates, the DRCE remains the foundation of GM's Pro Stock engine program. Johnson relies on the same block and cylinder head castings that are listed in the GM Performance Parts catalog, along with ACDelco spark plugs, oil filters and batteries.
"I know that I can count on GM Performance Parts to make the horsepower it takes to win in this intensely competitive category," said Johnson, who was voted "Engine Builder of the Year" on the 2001 All-Star Drag Racing Team.
Johnson stands at the head of the Pro Stock class in every performance statistic: career victories (87), final rounds (135), No. 1 qualifiers (125), low elapsed times (125), and top speeds (192).
"Warren's hands-on approach and his engineering insights directly benefit GM Performance Parts customers," Fitzgerald noted. "His race car is not only the flagship of GM SPO's marketing initiative in NHRA drag racing, but also a high-speed laboratory that GM engineers use to test and develop components. Just as Warren represents the best in NHRA drag racing, GM Performance Parts represents the best in high-performance engines and parts in the industry."
GM Performance Parts is part of General Motors Service Parts Operations (SPO). SPO, headquartered in Grand Blanc, Mich., markets automotive replacement parts and accessories worldwide under the GM and ACDelco brand names. For more information, visit the GM Goodwrench web site at www.gmgoodwrench.com.




NHRA: 10 Most Recent Entries [ top ]

Jun 05- NHRA Announces Revised Schedules for Pro Mod, Top Fuel Harley, Factory Stock Showdown, and Mountain Motor Pro Stock
Jun 03- NHRA Sonoma Nationals Event at Sonoma Raceway Cancelled
Jun 03- NHRA Mello Yello Drag Racing Returns Beginning with Two Indianapolis Events in July
Jun 03- A Message From Summit Motorsports Park President Bill Bader Jr.
May 21- Second JEGS SPORTSnationals Added, to be held in mid-August in New England
May 20- DENSO Sponsors NHRA Champs' Shelter-in-Place Dachshund Race
May 14- To Our Racing Community-From Racers for Christ
May 13- The Name Game Part I
May 12- Morgan Lucas, Son of Forrest and Charlotte Lucas, Appointed President of Lucas Oil Products, Inc.
May 05- Cancellation of the 14th Annual Summit Racing Equipment NHRA Nationals