Mon, 3 Dec 2001, 06:43 PM



POWERADE becomes New NHRA Series Sponsor



Courtesy of NHRA Communications



Year-end Points Fund Increases to more than $3 Million



ANAHEIM, Calif. --
The National Hot Rod Association (NHRA) and The Coca-Cola Company's POWERADE brand today announced a five-year, multi-tiered agreement naming POWERADE as the title sponsor of the NHRA's prestigious 23-race national event series, which will be called the NHRA POWERADE Drag Racing Series beginning with the 2002 season.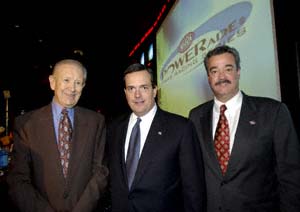 Wally Parks, Sandy Douglas, and Tom Compton
As part of the multi-year, worldwide exclusive agreement, POWERADE also will be the "Official Sports Drink of NHRA." In addition, Coca-Cola classic will become the "Official Soft Drink of NHRA" and DASANI will be the "Official Bottled Water of NHRA" for the sanctioning body which will enter its 51st year in 2002.
"When we started the search to find a series partner at the professional level, we were looking for a new sponsor that could bring very real marketing power to the sport," said Tom Compton, president, NHRA. "There is no doubt in anyone's mind that with the promotional and marketing weight of the POWERADE brand we have cut a perfect light." "With this new partnership, NHRA is poised for a strong future, with much of the effort focused on introducing the power, intensity and sensory experience of NHRA POWERADE Drag Racing to a broader audience," continued Compton.
As part of the announcement, the NHRA and POWERADE also unveiled a significant purse increase in the year-end points fund, with the NHRA POWERADE Drag Racing World Champion in both Top Fuel and Funny Car receiving $400,000, respectively. The Pro Stock World Champion will receive $200,000, while the Pro Stock Motorcycle World Champion will receive a check for $50,000. In all, including year-end and top ten bonus programs, payouts for the four professional classes, from one through 10, will increase to more than $3 million.
"Drag racing is an ideal property to further POWERADE's efforts to reinvent the sports drink category and reinforce the brand's cutting-edge personality," said Sandy Douglas, president, North American Division, The Coca-Cola Company. "We are excited about the opportunity to partner with the NHRA to bring drag racing to new heights and support drag racing's loyal fan base with new and innovative marketing initiatives."
Besides marketing and promotional support, on both a national and local level, POWERADE will provide advertising support both during NHRA's 23 national event shows, exclusively broadcast on ESPN and ESPN2, and within other shows and programs on a variety of networks.
The partnership with POWERADE also includes a major commitment and involvement from Coca-Cola Enterprises, the world's largest marketer, producer, and distributor of products of The Coca-Cola Company, to provide series sponsorship support at the consumer distribution level.
POWERADE is one of the key brands of The Coca-Cola Company. In July of 2001, Coca-Cola launched a new and improved formula for POWERADE featuring vitamins B3, B6 and B12, which play a role in energy metabolism. In addition, the brand recently added POWERADE Light to its line-up, a new beverage with 50% fewer calories than the leading sports drink and also featuring B vitamins. These beverages are the first in what will be an expanding array of POWERADE products that fuse the benefits of hydration and energy.
Headquartered in Glendora, Calif., the NHRA is the primary sanctioning body for the sport of drag racing in the United States. In 2002, NHRA will present 23 national events through its NHRA POWERADE Drag Racing Series. The NHRA has more than 80,000 members nationwide and more than 140 member tracks. The NHRA-sanctioned sportsman and bracket racing series provide competition opportunities for drivers of all levels. The NHRA develops the stars of tomorrow by offering the NHRA Sportsman Drag Racing Series, NHRA Summit Import Drag Racing Series, NHRA Summit Racing Series and the NHRA Street Legal Program. The NHRA also offers the NHRA Castrol GTX Jr. Drag Racing League for youths ages 8 to 17.

NHRA POWERade Drag Racing Series Point Fund

    Total       TF        FC        PSCar     PSBike
1   1,050,000   400,000   400,000   200,000   50,000
2     265,000   100,000   100,000    50,000   15,000
3     132,500    50,000    50,000    25,000    7,500
4      81,000    30,000    30,000    15,000    6,000
5      67,500    25,000    25,000    12,500    5,000
6      54,250    20,000    20,000    10,000    4,250
7      48,750    18,000    18,000     9,000    3,750
8      46,000    17,000    17,000     8,500    3,500
9      43,250    16,000    16,000     8,000    3,250
10     40,500    15,000    15,000     7,500    3,000
Total 1,828,750	 691,000   691,000   345,500  101,250







NHRA: 10 Most Recent Entries
[ top ]
Jun 05
-
NHRA Announces Revised Schedules for Pro Mod, Top Fuel Harley, Factory Stock Showdown, and Mountain Motor Pro Stock
Jun 03
-
NHRA Sonoma Nationals Event at Sonoma Raceway Cancelled
Jun 03
-
NHRA Mello Yello Drag Racing Returns Beginning with Two Indianapolis Events in July
Jun 03
-
A Message From Summit Motorsports Park President Bill Bader Jr.
May 21
-
Second JEGS SPORTSnationals Added, to be held in mid-August in New England
May 20
-
DENSO Sponsors NHRA Champs' Shelter-in-Place Dachshund Race
May 14
-
To Our Racing Community-From Racers for Christ
May 13
-
The Name Game Part I
May 12
-
Morgan Lucas, Son of Forrest and Charlotte Lucas, Appointed President of Lucas Oil Products, Inc.
May 05
-
Cancellation of the 14th Annual Summit Racing Equipment NHRA Nationals