Tue, 30 Oct 2001, 10:28 PM



An Interview with Rick Sanders, President of Sports Marketing Enterprises



By Bob Frey



In July of this year, the R.J. Reynolds Tobacco Company, and their Winston brand, announced that, in 2002, they would not return as the series sponsor of the NHRA drag racing tour, thus ending a twenty-seven year relationship. I had a chance to sit down with Rick Sanders, President of Sports Marketing Enterprises, and talk about the decision, what went into it and what, if anything, NHRA could have done to save the sponsorship. Sports Marketing Enterprises is an unincorporated division of R.J. Reynolds Tobacco Company that is responsible for the over sight of all of the motor sports and life style marketing activities of the company.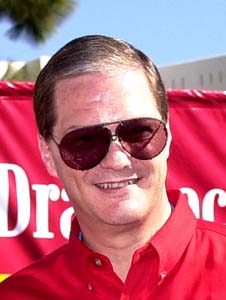 Rick Sanders
BF.
Rick, why was it necessary for Winston to choose between their sponsorship of NASCAR and NHRA.
RS. The MSA (Master Settlement Agreement), that we signed with 46 states three years ago, (the other four states settled separately), specifies that each company is allowed to have one, brand name sponsorship. A brand would be defined as Winston, Salem or Camel, for example, in our case. Each company is only allowed to have one brand name sponsorship. You could have sponsorships under the corporate name, but the problem there is that, while people have heard of R.J. Reynolds Tobacco Company, they can't tell you, for sure, what brands we have.
BF. So, technically, you could have had the R.J. Reynolds Drag Racing Series if you wanted to?
RS. Yes, and we debated that at length. We looked at whether or not an investment, using the Reynolds' name behind a series or a team sponsorship, could make sense for us. The thought was, can we build that connection over time between R.J. Reynolds and Winston or R.J. Reynolds and Camel, whatever the case may be. Now the difficulty is that we sell brands, and building that association would take several years and many, many millions of dollars, and we did not feel that that would be a prudent use of our resources. It's actually a step removed from who you really are. I mean, people associate with Winston or Camel, for example, they don't associate with R.J. Reynolds. People who are involved in the sport understand that R.J. Reynolds is the parent company of Winston, but the average fan doesn't.
BF. Were your sponsorship agreements with NHRA done on a year-to-year basis?
RS. We've always had multiple year agreements. We don't talk about the specifics of when-to-when the deals run, but it's actually how we were allowed to stay in the sport for the past three years. There was a provision in the MSA that said, if you have a long-term agreement with a sanctioning body, you have up to three years to decide what you were going to do. Because, if you think about it, we signed the MSA in November of '98, and here it is the year 2001 and we're still in it. Well, why can you do that if you are only allowed to have one, brand name sponsorship? And I think the thought behind it was, at the time, if you had long-term agreements with an organization, if you suddenly, within a three or four month period, had to pull back, even the state attorneys-general understood that that could damage a sanctioning body severely, so they gave us three years to extract ourselves.
BF. But you couldn't have tried to scam someone by saying you had a twenty-year agreement, for example?
RS. Well, you could, if you had a long-term or an evergreen agreement, but you would still have to be down to just one, brand name sponsorship in this time frame, by the end of this year.
BF. Who was involved with making the decision to stay with NASCAR as opposed to the NHRA?
RS. Well, I was the driver of all the analysis that had to be done. Sports Marketing Enterprises was representing the various brands in our endeavors. In consultation with the people who are involved with Winston, we had meeting after meeting after meeting in order to make the decision, but once that decision was made as to which series to continue to sponsor, our next step was to see how else we could remain involved in drag racing. Now I have to tell you, Bob, that the decision was an agonizing one for us, we did not want to give this sponsorship up. Reynolds, I think it's a fair and true statement to say, that from the day we got involved, twenty-seven years ago, drag racing has gotten in the blood of everybody in the company. People in our company have a passion for this sport. After twenty-seven years of investment, if we could still find a way to stay involved with some kind of marketing program that's good for NHRA and good for us, allowing us access to fans for example, we'd like to do it.
BF. When I head you speak at the award's ceremony last year, I thought that there was a chance that the decision could go either way. Did you know at that time that you would be leaving drag racing?
RS. I think the exact phrase that I used was, and I believe this today, "NHRA drag racing remains the best value in motor sports today." Our decision had to be based on a number of things, and we recognize the value in drag racing. But, because of the restrictions put on us by the MSA, "reach" becomes real important to us. We don't have the benefit of broadcast media or billboards, so at the tracks, our ability to reach adult smokers is very important, and quite frankly, it just becomes a numbers game. In the final analysis, drag racing has a great geographic reach, it has a great weekly event reach, but when you put it up against a Winston Cup weekend, the numbers favor them. Of course, you have to figure how much you are willing to pay for that reach. Now I would say that we get more bang for a dollar spent in drag racing, than we do in Winston Cup from our perspective. However, again, because of the restrictions we have, we need the broadest possible reach.
BF. In addition to the "reach" that you mentioned, how else did you measure the effectiveness of your drag racing program against your NASCAR one?
RS. We looked at Winston's share of the smokers in the general market place, and then looked at it at the drag races. At the drag races, among adult smokers, our share was three times what it was in the general market place. These people reward us for being involved in the sport. But, our NASCAR Winston Cup share of adult smoker attendees at the races is five times the general market place. Now, in a sense, we've been involved with both sports for about the same amount of time, and that is a level of the measure of the passion difference between a Winston Cup fan and a drag race fan. The good news is that both sports reward us for our involvement, but the difference is the level of reward that you get. And this is a business, after all. Having said that, with our share being three times the size in Winston drag racing, it's proof, positive, that there is real value in your sponsorship involvement here. Then you measure how much it cost you to get there, versus what it may have cost to get there in NASCAR, and NHRA is just a tremendous value.
BF. How tough was the decision not to sponsor your teams? I thought, for a while, that they might survive the cut.
RS. In some respects, it was the toughest decision of all, because there are extraordinarily close, personal bonds there. And, we have what a sponsor dreams of. We have two drivers who are great champions, they've got four championships between them and Angelle is well on her way to her second title, and they're both wonderful spokespeople, and they're all good, personal friends, not just the drivers but the team owners as well.
BF. You could have sponsored them as the R.J. Reynolds' team if you wanted to, right?
RS. That was an option that we explored, but it had the same draw back as the series sponsorship did. We tried to make the economics work, but, in the end, we couldn't do it. We thought about having the R.J. Reynolds team, and then, when they came back in the pits, if we did our adult restricted area right next to the team's pit space, we could talk to the people about Winston. But you're coming through the back door, so to speak, and it's a little difficult. You need to be able to be forthright with your sponsorship and the people have to be able to make the connection. We didn't think we could do it that way.
BF. Will you provide help to you teams in securing new sponsorships?
RS. I have actively offered that, very clearly, to the teams. I would fully anticipate, because of their performance, that they won't have any difficulty in obtaining sponsorship. Both of them have gotten assurances from us that if they do encounter any difficulty, whatever stops we can pull out to help them, we will.
BF. Was there anything NHRA could have done to keep the Winston sponsorship?
RS. No. NHRA understood this decision from day one. We spoke to them shortly after the MSA was signed and gave them a heads-up as to what would probably happen. We've worked with the NHRA very closely throughout this process and they've been fully appraised of our intentions. We have worked with them to try to facilitate their needs throughout this process. I've made it very clear that I'm willing to meet with any sponsor anywhere and tell them my firm belief about what the value of this sport is and why we made the decision we did.
BF. Could you compare your relationships with NHRA and NASCAR?
RS. I think it's fair to say that, over the recent years, you've seen less change in the management group at NASCAR than you have in the group at NHRA. But, I would say they're on an even keel from our respect. First of all, you have a mutual respect between the organizations, and, with both organizations, we understand our role in the sport. We may have been involved in both sports since the early days, but they're not our sports. We sell tobacco products to adult smokers, that's what we do, and they run races. There is a clear understanding of that at both organizations, and, because of that, they're both willing to listen to us. We're just trying to give a prospective based on what we see and hear, and, since we have teams, we understand the competition factors of the sports. So we understand what's going on in the pits, we understand what the economic problems or issues are. And so, we've become a good set of ears for both organizations. Contact is very frequent, certainly between myself and Tom Compton, and myself and NASCAR, and it's fairly direct, I don't have to mince words, and that comes from having a comfort level with each of them.
BF. What was the difference between being a series sponsor and being a team sponsor?
RS. As a series sponsor, you get the benefit no matter who wins or loses on a given weekend. But, people don't feel passionately about a series sponsorship, they connect with other people, they connect with drivers. Either they love or they hate John Force. Or they love or hate Kenny Bernstein, and that's where the magic of team sponsorship comes in. Fans reward you for being involved in the sport, regardless of how they feel about your driver. If the sport's important to them, and you're supporting the sport, they're going to, in return, try to give you their business, all things being equal. But it's that passionate connection that's the advantage. And that's the reason that we were interested in being involved with teams here.
BF. If I were a sponsor thinking about getting involved with NHRA, and asked you to tell me the drawbacks of being involved with drag racing, what would you tell me?
RS. There really aren't any drawbacks, at least none that come right to mind. I would tell you, and this is my own opinion, that it's very important that, if this sport is going to continue to grow, that they put emphasis on the competitors. For years, I know, the cars have been the stars, and I think that's fine for most divisions. But when it comes to the pros, in order to draw people in, the drivers have to be the stars. People associate with drivers.
BF. What has been the key to the tremendous growth of NASCAR in recent years?
RS. Well, first of all, you have to start out with the fact that NASCAR had an extraordinarily committed fan base in the Southeast. A lot of people thought that was their Achilles' heel. But you had fans in the Southeast who were so passionate about the sport that they would attend seven or eight races a year, personally, so the depth of the commitment of that core fan base was unbelievable. And, I think they've done a masterful job of allowing their racers' personalities to come through. It's a very commercial sport, just like here, but they allow the personality of their stars to come through. And, you can't hide the fact that their television package has been better, and that provided exposure to more folks, who, otherwise, weren't getting exposure to the sport. And it was real live, same day coverage. The other thing about NASCAR, at least on the surface, is that it's really easy to understand. I talk to a lot of people who don't know much about drag racing and they're still confused about elapsed time, how did that guy red light, and things like that. There are some more esoteric things to this sport that have been there for very good reasons over the past, but maybe they have to be simplified in order to attract new fans.
BF. Are there any other real differences between the sports?
RS. Well, I do think it's important that NHRA not only has a good TV package, but that it's same day coverage, and the earlier it's on, the better. NASCAR fans, if they're not attending the race, chances are very good that they'll be watching it on TV. For that to happen in NHRA, they have to know where to tune, and they've got to be able to see it before they go to bed. That's why the ESPN deal has opened up a huge opportunity for NHRA, which I think is critically important. The people here at the races today (in Seattle), you don't want them to think that the next drag race that they'll care about will be next year here in Seattle. They have to go home and say, hey, that was cool, I enjoyed the experience and I heard that next week they're going to be in Sonoma and I want to find it on TV and watch it. That's key to the growth of the sport. If I saw John Force or Gary Scelzi this week at the track, I want to see how he does at the next race. That's the way the fans can connect, and you can't overstate the importance of that. This is a very personal sport. But even though fans at a NASCAR race can't go into the pits, they can still sit up in the stands, a thousand feet away from the track, and feel a connection with the driver. NHRA needs that.
BF. Finally, if it weren't for the application of the MSA, would Winston still be the series sponsor for NHRA?
RS. Absolutely. We just had to make a decision, a pure business decision, and that's what we did. Like I said before, NHRA is a great value and we've enjoyed our 27 year association and partnership with it.




NHRA: 10 Most Recent Entries [ top ]

Mar 19- GAINESVILLE - Sunday Video
Mar 18- GAINESVILLE - Pro Mod Sunday Wrap Up
Mar 18- GAINESVILLE - Sunday Wrap Up
Mar 18- GAINESVILLE - Pro Mod Championship Points
Mar 18- GAINESVILLE - Bonus Points
Mar 18- GAINESVILLE - Championship Points
Mar 18- GAINESVILLE - Mickey Thompson Top Fuel Harley Series Championship Points
Mar 18- GAINESVILLE - Bonus Points
Mar 18- GAINESVILLE - Summary of Eliminations in Top Fuel
Mar 18- GAINESVILLE - Summary of Eliminations in Funny Car