Sun, 28 Oct 2001, 01:04 PM



GM Racers Part Of Exciting Season in NHRA Pro Stock



Courtesy of Jeff Romack, GM Racing Communications



LAS VEGAS --
With 14 different winners this year in the category, parity has come to Pro Stock. And although it is exciting for the fans, it's keeping the drivers and teams up late at night, burning the midnight oil and trying to devise the setup that will launch their programs to victory. It hasn't been easy.
To illustrate just how remarkable it is having 14 different winners in one season, keep this in mind. Since 1984, and excluding our current championship campaign, there has been an average of 6.353 different winners each year in the Pro Stock class, with the highest number of nine coming in both 1995 and '98. There were eight different winners three times in 1990, '97 and '99. In 1984 only three different Pro Stock racers, Lee Shepherd, Warren Johnson and Bob Glidden visited the winner's circle.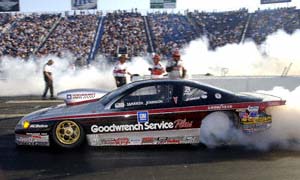 Warren Johnson
After driving the GM Goodwrench Service Plus Pontiac to his most recent victory last month at Joliet, Ill., five-time Winston champion and current points leader Warren Johnson summed it up best.
"It's great for the sport, but it gives us all ulcers," said Johnson. "The closeness of the racing is what brings the fans out here whether it's Pro Stock, or Super Gas or what have you. As long as it's close enough where they have a favorite, and the idea that their favorite has the potential of winning, the fans are going to come back.
"It's great for the sport, but it's tough on drivers, team owners, crew members and everybody else involved from the team side of it. But that's why we're here."
Last Sunday at the O'Reilly Nationals in Dallas, V. Gaines became the most recent winner in the Pro Stock class after driving the Western Motorsports Chevy Cavalier past Tom Hammonds in the finals. It was the first victory for Gaines since winning at the Texas Motorplex in May of 2000.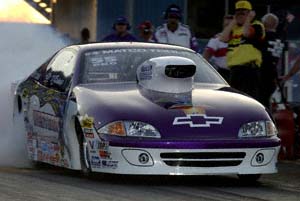 V. Gaines
"There's a certain amount of luck in winning races," said Gaines. "You have to be on your game on those particular days when the opportunities are there or they'll slip away. Particularly in Pro Stock where the time difference between the No. 1 and No. 16 qualifier is anywhere from two hundredths to four hundredths of a second. Our reaction times can make up for that, and last Sunday in Dallas, we had pretty good reaction times. We won three of the four rounds out of the bad lane and two of the four rounds on reaction times. The win was a combination of a little luck, good reaction times and the car performing when we needed it most."
During the first half of the season, Gaines struggled with DNQs in seven of the first eight events. In April he took delivery of a new Chevy Cavalier and has since qualified at 14 of the last 15 races. After last weekend's win at Texas Motorplex, the 54-year-old Colorado resident, who made his first appearance in a final round at the '97 U.S. Nationals, feels his program is back on track.
"Parity in the Pro Stock class can be very scary because just to make the field you have to outrun some pretty good people," said Gaines. "The next couple of races will be a test for us. The last time we had a win in Dallas we went to the next three races and didn't qualify. We want to make sure we go out with the same consistency we've had for the past five months now.
"We've qualified for every race since Atlanta, except for Memphis where we broke our car. Not qualifying is a very real fear for a Pro Stock racer because there's so much parity and because the cars are so close. You get the setup right for one race and then it's totally different for the next track.
"I think our progress this season bodes real well for us in '02. We have a commitment from Ron Krisher on engines and we're comfortable with the car. Our goal next year is to finish in the top five. We have the horsepower, we have the car, we have the experience, we have the backing and we're going to be tough to beat."
By advancing to his first career final round at the O'Reilly Nationals, Tom Hammonds proved that he too is ready to make an impact on the sport of drag racing.
"It was a tremendous accomplishment, not only for myself but for my team," said Hammonds. "It was a total effort, and that's what I'm excited about more than anything because of the way we came together to achieve one goal, and that was to win the race. Obviously we fell a little bit short - V. Gaines did a good job and won the race, but we're not hanging our heads. We came out and ran extremely well all weekend. Unfortunately, we saved our worst run of the weekend for the final round, but we're looking forward to getting to Las Vegas and racing this weekend."
Last April, Hammonds completed his 12th and final season as an NBA power forward. At the Lucas Oil Nationals in Joliet, Ill., in June, Hammonds totaled his racecar during Friday night qualifying. After struggling for the next two months, he took delivery of a brand-new Jerry Bickel-built Chevy Cavalier prior to the NHRA Nationals at Brainerd, Minn., where he busted his way into the 16-car field for the first time this season, qualifying in the No. 9 position. In addition to his runner-up finish in Texas, Hammonds has qualified at the last six races in a row, and at Reading, he recorded a career-best time of 6.806 seconds and speed of 202.21 mph.
"I had a lot of fans come up to me in Dallas to tell me how much they enjoyed Pro Stock racing," said Hammonds, "how competitive it was and how at just about every race you see, anyone can wind up the winner. I definitely think the work by General Motors on the new cars has been a tremendous boost to the sport. Chevrolet and Pontiac have done a great job with the new bodies - they're extremely fast.
"Obviously our goal is to win. We want to enter the last two events with the objective of winning both races. That would be a momentum builder heading into next year. We have a busy winter planned with a lot of testing to get ready for what we hope to be a championship push next season. With all of our time and focus on drag racing, I'm really looking forward to the future in this sport."




NHRA: 10 Most Recent Entries [ top ]

Mar 17- GAINESVILLE - Pro Modified Qualifying Notes, Final Session
Mar 17- GAINESVILLE - Funny Car Eliminations Ladder
Mar 17- GAINESVILLE - Funny Car Final Qualifying, Session #4 Order
Mar 17- GAINESVILLE - Funny Car Qualifying Notes, Final Session
Mar 17- GAINESVILLE - Top Fuel Eliminations Ladder
Mar 17- GAINESVILLE - Top Fuel Qualifying Notes, Final Session
Mar 17- GAINESVILLE - Top Fuel Final Qualifying, Session #4 Order
Mar 17- GAINESVILLE - Pro Stock Eliminations Ladder
Mar 17- GAINESVILLE - Pro Stock Final Qualifying, Session #4 Order
Mar 17- GAINESVILLE - Pro Stock Motorcycle Eliminations Ladder